She was baptized 104 years ago, has a 97-year-old son and has been going to church for more than a century.
Meet Violet Brown, a 117-year-old Jamaican woman who became the oldest living person in the world over the weekend after the death of the previous title holder, Emma Morano of Italy.
The prime minister of Jamaica proudly tweeted the news:
"I feel good, I feel happy to be the oldest person (in the world)," Brown told the Jamaica Observer.
"I did not feel I would become the oldest person, I feel I would pass long ago. Thank God for whatever He has given to me."
Brown was born on March 10, 1900, according to the Gerontology Research Group, which keeps track of the oldest humans on the planet.
Nicknamed "Aunt V," she and her husband worked as cane farmers, and Brown credits hard work during her younger years for her longevity.
"I tell you, these young people these days have it easy — piped water, taxis and buses to bring them where they want to go, everything to their convenience," Brown told The Gleaner in 2010. "When I was younger, and even as an adult, I had to work so hard that sometimes when I look back, I cry at how hard I had to work to make a living for my family."
She eats everything, except chicken and pork, and skips the alcohol — "I don't drink rum and dem tings," she told the newspaper. Brown had six children, though one of them has died.
RELATED: 5 longevity secrets of super-centenarians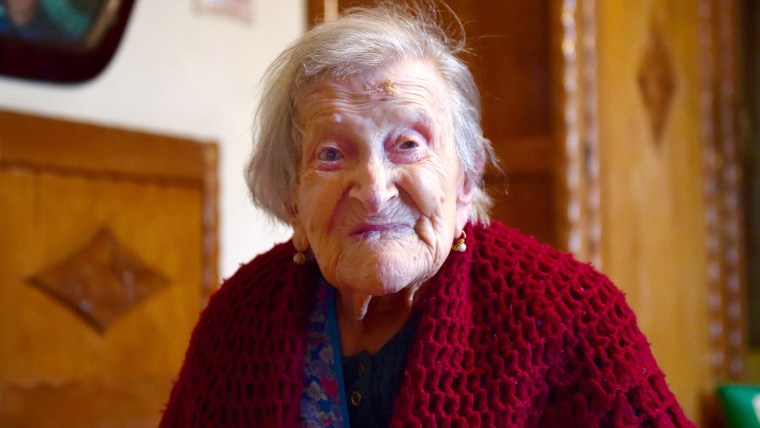 Before her death on Saturday, Emma Morano — Brown's predecessor in the longevity record — was believed to be the last person alive who was born in the 19th century. Arriving in the world in 1899, she celebrated her 117th birthday in November and made headlines for revealing that she ate two eggs every day for most of her life.
Morano died on Easter Eve while sitting in an armchair at her home, her longtime doctor told The Associated Press.
"She didn't suffer. I'm happy she didn't suffer but passed away that way, tranquilly," Dr. Carlo Bava said.
RELATED: 6 rules for a long, healthy life from 100-year-olds
At any one time, there are only about 300 super-centenarians — people who are 110 and older — living worldwide, Dr. Thomas Perls, professor of medicine and geriatrics at Boston University and Boston Medical Center, told TODAY.
They aren't born with just one "aging well" gene, but many of them — "it's like winning the lottery," he noted — which allows them to delay or escape major diseases.
Women are much more likely to enjoy extreme longevity: About 85 percent of centenarians are women. At the most extreme ages, 110 and older, that number grows to 90 percent, Perls said.
The oldest living man is currently 113-year-old Israel Kristal, who lives in Israel.