Editor's note: A day after this story was published, Skydive Chicago and the U.S. Parachute Association received word Dorothy Hoffner, who skydived at 104 years old, died on Oct. 9.
"We are deeply saddened by Dorothy's passing and feel honored to have been a part of making her world-record skydive a reality," they wrote in a joint statement on Oct. 10.
"Skydiving is an activity that many of us safely tuck away in our bucket lists. But Dorothy reminds us that it's never too late to take the thrill of a lifetime. We are forever grateful that skydiving was a part of her exciting, well-lived life. Her legacy is even more remarkable because of the attention the world gave to her inspiring story."
A week after jumping from a plane at age 104 — her second skydive since becoming a centenarian — Dorothy Hoffner was already thinking about her next adventure. A hot air balloon ride would be nice, she said.
Ahead of her 105th birthday in December, "Please don't make me any older than I am," Hoffner told TODAY.com. "(I feel) just normal. I don't feel any older. I don't know how you're supposed to feel when you're 104."
Hoffner went skydiving with Skydive Chicago on Oct. 1 while attached to Derek Baxter, a certified U.S. Parachute Association tandem instructor.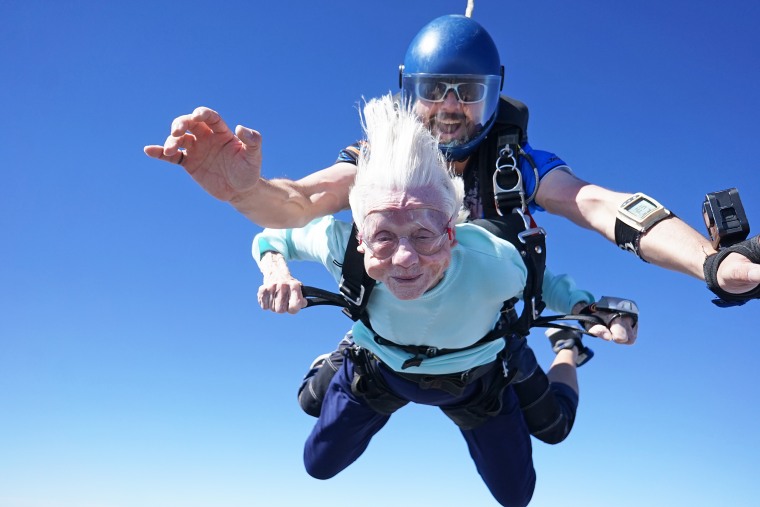 The Chicago resident appeared to have become the world's oldest skydiver, a record that currently belongs to a Swedish woman, who jumped when she was 103 years and 259 days old.
Hoffner's friends have reached out to Guinness World Records to officially certify her accomplishment.
Hoffner was puzzled by the attention, but called the experience "wonderful" and said she wasn't nervous to jump from an altitude of about 13,000 feet.
"When we just about got off the plane, a big gust of wind came and it turned us around. That was the fun part," she said. "I wouldn't do it alone, but you've got someone with you who knows what they're doing."
It's "of course always" nice to jump with a handsome man, she added.
Videos show the 104-year-old smiling for the camera, her silver hair blowing back, as she and her instructor fly through the air. The landing, often the trickiest part, was soft and smooth.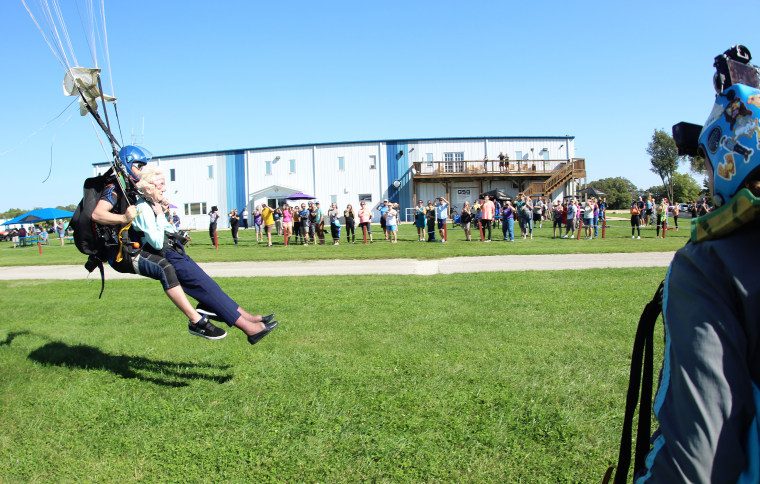 Hoffner discovered her fondness for skydiving when she turned 100 and a friend she likens to a grandson brought up the subject. "I said, 'Well, why don't we go?'" she recalled. When asked why she wanted to jump again, she's matter of fact: "Because I enjoyed it the first time."
The centenarian lives in her own apartment at Brookdale Lake View Senior Living in Chicago.
Here's what to know about Hoffner and her longevity secrets:
She's a single lady
Hoffner never married and didn't have any children.
"I'm an unclaimed treasure," she said. "I don't know how life would have been (with a husband) and I don't think I even contemplated it. … Everyone is different. You don't know how it turns out and you have to decide for yourself what to like."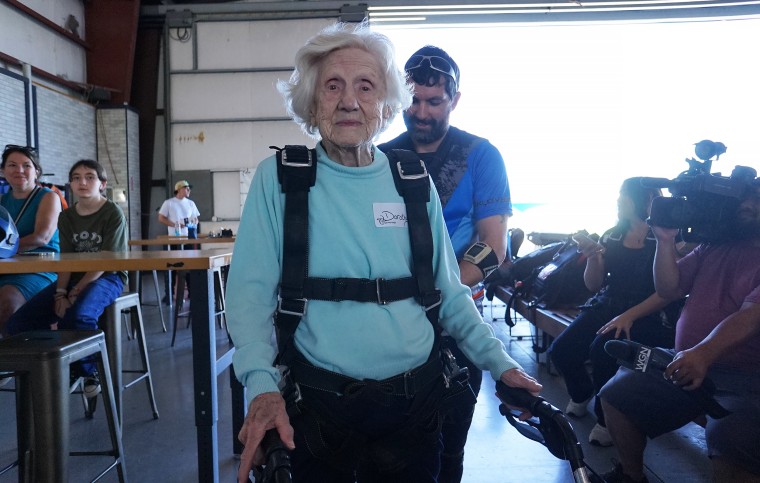 Hoffner worked for Illinois Bell Telephone as an operator and business office employee for 43 years before retiring in her 60s. She enjoyed working and fondly looked back on her career.
Other centenarians have credited their independence for living longer. Emma Morano, an Italian woman who lived to be 117, was single for most of her life. "I didn't want to be dominated by anyone," she told The New York Times.
Jessie Gallan, a Scottish woman who lived to be 109, never married and said that was her secret to a long life.
Longevity runs in her family
Hoffner's mother lived to be 92. Her father died in his 80s.
"Men have no stamina. You see a heck of a lot more widows than you do widowers," she noted.
She eats 'everything'
"I attribute a good deal of my good health to the fact that I eat everything, no matter what it is. I eat a balanced diet," Hoffner said.
"I don't avoid anything. … I like Chinese food and I like Italian food and I like Greek food and I like Jewish food. I just like food."
That includes sweets, such as chocolate.
She also drank coffee and alcohol in moderation, including a little bit of wine every day and Baileys Irish Cream a couple of times a week.
Walking is a favorite activity
Hoffner always enjoyed walking, using a walker to help with balance. She particularly enjoyed going for walks in a park on Chicago's lake front. "I love dogs, so I talk to all the dogs that people are walking," she said.
When she was younger, she also enjoyed swimming and bike riding.
She enjoys being 'lazy'
"I am lazy and I never exerted myself. I think that might have helped a lot," Hoffner said about her longevity secrets.
"I only do the things that I want to do and what I like to do."
But she also likes adventures
Skydiving in her 100s was just the latest escapade.
Hoffner took flying lessons when she was in her 20s and enjoyed traveling the world, including trips to Italy, France and England. She'd been to every state in the U.S. except Alaska.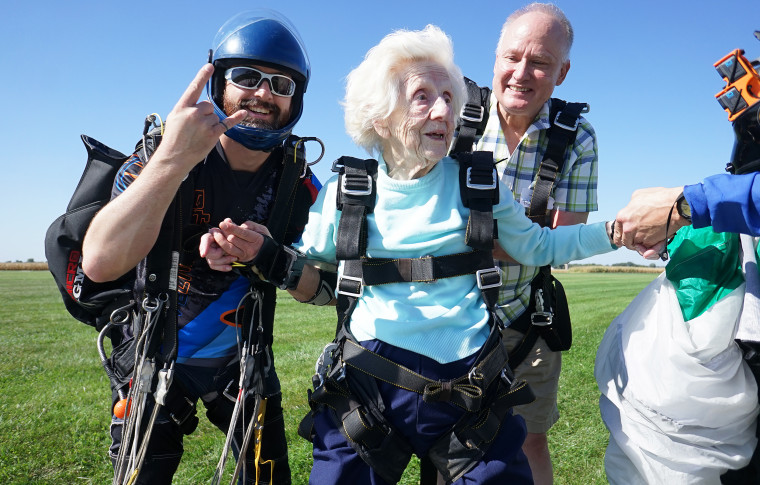 She isn't fazed by health setbacks
The centenarian had a lumpectomy — surgery to remove cancerous breast tissue — a few years ago, but didn't require any further treatment.
She otherwise had few health problems, except her eyesight, which was deteriorating due to macular degeneration. She could no longer drive or read. But audio books, including biographies and travel adventures, have helped her keep up with her reading.
Her advice to others on how to live a long life was just to live normally and not do anything excessive, she said.
"I didn't expect to be this old," she added. "I have had a very wonderful life."