Lucy Hale is getting candid about her struggle with addiction and overcoming her darkest days.
The "Pretty Little Liars" star called her recent journey "powerful, painful, insightful (and) joyous," while chatting with Steven Bartlett on "The Diary of a CEO" podcast released Feb. 23.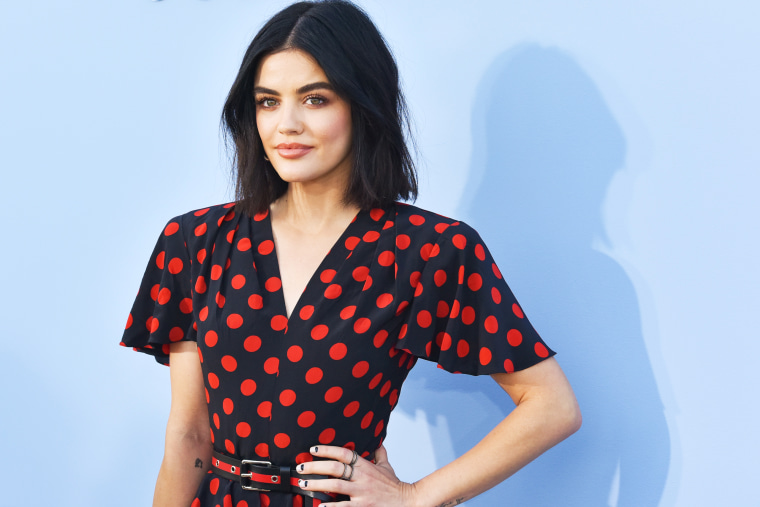 Previously, on Valentine's Day, the 33-year-old actor revealed in an Instagram post that she had celebrated one year of sobriety.
"Bear with me, this is an alternative Valentine's Day post. This is a post about self-love and about the greatest thing I've ever done. On January 2, 2023 I celebrated one year of sobriety," she wrote alongside a photo of a cake. "While this journey has mostly been private, I felt compelled tonight to let anyone who is struggling know that you are not alone and you are loved."
Hale further elaborated on her struggles with alcohol and her decades-long battle for sobriety in the newly-released podcast.
"I want to be the happiest I can be and learn the most I can possibly learn about myself, and sometimes that means you have to go to a dark place to get to that point," she said at the beginning of the conversation, before opening up about journey.
"I have never talked publicly ... about being sober. I have a little over a year of sobriety," she said. "I have been working on getting sober since I was 20. I'm 33. It takes time. It took time. It took patience with myself."
Hale said that when she drank she believed that she was a more alive version of herself and would be able to shut down the self-doubt within her.
"I just held on to that belief that real Lucy came out when she was drinking," she continued. "Guess what? Real Lucy did come out but it was that rage and pain that I had been holding on to for so long, but it also quieted my mind. My brain just doesn't shut off and it's exhausting."
She described herself as "a textbook binge drinker" who would blackout and wouldn't remember what she did or said — "which is scary," she said.
Hale said that she started having a problem with drinking alcohol because she tried it at the age of 14, adding she was never a "normal moderate drinker."
"I was willing to go to this crazy dark place every time. Of course I tried to be a moderate drinker, just having two," she said. "I have an allergy to alcohol. I cannot drink. I view it as an allergy. My brain doesn't work the same way as someone who can just have a glass of wine. It always wants more. It's craving that feeling."
Hale "had many times" when she knew that she needed to change, but the thing about addiction, she said, is that she needed to do it for herself.
"I tried to change for boyfriends, I tried to change for my mom, I tried to change for my career, I tried to change for vain reasons," she said, thinking she'd look younger and skinnier if she stopped. "'I'll stop drinking for that.' None of that s--- works. I had to and wanted to get sober."
Then on Jan. 2, 2022, she decided to make a change, she said. "Because I said, I deserve more. I deserve more out of this life. I have to try it a different way. And I have to be willing to just commit to it."
There would be times when she would binge drink and be sober for "three months, then relapse and be sober for a week." Throughout her 13-year journey, however, she never let her drinking get in the way of her job and career.
"To be able to talk about this is so freeing," she said reflecting on her sobriety. She added that she's finally in a place in her life were she feels "peaceful."
If you or someone you know is struggling with addiction or substance abuse, please call SAMHSA's National Helpline, 1-800-662-HELP (4357), or text TALK to 741741.