Hailey Bieber is reflecting on her health one year after she was hospitalized March 10, 2022, due to a transient ischemic attack, which is often called a mini stroke.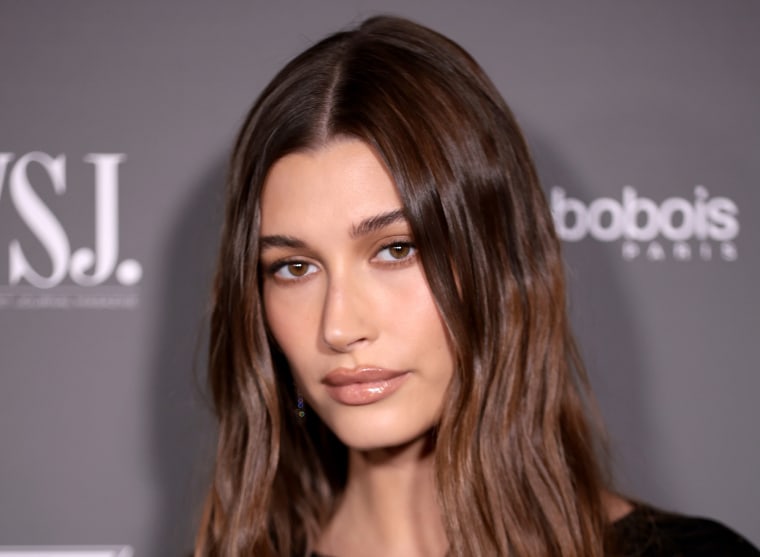 Bieber marked the anniversary on her Instagram story March 10. In one frame she re-shared a video that she posted in April where she opened up about what ultimately caused the mini stroke and how it led to her diagnosis with patent foramen ovale, or PFO.
"Can't believe it's been 1 year since I suffered a mini stroke that led to my PFO diagnosis," she wrote. "Given that it's the 1 year mark from such a life changing event, I wanted to share all the information I've learned about PFO and share resources to donate."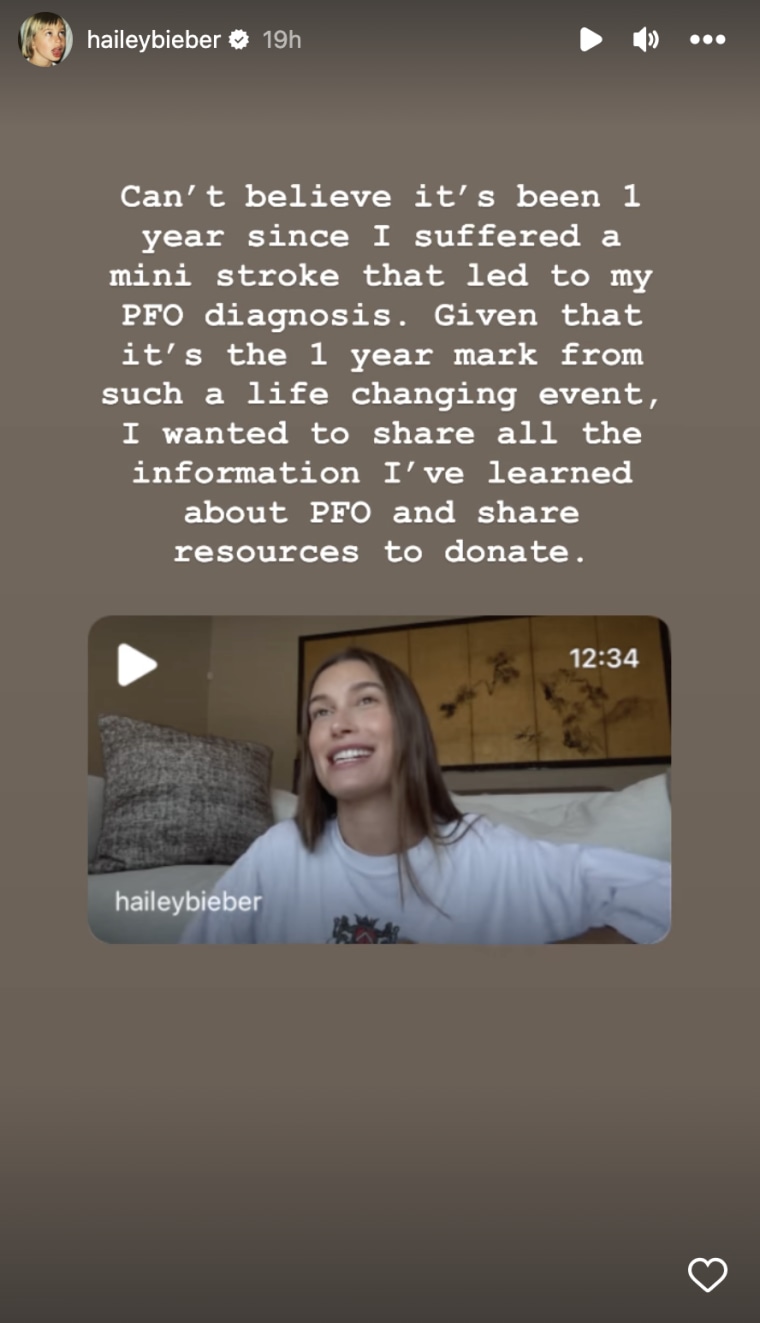 In November, Bieber also opened up about her experience with a large and painful ovarian cyst and shut down pregnancy rumors.
"I have a cyst on my ovary the size of an apple," the 26-year-old said in an Instagram story. "I don't have endometriosis or PCOS (polycystic ovary syndrome) but I have gotten an ovarian cyst a few times and it's never fun."
In a series of slides shared March 10, Bieber aimed to use her platform to raise awareness of what PFO is, citing information from UCLA Health and the university's medical school.
What is a PFO?
According to UCLA Health, a PFO is a "small hole between the 2 upper chambers of the heart, the right and the left atrium." The right and left atria are normally separated by the atrial septum, which stops blood from flowing between the two chambers, but with a PFO, a small amount of blood can flow between both atria.
Before birth, the hole between atria is common, but in most individuals, it will close after birth, according to UCLA Health. While most PFOs do not cause symptoms and don't require treatment, some can lead to complications, such as a stroke. PFOs are not the cause of most strokes, however, having a PFO can increase the risk of stroke in some individuals.
According to the American Heart Association, more than a quarter of the population has a PFO and most people experience no adverse health effects.
In March 2022, Bieber shared in an Instagram story that she experienced "stroke like symptoms" while having breakfast with her husband, singer Justin Bieber. After she was taken to the hospital, Bieber said that doctors found she "had suffered a very small blood clot" in her brain which caused a lack of oxygen.
The following month, Bieber spoke more in depth about what caused her to enter the hospital in a video shared on Instagram and YouTube.
In the video, she said she experienced a "weird sensation" while eating breakfast with her husband. The feeling traveled from her right arm down to her numb fingertips. She said that she was also unable to speak and that right side of her face began to droop, which caused her to believe she had a stroke.
At the hospital she said doctors were able to determine she experienced a small blood clot in her brain. The clot was categorized as a transient ischemic attack, or TIA, which according to the American Stroke Association is a "a temporary blockage of blood flow to the brain."
Her doctors attributed the mini stroke to three possible factors, which included her birth control pills, a recent COVID-19 diagnosis, as well being diagnosed with a grade 5 PFO.
"The conclusion was that I had a blood clot that traveled into my heart and instead of — what typically happens if you have a small blood clot is that the heart will filter the blood clot to your lungs and your lungs will absorb it," she said. "What happened with me is my blood clot actually escaped through the flap, or the hole in my heart, and it traveled to my brain and that is why I suffered a TIA." 
Bieber said that she ultimately underwent a procedure to close the PFO. She said that with time, the heart tissue in her body will grow over the closure device.