Michelle Yeoh, Angela Bassett and Jennifer Coolidge — all women who are 60 or older — had a big night at the Golden Globe Awards.
Each star won in her category on Tuesday, Jan. 10, a striking development in an industry where major roles for older women are scarce and aging isn't exactly celebrated.
For example, only three of the top 100 movies in 2019 featured a leading or co-leading role filled by a woman over 45, according to the University of Southern California's Annenberg Inclusion Initiative.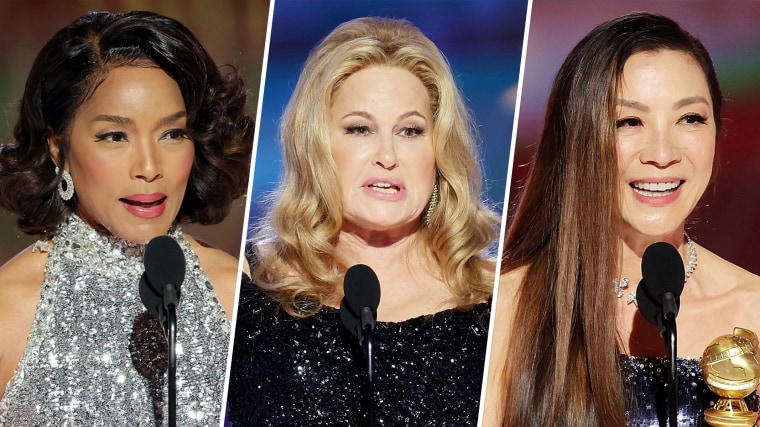 In her acceptance speech for best performance by an actress in a motion picture, Yeoh mentioned she celebrated her 60th birthday last year and — after spending 40 years in the film industry — began to question if her career had plateaued.
"I think all of you women understand this as the days, the years, and the numbers get bigger, it seems like opportunities start to get smaller as well," she noted.
"I'm just going to stand here and take this all in."
Yeoh's role as a woman who finds out a version of herself exists in many parallel universes in "Everything Everywhere All at Once" required fight scenes and martial arts skills. She referred to them when she playfully threatened to "beat up" the piano player nudging her to wrap up her speech.
Yeoh said she met the physical demands of the part head on.
"You get to be my age, and you can see it literally slipping through your fingers, because you are no longer that prime age. The worst is when people think, 'Oh, she doesn't look like she did in her 20s, so she can't physically do the same things,'" Yeoh told Prevention in December 2022.
"What they don't understand is that I've learned some things over the years, and I'm more clever and smarter in how I can sustain my stamina. I'm as fit as I was before, because I know how to look after myself much better than when I was younger."
Coolidge, 61, won for best performance by an actress in a supporting role in a limited series, anthology series or motion picture made for television for her portrayal of heiress Tanya McQuoid in HBO's "The White Lotus."
The star is having quite a moment since the series began, also winning an Emmy award for the role.
In her acceptance speech at the Golden Globes, Coolidge said she kept taking little roles to keep her career alive over the decades.
"I had such big dreams and expectations as a younger person, but what happened was they get sort of fizzle by life… you get older and it's just not happening," she said. "I just want to say, ["White Lotus" creator] Mike White you've given me hope."
Angela Bassett, 64, won for best performance by an actress in a supporting role in a motion picture for her role as Queen Ramonda in "Black Panther: Wakanda Forever." The win comes almost 30 years after she received her first Golden Globe for playing Tina Turner in "What's Love Got to Do with It" in 1994.
Bassett bristles when people ask her why she looks so young "for her age."
"I think when we take care of ourselves, we do look good for our age, whatever age that is," she told InStyle.
"As we advance, 60 is the new 40, or 70 is the new 50. It keeps getting pushed. But you have to keep the stress down and the attitude hot," she added in Allure.
TODAY's Hoda Kotb called the three women inspiring, noting that their wins proved one of her favorite saying: "It gets greater later."
"It's never too late, whatever the dream is. These women never gave up," added TODAY's Jenna Bush Hager. "They kept working."
Older Americans are aging better than ever, especially women, research has found. That comes as the nation's population is getting older overall: By 2034, people 65 or older will outnumber children in the U.S., according to the Census Bureau.