Fans of "The Drew Barrymore Show" got to experience something you don't often see on television: Host Drew Barrymore experiencing her first hot flash — with pals Jennifer Aniston and Adam Sandler supporting her through it.
The milestone moment happened during the show's March 27th episode while Barrymore, 48, was interviewing pals Aniston, 54, and Sandler, 56, about their new Netflix movie, "Murder Mystery 2."
"I'm so hot. I think I'm having one of my first perimenopause hot flashes," Barrymore said as she suddenly removed her jacket and began fanning herself with her hand.
"For the first time, I think I'm having my first hot flash!" she repeated.
"Oh, I'm so honored!" joked Aniston, who leaned in to adjust Barrymore's clip-on microphone.
"I'm so sorry," said Barrymore, laughing, as Aniston caressed the back of Barrymore's neck and then felt her chest with the palm of her hand.
"Do you feel this?" Barrymore asked Aniston of her rising body temperature.
"Ooh, internal heat," said Aniston while rubbing Barrymore's back.
"Or maybe I'm just that excited," joked Barrymore.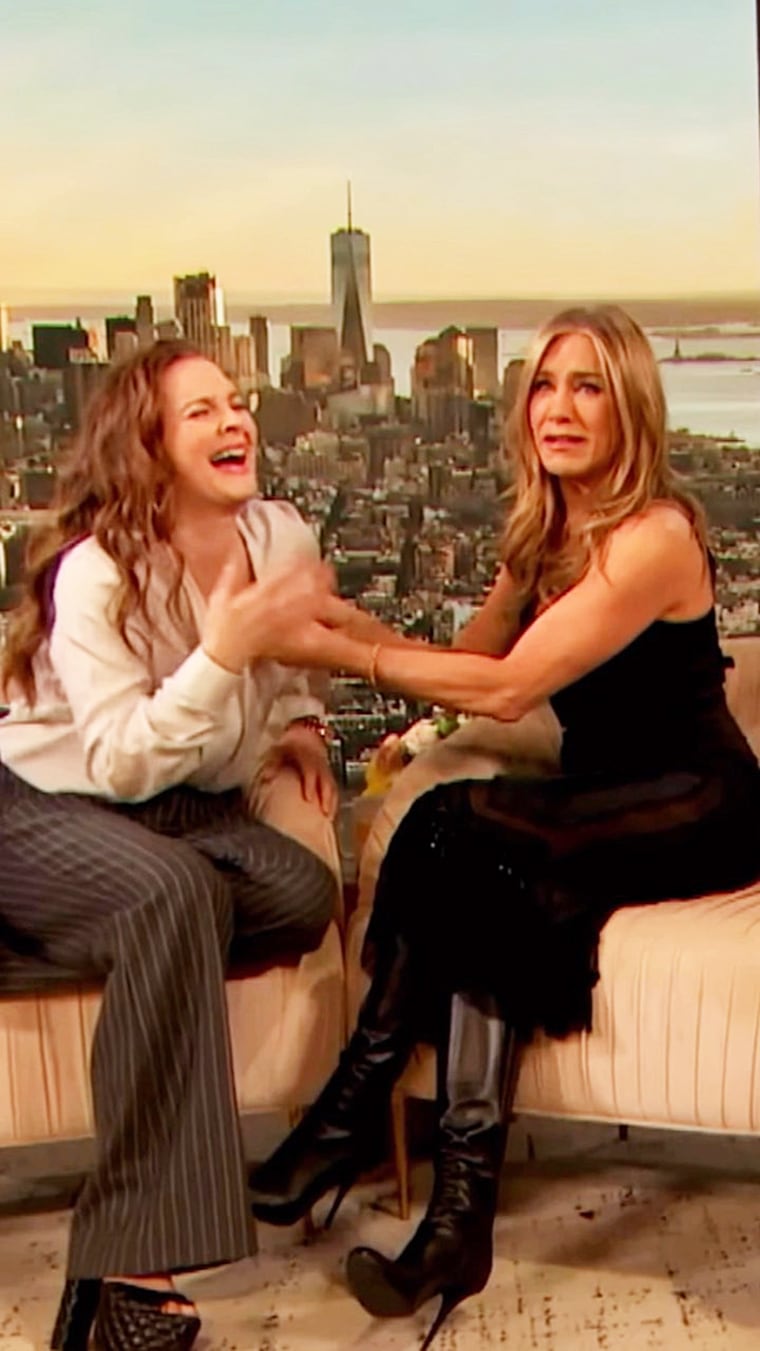 Sandler, who's co-starred in several movies with both women, gently took Barrymore's hand in his. "It's a warm hand" he said, sounding concerned. "Yeah, you got a hot hand."
"That's good," Barrymore responded. "Because it if was cold, that would be worrisome."
"Well, I'm so glad I have this moment documented," Barrymore added as the audience clapped.
When Sandler told the host he believed hot flashes often come hand-in-hand with "heavy" mood swings, Barrymore responded by jokingly glaring at him.
"Here it is!" Sandler yelled, as all three actors laughed.
Barrymore shared a clip of the candid moment on Instagram, writing, "I either had my first perimenopause hot flash or got really excited to see @jenniferaniston and @adamsandler! Maybe both?"
Fans commented to thank Barrymore for "keeping it real" by including her hot flash experience in the broadcast of her show.
"Thank you for helping to normalize talking openly about perimenopause and menopause," wrote one.
"When your body decides to evolve on TV. An historic moment," someone else commented.
Many fans noted how heartwarming it was to see Aniston and Sandler tending to Barrymore with compassion and humor.
"I love everything about this, from the realness, to Jennifer assisting, to Sandler not freaking out. Evolving can be fun, humans! ❤️❤️❤️," wrote one.
Added another fan, "Okay, that was the most adorable hot flash ever! 🤣."