At 101, Jayne Burns still has a 9 to 5.
Decades after most people retire, she chooses to keep working and has been employed at her current job, cutting fabric at a Joann store in Mason, Ohio, for 25 years. Burns works part-time and says it's one of the secrets of her longevity.
"You've got to keep moving and not sit around the house all day," Burns, who was born in 1922, tells TODAY.com.
"I just like working and I like working with people."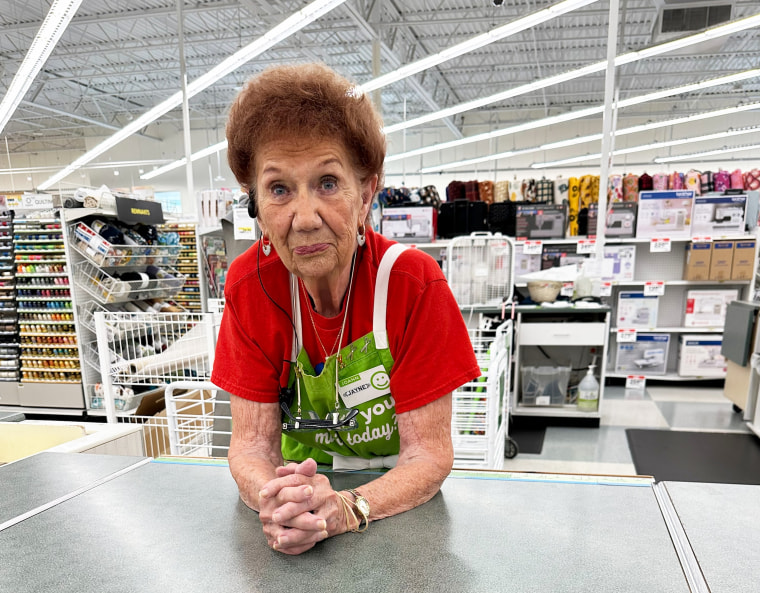 The 101-year-old still drives a car and joins other commuters on the road in the morning to get to work. On "quiet days," her commute lasts 20 minutes, she says.
Her schedule at the store changes, but an upcoming week will involve three days working from 9 a.m. to 5 p.m., for example.
The job requires good eyesight and some physical strength to handle bales of fabric, but Burns says she doesn't have any trouble with it at all, except the heavy vinyl fabric.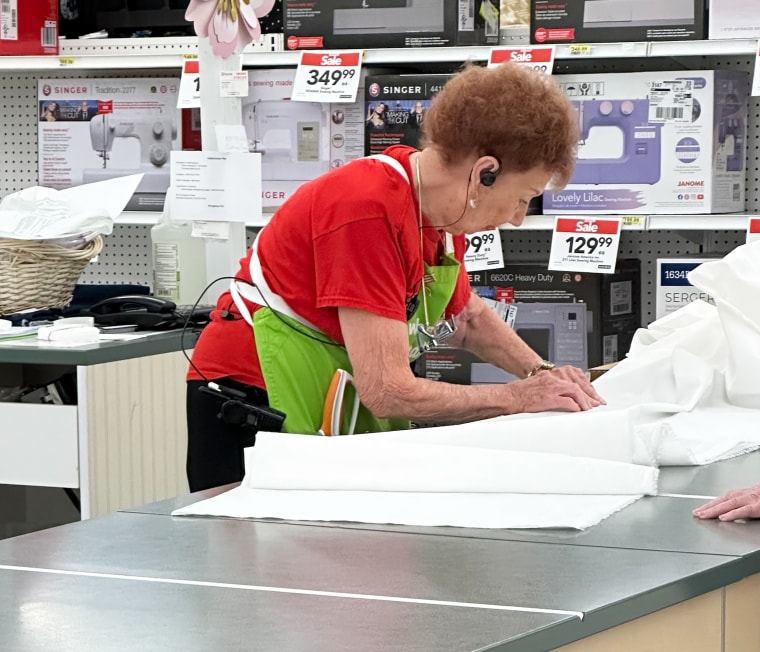 She lives in suburban Cincinnati, Ohio, with her daughter, who also worked at the store part-time and introduced her mom to it in the 1990s after Burns' husband died.
"I was into fabric, so the manager asked me if I wanted to work. I started working with him and liked it and stayed there," the centenarian recalls.
She was a bookkeeper in her previous career and retired "off and on," but never fully took to retirement. When asked if she needs to work financially or whether it's just something she enjoys doing, Burns says it's a little of both.
Here are her simple longevity lessons:
It's not all about good genes
Living an extremely long and healthy life may seem like it requires winning a genetic lottery, but longevity doesn't run in Burns' family. Her mother died of an aneurysm in her 40s and her father died when he was 65.
"So I don't know what it is, but I'm still here," Burns says. "I wish I knew what it was."
How long people live is about 20% down to their genetics and 80% down to lifestyle and luck, Andrew Steele, a British scientist and author of the book "Ageless: The New Science of Getting Older Without Getting Old," previously told TODAY.com.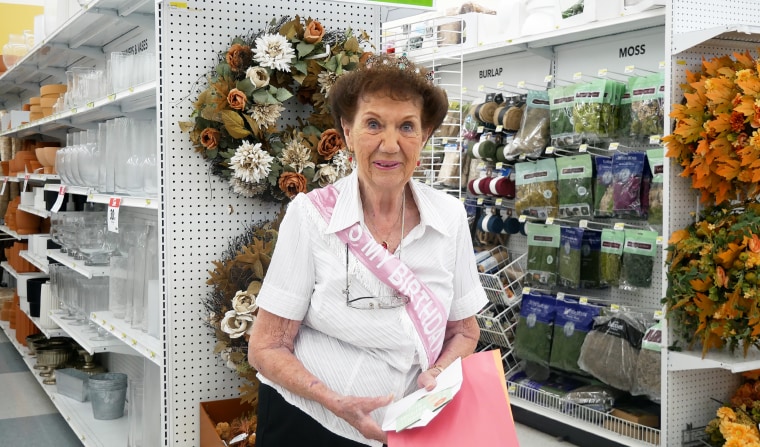 Eat everything in moderation
Burns eats pretty much anything she wants, including meat, bacon and butter. She used to watch her sugar intake, but not anymore. "I like sweets too much," she says. Milk chocolate is a favorite.
She used to drink alcohol socially when she and her husband went out in the evenings, but didn't imbibe otherwise. She never smoked.
Stay active
"I was always active all my life doing things. So I think that has helped more than anything," Burns says when asked what she does to stay healthy.
She bowled, played golf and exercised regularly. For her 101st birthday, she celebrated by going out to eat with her two daughters and attending get-togethers with her coworkers.  
Don't let a health setback get you down
Burns is a cancer survivor. She was diagnosed with colon cancer in 1995 and underwent surgery to have part of her colon removed. Doctors caught it early, so she didn't have to go through chemotherapy, she says.
Her biggest health issue at 101 is arthritis in her hands and knees.
"I really don't notice that I'm any older," she notes, adding that she's an optimist. "I just can't get around as much."
Take care of your skin and body
Burns still enjoys a regular beauty routine.
"I use a moisturizer and makeup. I figured I did it all my life, so I'm not going to stop now," she says.
To keep her face from aging prematurely, she never used soap on her face when she was younger. She's eased up on that rule in recent years.
Seek out friends everywhere
The centenarian says her top advice for living a long healthy life is to enjoy being around people. She's made friends at work, and a co-worker who is many decades younger has introduced her to TikTok. The two have appeared in videos together, including one on Burns' 100th birthday last year.
Burns told CNBC her best jobs have always had one thing in common: nice co-workers.
"I just like to be around other people," Burns says. "Most of them are very friendly."