In the pilot episode of 'Nip/Tuck' Sean yells at his brilliant ex-med student wife: "You shop, you lunch, you get your vagina waxed like a porn star". It has, of course, crossed my mind that all this post-feminist primping is no more than a form of procrastination. The more we can achieve, the more body parts we find to 'maintain'. The mystery make-up artist in Chapter 3 disagrees with me: "Sometimes," she says, "the only peace in a woman's day is the twenty minutes when she's getting her toes done, or her fingernails done. The only time she has when someone else is completely focusing on her. One of those rare opportunities when someone's looking her in the eyes, and seeing what she needs."
Which is interesting, because this book started off as 'The Intimates'. Unfortunately marketing thought it was about underwear. I love lingerie, but I love people even more, specifically strangers, and that's what this collection is about. The intimate strangers who work with the surface and get to the depths: If women tell their secrets to their hairdresser, what might they share, upside down on a masseuse's table, or hand in hand with a manicurist? And what do you tell the esthetician when she doesn't just see your scalp, she sees your vagina? In HD detail.  Laying on the waxing table, I always have to stop myself from grabbing her by the lapels and crying "Do our genitals haunt your nightmares?"  So I was glad to have, not only excellent essays by such a talented array of novelists, journalists, poets, actresses and comedians, but also interviews with the 'intimates' themselves: waxers, hairdressers, facialists, chiropractors, and the above quoted woman who is the in house make-up artist at one of the country's biggest strip clubs. Who knew?
I am delighted to say this collection is full of "who knew"? You could start on page (TBC) where Maysan Haydar takes us into the world of Arab beauty rituals: veiled women beautifying for other veiled women (think about it).  Or start with Rachel Resnick's travelogue as mystery, in which she spends a New Years Eve massage in Mexico, traversing her darkest holiday memory as a legendary masseuse traverses her body.
It is a particular pleasure to have in this collection Jennifer Belle, whose classic 'Going Down' I read standing up in DJ booth when I was seventeen. Jenny is truly one of America's writing treasures, and here she writes about a spa certificate that led to an unexpected visit from the past.
Rose McGowan's thoughts on beautician etiquette are as precise as truthful and funny as the actress herself. Rose sometimes reminds me of the little boy who says that the Emperor has no clothes and that's why I didn't mind when she once told me, apropos of nothing, that it only costs $500 to have your teeth whitened. Susie Essman you know as the perpetually enraged Susie Green of 'Curb Your Enthusiasm'. It's fascinating to see her anger aimed at the way religion has curtailed female beauty (read empowerment) rituals.
To those who feared this collection might carry with it an air of 'Upstairs Downstairs' or 'Us and Them', Marian Keyes 'Hair Rage' hilariously captures the intense intimidation factor that often comes with a salon visit.  In 'By A Hair', Samantha Dunn points out that a woman's finances are still a taboo topic of discussion and shows just how far a girl who can't pay rent will go to keep her color. If you've not read Samantha's memoir 'Faith In Carlos Gomez' you soon will. Anyone who reads 'By A Hair' buys up all her books on Amazon. 
Minnie Driver has long been celebrated for her unique beauty. She writes about the kindly French hairdresser who tried to help the fourteen year old her see what she would one day become as she waddles, ugly duckling to her sister's swan, through a miserable family holiday. I always knew Minnie was smart but I have to be honest, I am in awe of what a gifted, natural writer she is.
The British-Nigerian Helen Oyeyemi, whose debut novel last year - 'The Icarus Girl' - must have made her the most critically lauded teenager in New York Book Review history, writes about black hair in an Enid Blyton culture. It is one of five essays about hair and I think that's because, as Maggie Paley explains in her charming essay 'Felix Gets A Haircut' (comparing her grooming regimen to her cat's) hair is always with us. The runner up topic is bikini waxing which has four. For me the fascination is that, if we don't need our vagina to make a living, we should care so much what the topiary looks like.
Sarah Jones, who won a Tony this year for her one woman show 'Bridge and Tunnel', is a great heroine of mine. I went for a pedicure with her and felt tremendous relief that someone who does as much good in the world with such rigorous intellect also likes having her toes painted. Her poem 'A Wax Poetic' questions how she and her waxer both got there. She is the essence of modern feminism. As the co-founder of 'Bust' magazine Marcelle Karp knows a lot about this. 'Tender' captures the intimidation factor of trying to be a tough chick whilst in bare assed, be-waxed agony. 
Sarah Bennett is uneasy with the bikini wax craze, so much so that it ends a friendship. Making her debut as an essayist here, Bennett demonstrates a rare gift, funny and true, for capturing the interior emotional life of young women. Speaking of feminism, Barbara Hall brought strong, left of centre female voices to television as the creator of 'Judging Amy' and 'Joan of Arcadia'.  She writes of finding her own voice in 'Kung Fu Kissing'.
I had told my contributors that their essays need not be positive about their 'intimate', still, I was stunned by Francesca Lia Block's 'Not A Pretty Story' in which she recounts her entanglement with an unsavory plastic surgeon. And Laren Stover's 'The Chi Gong Show' in which she traces the $60k she spent in one year under the spell of a Chi Gong master who said he could cure her cancer.
As you will read, Ellen Karsh abhors being touched and is proud to admit it. What does it say that the other three 'Don't Touch Me's'- Julie Burchill, Suzanne Moore and Barbara Ellen – are all British?
Lena Levin's essay covers hair, pedicure and massage and asks 'If you can't speak up for yourself in the beauty salon, can you do it in real life?'  Lena Levin is a pseudonym and even I don't know who she is. All I can say is how happy I was when I received her extraordinary essay and it is because of her story that I will be donating proceeds, after paying the writers, to RAINN, the Rape And Incest National Network.
My own essay, 'A Fixed Ideal', investigates my old obsession with a Buddhist tattoo artist. Many consider tattoo terribly ugly, and can't imagine what place it holds in a beauty book. My reply is that, as far as I'm concerned, like the hypothetical place where communism meets fascism, ugly and beautiful have more in common than they know.
Last but not least, it makes me incredibly proud to publish my own mother, Judy Raines, whose Vogue interviews with people like Terry Gilliam and Fay Weldon first interested me in writing. I always knew I loved New York in the fifties and sixties, but it took reading her story to realize I had been having false memory syndrome: hers.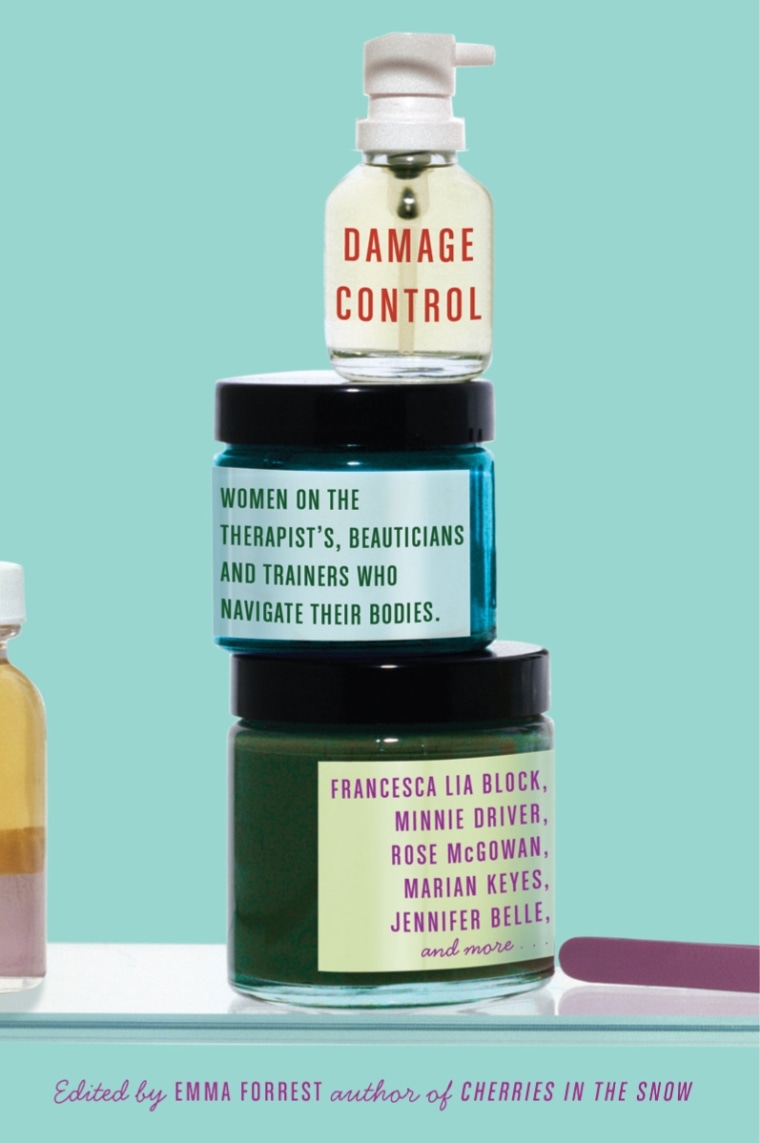 When my mum first came over to LA to meet my partner's mom, I took them to Jessica Nail Clinic on Sunset, which is where I got the genesis for this book idea. Full of Old Hollywood matriarchs -I met Gene Kelly's widow there- I am always the youngest in the room. The wives, movie stars and studio execs have been going to the same person every Monday for thirty years (indeed, in my interview with Jessica Vartoughian, the founder, she boasts of doing Tori Spelling's nails from age five). It is thanks to vanity that they have a relationship with fascinating women they otherwise would never know, women about whom they care deeply.
Alex Kucynski has written a whole book about America's addiction to plastic surgery. Nora Ephron's 'What I Hate About My Neck' is, on writing, on its eighteenth printing. Here, we look into the friendships that have emerged from our vanity. Read, for example, about Hollywood power manager Joy Gorman, single handedly determined to keep Jane Tran's tiny Melrose nail shop alive. And prepare to faint with pleasure at the incredible friendship between masseuse, Asa Wrange and the 93 year old artist formerly known as 'Topsy Young'.
This is a unique set up but not entirely: psychiatry also works because we only see those people once a week or month and never outside that room. That's why we feel free to tell them things we might not tell our family. As facialist, Bebe Rudu, explains, they often feel the same about us.
In these pages we cover heartbreak, divorce, cutting, virginity, body dysmorphia, sexual abuse and parental suicide. If the essays that emerged were not what I was expecting; the authors probably weren't expecting them either. Truth is an unpredictable trigger. You start thinking about your body and your body becomes a kind of detached witness. Memory monsters splash to the surface from water that looked clear.
It's real women talking about real things, with raw honesty and courage and balls. And hope. I'm happy to say that seems to be part of the current climate. Look at how Joan Didion's book on grief engaged. And Jeanette Walls' brilliant memoir about her intense childhood. People are maybe more honest now? Yes, they want to kvetch. And polish. Distract. Go light and fluffy. They also want this type of permission -- and articulation -- of things maybe they hadn't faced, or realized -- and in context of our desire, human, so human, to be touched, make human connection, look pretty, healthy, desirable – the power of strangers.
Excerpted from "Damage Control: Women on the Therapists, Beauticians, and Trainers Who Navigate Their Bodies," by Emma Forrest. Copyright 2007 by Emma Forrest.  Published by No part of this excerpt can be used without permission of the publisher.