Lauren Engle was just 28 when she noticed her hair falling out. As her strands got thinner, her part line widened and her ponytail shrunk to the thickness of a pencil. When she saw more scalp showing, she knew she had a problem.
Engle, who lives in Dallas, Texas, is far from alone. Millions of women in the U.S. suffer from hair loss, caused by genes, age or alopecia areata. In Engle's case, the culprit was unexplained female pattern baldness.
"There's tons of us out there, but it's not spoken about," Engle, 35, who writes about her experience in the Corner of Hope & Mane blog, told TODAY.
"It's really sad for women. Their hair is oftentimes their crowning glory. That's what we do to make ourselves look different, feel beautiful … Everything in the media is always women with long, flowing hair and we don't have that, so there's a lot of shame."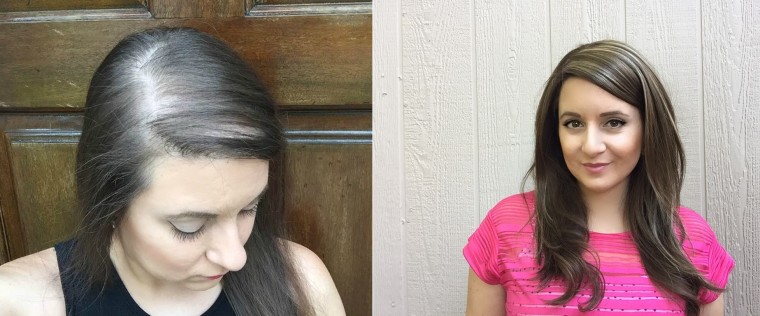 August is National Hair Loss Awareness Month — an effort to bring attention to a condition that can cause "dramatic and devastating" emotions in patients, dealing a blow to their self-esteem, body image and self-confidence, the American Academy of Dermatology notes.
A thinning mane can be challenging for anyone since hair is associated with identity, sexuality, age and mortality, but it's definitely harder for women, said Dr. Marc Glashofer, a hair loss expert with The Dermatology Group in West Orange, New Jersey.
"For a man to have a bald head or even a shaved head, it's so common. For women, there's still a lot of social stigma to it and it's tougher to accomplish that confidently," Glashofer said.
Alopecia areata
When it comes to hair loss, a big culprit is alopecia areata, an auto-immune condition in which the body's immune system attacks its own cells instead of bacteria and viruses. In the case of alopecia areata, it targets hair follicles, Glashofer said.
Almost 7 million people in the U.S. have or will develop the condition, according to the National Alopecia Areata Foundation.
Both genders can get it, though it's a bit more common in women, Glashofer noted. The trigger is a mystery.
Margaret Staib, 49, still remembers the questions swirling in her head when she was diagnosed.
"Why me? What did I eat? Will it grow back? Will my husband still love me and find me attractive?" the Long Island, New York, businesswoman recalls thinking. "Our disease does not 'hurt' physically; it's an emotional and mental disease once you get it."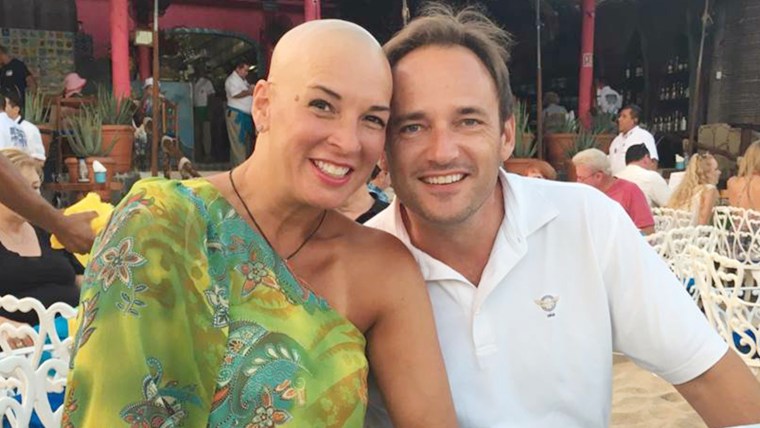 Treatment: Right now, there's no treatment for alopecia areata that's sustainable or consistently works for everyone, Glashofer said.
That might change in the next couple of years as researchers develop new pills and creams based on a class of compounds called JAK inhibitors that might be the first official medications specifically for alopecia areata. "It's very exciting that that's on the horizon," he said. "We feel like we're on the precipice of some real success."
These drugs were originally used for rheumatoid arthritis and, by coincidence, it was discovered that some patients who took it for that condition and who also had alopecia aerata grew their hair back. Clinical trials are underway to see how safe and effective this option is, the National Alopecia Areata Foundation says.
For now, therapies include cortisone injections directly into the bald patches; topical cortisone; Minoxidil — known to many people under the brand name Rogaine; and anthralin cream. A less-widely available option is topical immunotherapy: certain chemicals applied to the scalp can trigger an allergic rash, which alters the immune response, NAAF notes.
Age-related hair loss
About half of women over the age of 50 start to have some thinning of the hair to the point where the scalp begins to show through, Glashofer said. This is also called androgenetic alopecia or female pattern baldness.
"It's not discussed frequently because it's a sensitive subject, so everybody thinks they're in their own personal vacuum, their own agony, that they're the only ones dealing with it," he noted.
"The reality of it is that a large number of women are dealing with this issue after a certain age."
It's all about hormones: As women start to reach perimenopause and menopause, the balance of estrogen and testosterone starts to change. Extra testosterone around the hair follicle can lead to decreased thickness of the hair and increased shedding, Glashofer noted.
A British journalist recently described how upsetting she found it to lose a third of her hair with age.
Treatment: Minoxidil. This over-the counter topical treatment can help maintain some of the hair you have and decrease the amount of shedding, Glashofer said.
There's inconclusive data about whether Propecia, a drug used to treat male pattern hair loss, can help women, he added. Female patients can try it, but it's not a first-line therapy.
A more recent option is PRP, or platelet-rich plasma. Doctors draw a small amount of blood and separate the platelets from other blood cells. "It's been shown that the platelets, when injected back into the areas of thinning hair, can help maintain the amount of hair you have, so it can slow down the hair loss," Glashofer noted.
Genetic hair loss
Thinning hair can run in families. When women in their 20s and 30s see their hair thinning, genes could be to blame. Chances are their mothers and grandmothers experienced a similar problem.
Kayla Itsines, a 26-year-old Australian fitness star, recently revealed she has genetically thin hair and wears a clip-in pony tail to add length and volume. Engle wears a topper — "faux hair" extensions that clip to the top of her head — which helps her take back control of the situation, she said.
Treatment: Minoxidil may also help with hereditary-pattern baldness. Many women choose to wear clip-in hair.
If you are a woman experiencing hair loss for any reason, don't suffer in silence and don't become a hermit, Glashofer advised. Talking to a therapist can help.
"Life can be challenging in general, but especially when you're dealing with a chronic condition that's evident to the whole public," he said. "Try to gain perspective and then try to share that perspective with other women."