After being paralyzed in a diving accident, a woman's determination to lose weight has inspired her to take new steps.
"I am never going to be able to walk like a normal person again, but I think the ultimate goal for the rest of my life is to get out of my wheelchair and not struggle so much," Lauren LaPorta, 28, told TODAY.
"I just want to be able to get up and out of my bed and be able to walk and not be so fearful that I am going to fall down."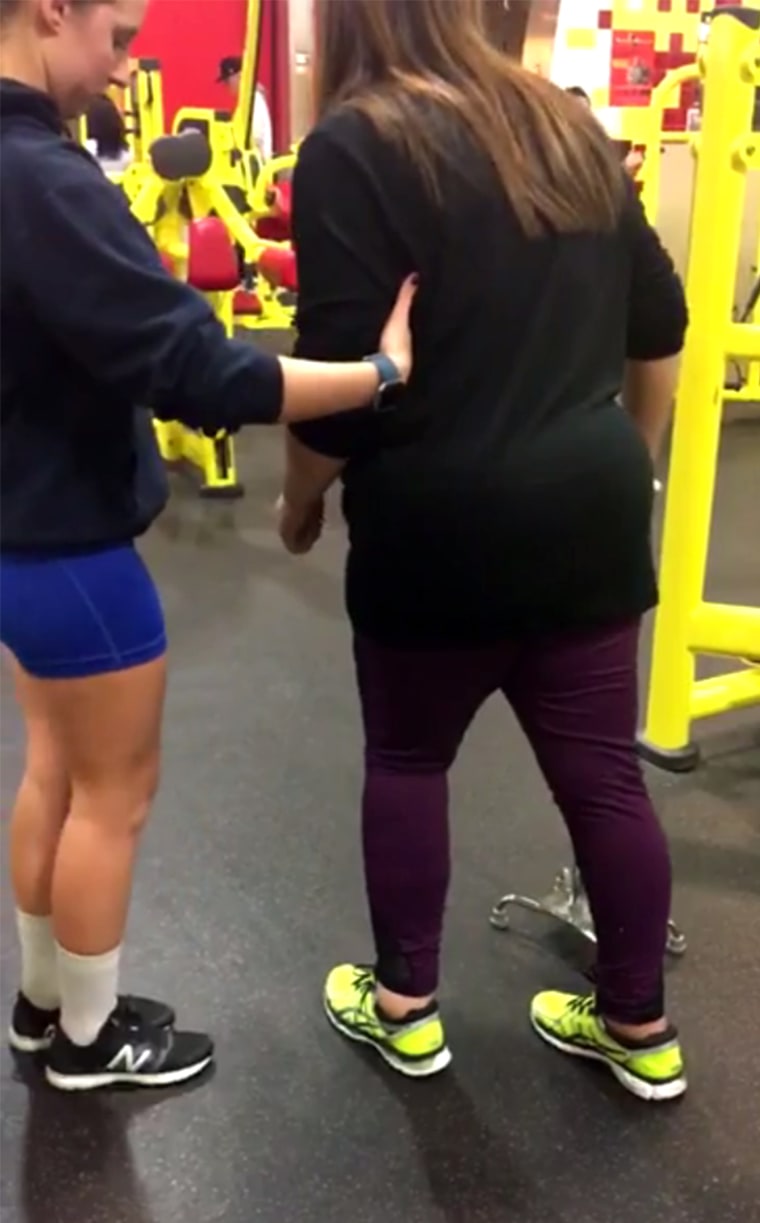 LaPorta's life changed when she was 11. After a swim practice, she and some friends were swimming at her house when she dove into the pool. Her hands hit the bottom and buckled, causing her head to smack off the floor. That shattered her C5 vertebrae.
She floated face down in the pool while her friends, who didn't realize LaPorta had injured herself, urged her to stop joking. Finally, they called her dad who pulled his daughter from the pool.
When she arrived at the hospital, doctors initially told her she was quadriplegic, something she couldn't quite grasp.
"At 11 years old, you cannot understand what a spinal cord injury really entails," said the high school guidance counselor from Bergenfield, New Jersey. "I couldn't move anything. I couldn't wiggle my fingers. I couldn't wiggle my toes. I couldn't sit up."
RELATED: 6-year-old girl paralyzed in backbend accident takes first steps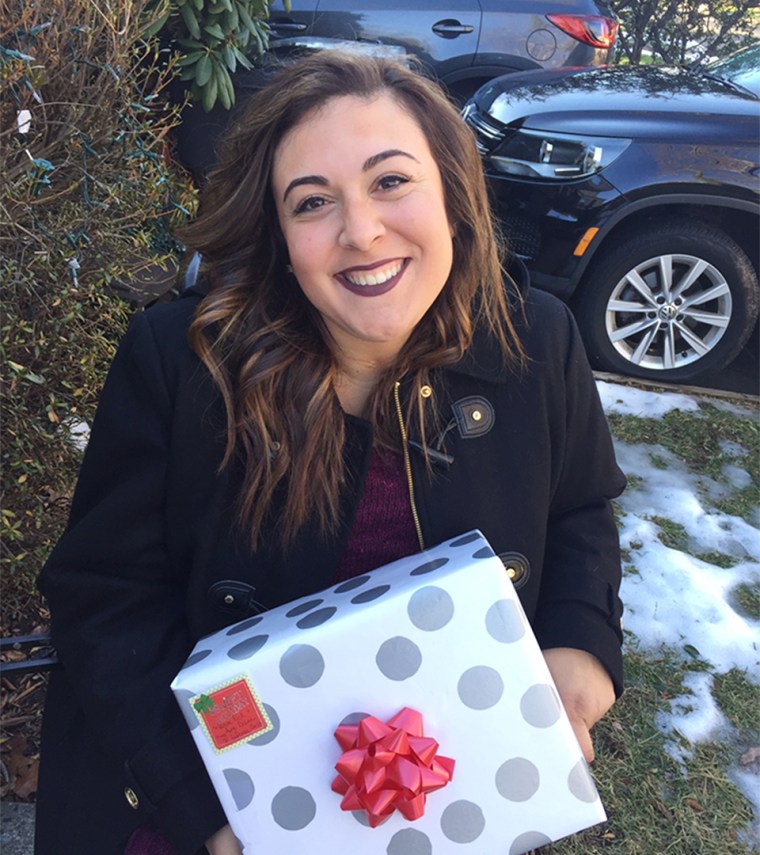 After a lengthy stay at Children's Specialized Hospital, she regained movement in her upper body. About six months after her accident, LaPorta could stand and take a few wobbly steps before falling, but she still spent most of life relying on a wheelchair. Yet, that didn't slow her down. In high school, she was a cheerleader and a statistician for the wrestling team. Then in college, she joined a sorority.
"It is very hard in the beginning. It is a struggle. It takes years and years of therapy and family support," she said.
RELATED: Woman who is paralyzed hikes Appalachian Trail — alone
While she worked hard to live independently, she gained weight from being confined to a wheelchair and relying on fast food. At her heaviest, the 5-foot-6-inch woman weighed 240 pounds and that gain made her realize she had to again walk.
She met Erica Little, 23, a physical therapy aide at Holy Name Medical Center in Teaneck, New Jersey, during her regular physical therapy and when LaPorta explained she wanted to lift weights and exercise, Little agreed to help.
They started training last August. Little gave LaPorta small tasks, like tapping her toes and lifting her legs.
RELATED: Spinal implant allows paralyzed groom to share emotional wedding dance with wife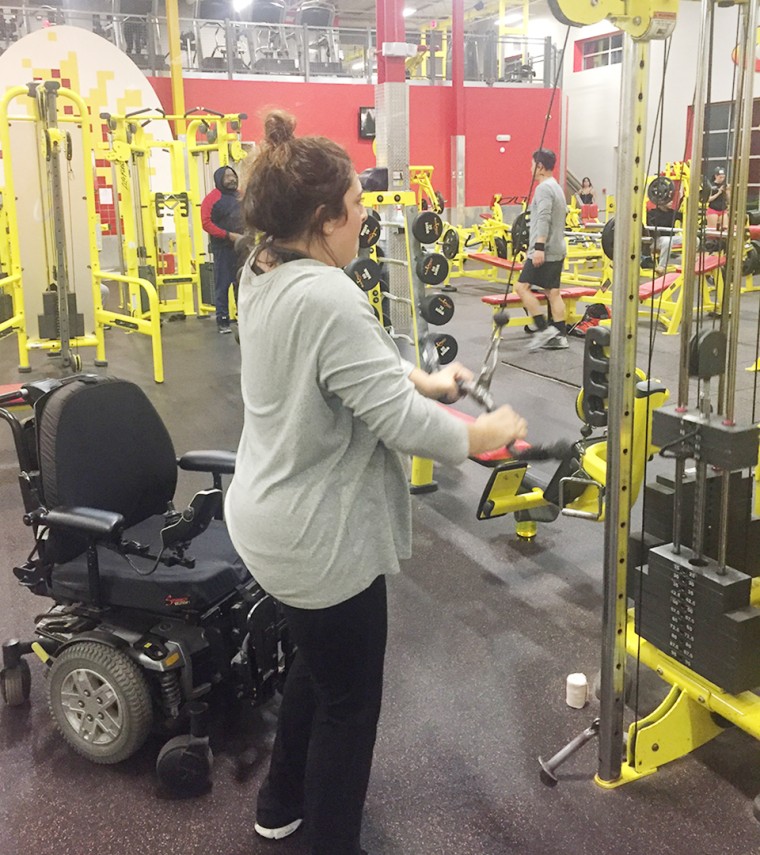 After only a month, Little encouraged LaPorta to try the treadmill. She felt nervous, but went ahead.
"I got on and I fell off," she said. But she got back on again. And again.
Just in the last two weeks, LaPorta has become so much stronger that she can walk on the treadmill for five minutes.
"It goes to show what progress I made," she said. "Little things, like getting off the couch, are easier. Just getting into my bed is easier... my every day daily routine has definitely improved."
Little is impressed.
"The amazing part is that she is progressing so quickly," Little said. "For her to take two or three steps … I can't even explain how rewarding it is for me and for her."
What's more, LaPorta has lost 40 pounds, a huge accomplishment.
"For people like me who are so limited in a certain way, it is definitely harder to lose weight. Since working with Erica, the weight has been coming off faster," she said.
RELATED: Paralyzed woman teaches herself to walk down the aisle for her wedding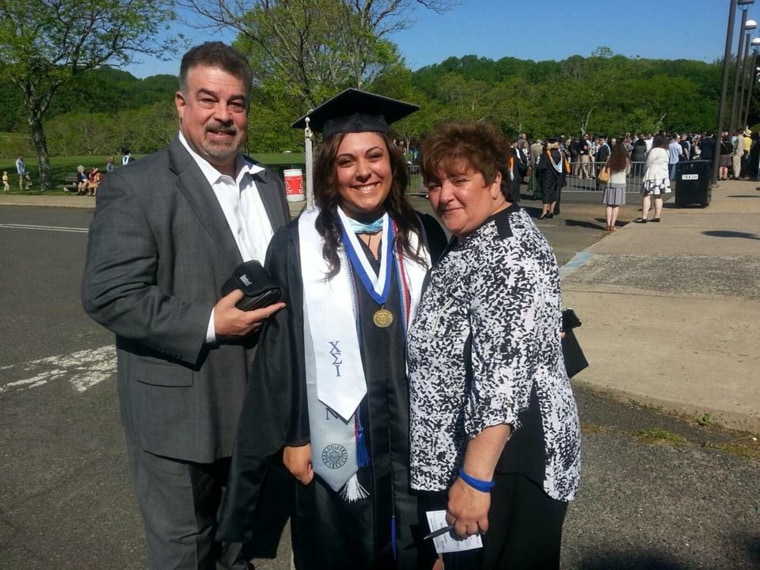 While LaPorta likes seeing the numbers on the scale going down, the experience reminds her how lucky she is.
"I am very blessed to be able to stand up on two feet and walk with the cane and go to the gym and lift weights," she said. "I am never going to be able to run again, but the ultimate goal is to get up and walk without a struggle."
For more inspirational stories, check out TODAY's My Weight-Loss Journey page.