For three decades Jean Abbott thought her spastic movements and difficulties walking were caused by cerebral palsy. But then she met an insightful doctor who recognized what was really causing her problems and banished her symptoms with a simple daily pill.
Abbott, now 38, was diagnosed as a child with a type of cerebral palsy called spastic diplegia. Her symptoms seemed to perfectly fit the diagnosis, so no one questioned it.
Though the condition made life difficult for Abbott, her family never coddled her.
"My family treated me like anybody else in the family," she told NBC's Kate Snow in a segment that aired on TODAY Thursday. "Nobody babied me. None of us were about to let this disability define me."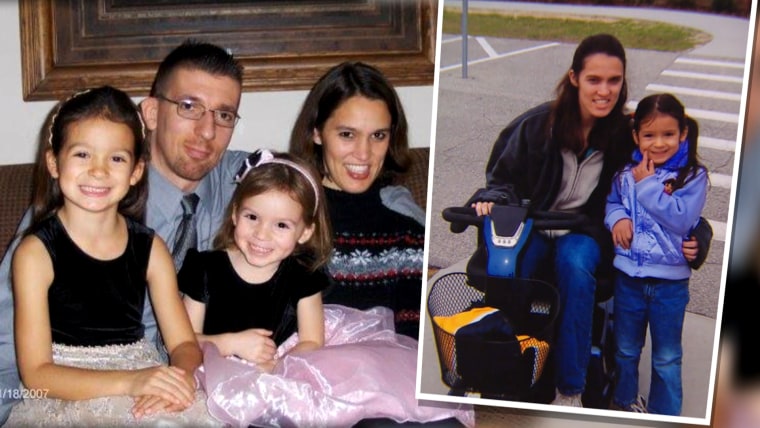 And it didn't. Though it did slow her down a bit.
Abbott was using a scooter to get around when she met her husband, Steve. And had to lean on him when they cut their wedding cake.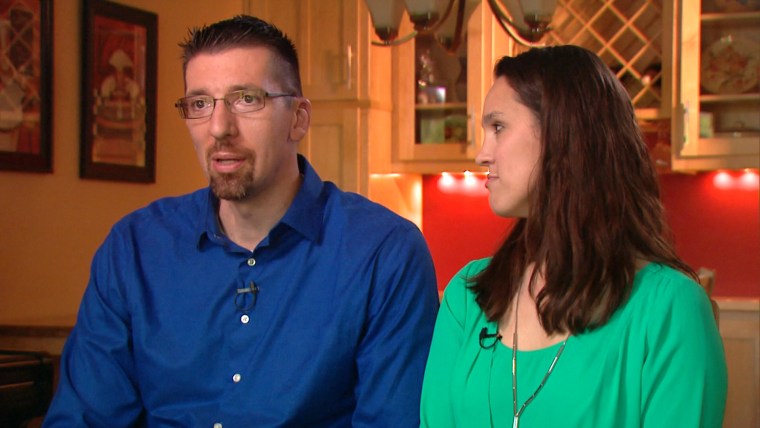 They soon had two little girls. But Abbott's condition made things tough. She couldn't drive her daughters to activities or even make them lunch for school.
"As a mom, you just feel inadequate," she told Snow, her voice starting to crack. "People that didn't really know me, they would come up and say, 'Do you have cerebral palsy?'"
Then, in her late 20s, Abbott saw a new doctor who asked a surprising question.
"Are you sure you have spastic diplegia?" Abbot remembers the doctor saying. "Because something just doesn't seem right."
The doctor referred Abbott to Dr. Martha Nance, a neurologist at Struther's Parkinson's Center in Golden Valley, Minnesota.
After talking to Abbott, Nance realized there were symptoms that just didn't add up to cerebral palsy: Abbott walked more easily in the mornings, and her disability was getting worse as she got older.
"My job when I saw her was to think about any other possibility," Nance said.
Nance recognized the symptoms of a condition called dopa-responsive dystonia, a genetic disorder. The condition, also known as DRD, is exceedingly rare. Estimates are that just one person in a million has it, according to the National Institutes of Health.
"I thought she was crazy," Abbott said. "I couldn't imagine living life any other way. I mean, I have spastic diplegia cerebral palsy. I'd been treated all my life for that."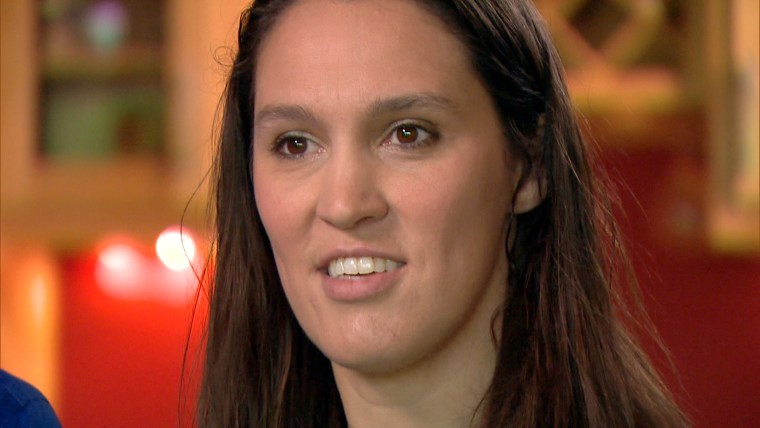 But a new diagnosis wasn't all that Nance was talking about. She also had some amazingly good news:
The "dopa" in DRD means that the condition can be treated with a drug called levodopa. The medication bumps up levels of a chemical messenger called dopamine, which is necessary for normal movement and which is low in people with DRD.
A simple pill a day could banish Abbott's symptoms.
And that meant that after more than 30 years Abbott would be able to walk without help. Not only that: She'd be able to play, really play, with her kids.
Abbott remembers how the news affected her daughters. "To have a child cry for joy is just not something you see," she said. "She was so genuinely happy her mom could walk."
For Abbott, the world had just opened up.
"I just felt so grateful," she said. "Just thinking 'I want to see more . There's so much out there I want to see. I want to see more.'"
Her husband has watched as his wife has blossomed.
"She's like a different person now," he said, "able to do so many things we never dreamt she'd be able to do. Playing with the kids. It's been amazing to see the transformation."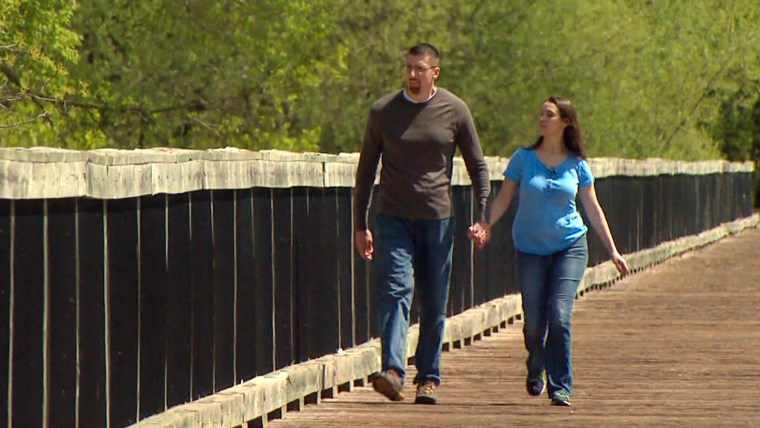 And it looks like it's likely to last.
"Patients with dopa-responsive dystonia typically have an excellent response to levodopa," said Dr. Yvette Bordelon, an associate clinical professor in the movement disorders program at the David Geffen School of Medicine at the University of California Los Angeles. "There aren't many studies documenting long-term follow-up, but symptom control can be maintained for decades."
Abbott doesn't feel any acrimony towards the doctors who misdiagnosed her initially.
"I'm not angry in the least," she said. "All my life experiences I had to deal with, the physical therapy, the surgeries, all the medication, they all made me a really strong person. And they helped form me to who I am today.
Through it all, Abbott has remained happy and optimistic. She chronicles her life since the diagnosis in her blog, Rainy Day Friend: Journey from Wheels to Heels.
"When I go to bed at night and think about who I was in my past life, I smile because I'm proud of who she was and pleased that she is making the most out of her current life ... never taking anything for granted," she wrote in a recent post celebrating the fifth anniversary of her new life.
This story was reported at DailyMail.com.
Linda Carroll is a regular contributor to NBCNews.com and TODAY.com. She is co-author of "The Concussion Crisis: Anatomy of a Silent Epidemic" and the recently published "Duel for the Crown: Affirmed, Alydar, and Racing's Greatest Rivalry."