As Mel Rymill stood in the shower, she felt her annoyance growing. She had just returned from her first — and only — session with a personal trainer. The trainer looked at Rymill and said, "Obviously you want to get back to your pre-baby weight."
But that's not what Rymill wanted.
She's played roller derby for seven years and felt used to having a strong body (she's known in the rink as Jetfire). But her pregnancy was high risk and she had to stop exercising overall.
She simply hoped to regain the strength she lost, not look a certain way or reach a specific number on the scale, and that's why she contacted a personal trainer.
RELATED: Amy Schumer gets emotional talking about body image, empowerment on TODAY
"I loved being active and take pride in my body, but after giving birth I felt like I needed some guidance and motivation to become strong again," Rymill told TODAY.com via email.
The session with the personal trainer certainly gave her strength, but it wasn't the physical kind.
Rymill took to Facebook, posting a picture of herself in her granny panties and nursing bra, sharing her experience and urging people to love themselves as is without labels and conditions.
"Post pregnant women are told they look good if they return to their pre-baby body, quickly leading to the assumption that they look bad if they keep the extra weight. Skinny people are envied for their lack of fat or shamed for apparently starving themselves. Voluptuous women are either labeled fat and shamed or they're labeled brave for being comfortable in their own skin. There is always pressure," she wrote.
Her post, which ended with the hashtag #Badassundies, has gone viral, and women began responding by posting pictures of themselves in their undies, thanking Rymill for inspiring them to love their bodies as is.
"It was really a spur of a moment thing," said the 33-year-old mom and media and community engagement officer in local government in Adelaide, South Australia. "I looked in the mirror and started getting down on myself before snapping out of it and remembering that my body is amazing. It allows me to do amazing things."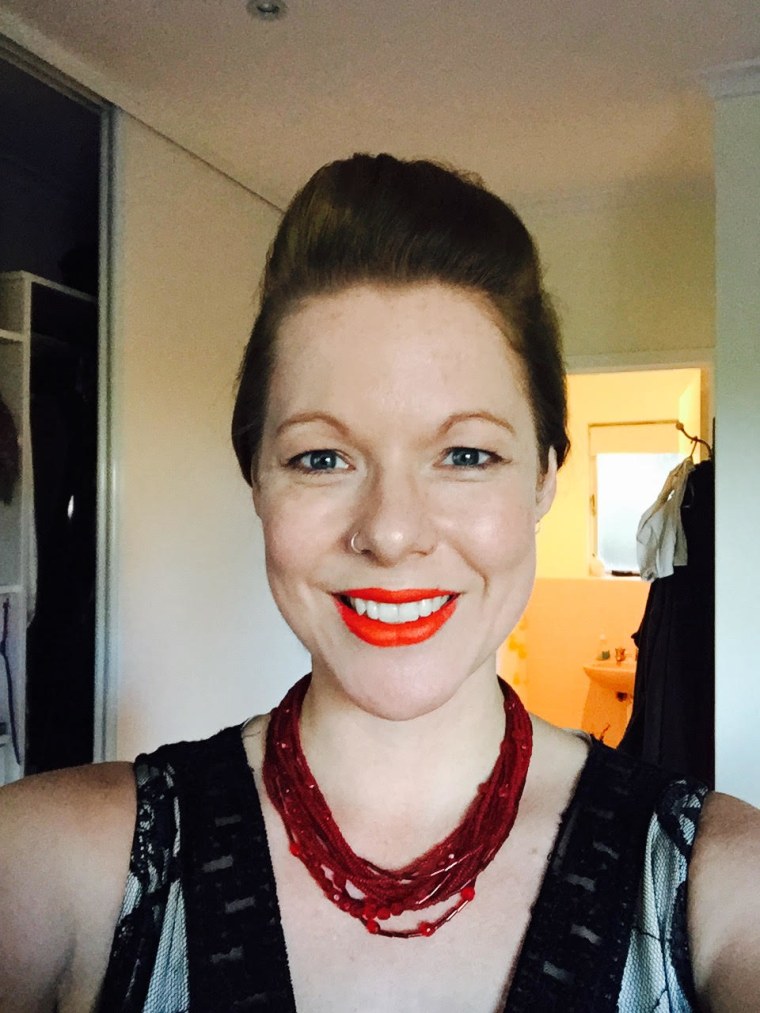 RELATED: Shay Mitchell's inspiring body confidence tips: 'You want to look like you'
As is the case for many other women, this isn't the first time that Rymill's body came under scrutiny. But as an adult, she feels she's better equipped to handle it.
"As a large-breasted woman, I have always received unwanted comments about this, even as a young teen. It made me feel weak and vulnerable as well as worthless," she said. "As I got older I became more confident and wasn't bothered, but growing up, it was really quite damaging."
While Rymill did not think her post would ever go viral, she's excited to see so many women celebrating their bodies.
"It's been great to see people reclaiming the power and owning their own bodies," she says. "It's not about whether you are big, small, lumpy, cuddly, boney, shaped like a dodecahedron, a woman, anywhere on the gender scale or anything else you can think of. #Badassundies is about reclaiming the world we live in and flooding it with real bodies, no, REAL PEOPLE."