/ Source: TODAY Contributor
When Jordan Kirkham's husband picked her up into his arms, she felt on top of the world. Finally.
In the pool about a month ago, Kirkham was overjoyed when her husband was able to pick her up, the first time he had ever done so. Since January 2015, the mom of two has shed at least 140 pounds, down from over 300 pounds.
"I haven't been picked up since I was a kid, so when he did that with no hesitation, no struggle, just picking me up, I almost cried," Kirkham, 24, told TODAY. "I felt light as air. I was over the moon I was so happy."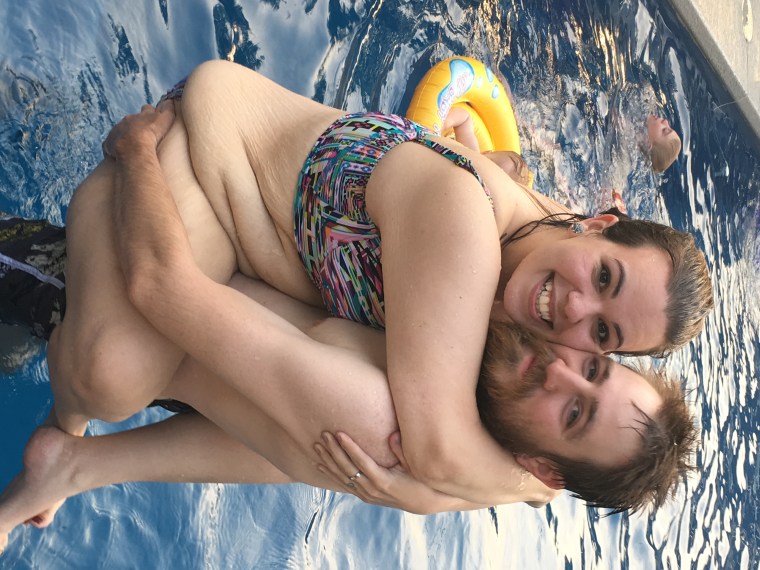 Her husband, Daniel Kirkham, had whispered in her ear, "Look, I can pick my wife up," and pretended he was carrying her over the threshold on their wedding night, she said. Kirkham wanted to document the moment for her large Instagram following, as part of her weight-loss journey, and they recreated the pose in a photo that went viral.
"That's a pretty big non-scale victory so I wanted to post it," said Kirkham, who was overweight for most of her life and now weighs 170. "I was hesitant because of the loose skin, but that wasn't the point. The point was my husband picked me up."
Her loose skin, which hangs uncomfortably from her stomach, thighs and arms, as a result of her weight loss, is the reason she believes the photo racked up nearly 50,000 likes on Instagram.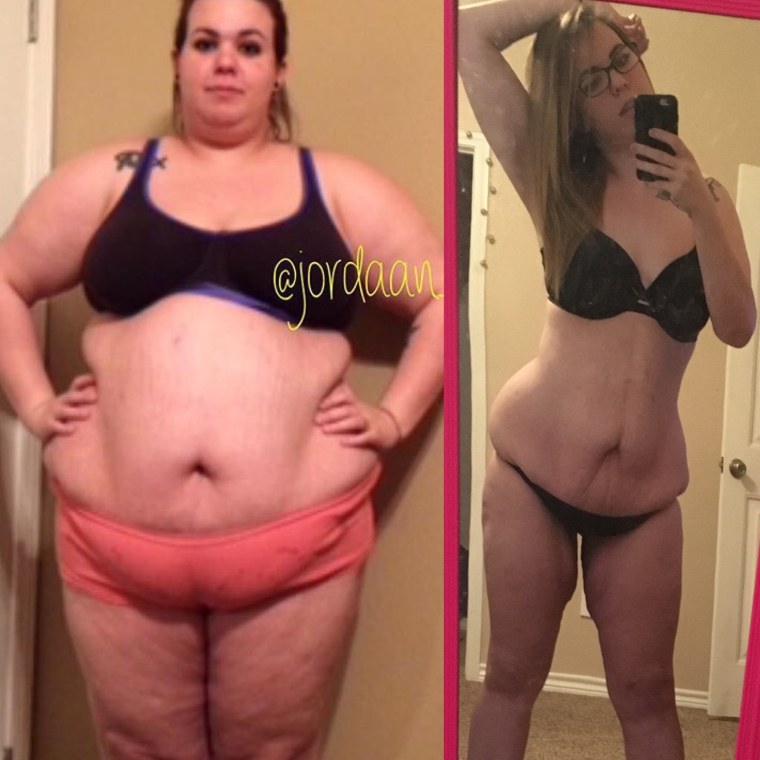 "It was so raw and so real," said Kirkham, who has sons ages 3 years old and 11 months and lives in Bastrop, Texas. "I didn't tuck it or hide it. This is real life."
The victory was another step in her nearly two and half year effort to lose weight and reclaim her life.
As an overweight girl, she was bullied and called names: Her middle school nickname was "Twinkie." As a young adult, it was hard to breathe, her joints hurt and getting out of bed could take 30 minutes. But not any more.
"I feel incredible," Kirkham said. "I have my life back."
Kirkham decided to lose weight in January 2015 after seeing herself in holiday photos.
"I knew I was big, but I didn't realize how big I had actually gotten," Kirkham said. "I was so tired of being heavy."
At the time, she estimates she weighed 320 or 330 pounds. Her highest recorded weight was 310 pounds at a doctor's appointment a few months earlier. She knew she wanted to live a long life for her growing family.
To start, Kirkham relied on portion control, healthier eating and exercise and lost 60 to 70 pounds before learning she was pregnant with her second son in November 2015. She restarted her weight-loss efforts after he was born in June 2016. Since January, she's been eating a low-carb diet and has lost another 60 pounds.
Kirkham had lap-band surgery in June 2015, but said it didn't work, as she was able to keep eating large amounts of food and gaining weight.
Through her viral photo, Kirkham hopes that people won't want to avoid weight loss because they are afraid of being left with excess skin, as she was at various points.
"I'd rather hold onto this 15 to 20 pounds of extra skin rather than having hundreds of extra pounds of fat on my body," she said. "It's OK to have flaws. Mine right now is my loose skin."
Kirkham wants to have the skin surgically removed when she reaches her goal weight of 130 to 140 pounds, and she is raising money to fund the procedure. "Some days are harder than others, but most of the time I love it because it shows how hard I worked," she said of the skin.
As she works to lose the last of her weight, she is happy with who she sees in the mirror: "A confident, beautiful young lady."
"I'm so proud of myself for how far I've come and the dedication that I've put in," Kirkham said. "I love my body that I'm in. I love myself. Now I don't hide from mirrors or try and run past them so I don't see myself."
TODAY.com contributor Lisa A. Flam is a news and lifestyles reporter in New York. Follow her on Twitter and Facebook. For more inspirational stories, check out our My Weight-Loss Journey page.
RELATED: