When it comes to choosing the right partner, don't overlook the way your potential soulmate handles money.
Financial adviser Suze Orman believes this is so important that she's known for telling people "FICO first, then sex." Translation: Find out your date's FICO score — a measure of how likely someone is to pay their bills on time or repay a loan — before getting more serious about a relationship.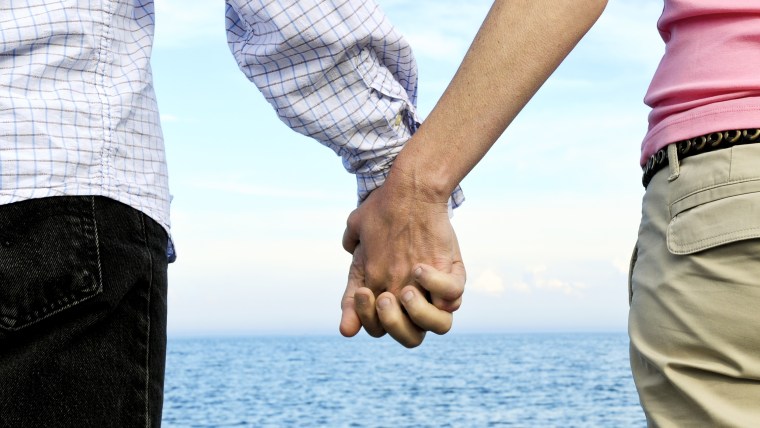 Now, a new analysis from researchers at the Brookings Institution, the Federal Reserve Board and UCLA suggests credit scores may also offer important insight when it comes to long-term relationships.
"We find that the farther apart the two people's scores are, the more likely they are to separate," Jane Dokko, one of the authors, told TODAY.
"One possible explanation is the idea that the credit scores don't just measure how likely you are to pay your bills on time, but that particular behavior is generally correlated with more general reliability, or how trustworthy you are."
You may already be familiar with credit checks when you get a mortgage, buy a car or apply for a job. But can a financial grade really predict matters of the heart?
Here are some of the other findings of the working paper, which focused on the Equifax "risk score:"
People with higher credit scores are more likely to form committed relationships than those with lower financial grades.
Partners who each have a high credit score at the start of their romance are more likely to stay together.
Couples with the lowest average scores at the beginning of their relationship are up to three times more likely to separate than couples with the highest average scores.
People tend to pair up with partners who have a similar financial grade. "Birds of a feather flock together when it comes to credit scores in committed relationships," Dokko noted.
In a way, credit scores may offer a glimpse into someone's character. A person who fulfills his financial commitments — like repaying a loan — may be equally serious about his commitment to be faithful and supportive of his spouse.
When partners have a big gap in their scores, it's a mismatch in trustworthiness that may affect the stability of a household, the authors write.
But Dokko cautioned the grades may not tell the whole story.
"It's also important to remember that there are aspects of credit scores that people can't control," she said. "If you can't pay your bills because you lose your job, there's not a whole lot that you can do about that, if you got unlucky."
This type of social interaction is a 'vitamin for depression'
And, of course, credit scores don't reveal anything about a person's warmth, sense of humor, lovability and other important personal traits.
Still, as the researchers worked on their paper, a number of their friends and colleagues told them that one of the questions they asked when they first began to get serious about their significant others was about their credit scores.
The analysis is based on credit records from 12 million consumers gathered over 15 years by Equifax, one of the big three U.S. credit reporting agencies.
Cornered at a party? Here are 8 words to get you out of any conversation
The sample did not contain any personally identifiable information, so to find couples, the researchers looked for people who started to share the same address in a particular quarter and lived together for at least a year and three months, which would likely exclude many roommate relationships. Almost 50,000 couples matched those criteria.