Audra Tatum used to never think twice about putting a foot up against the dashboard in the passenger seat, whether she was riding along on the highway or just going down the street to get gas.
What she thought was a frivolous posture became life-changing on Aug. 2, 2015, when she was involved in a two-car wreck with her husband driving near their home in Walker County, Georgia.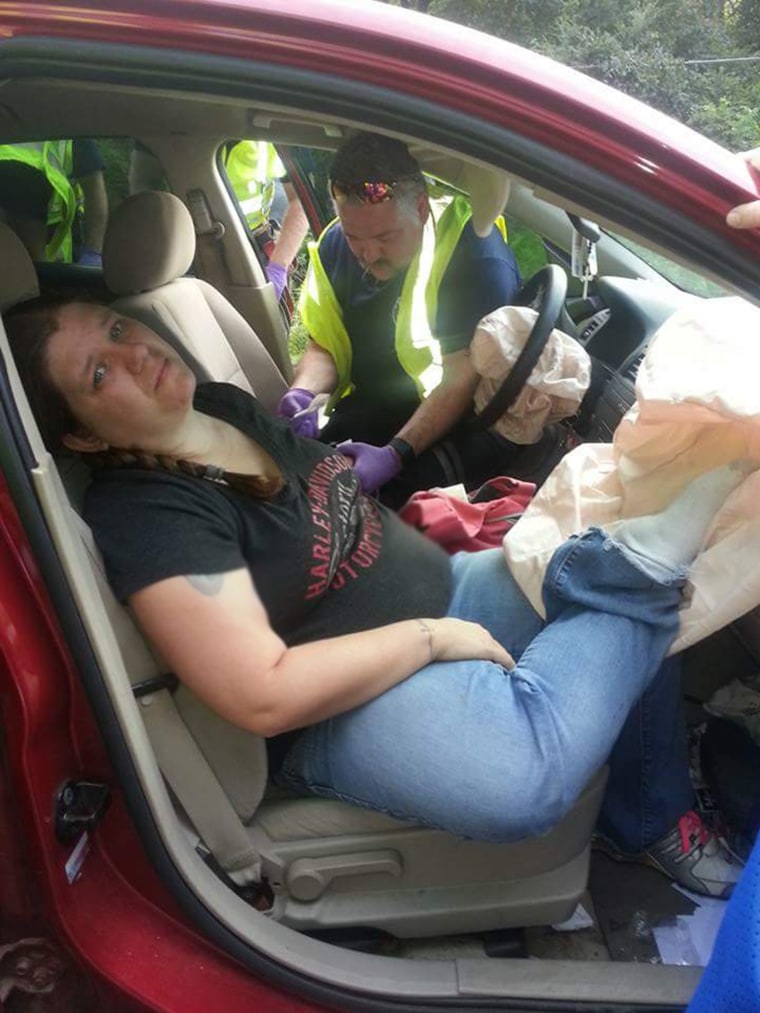 They were going to pick up their two sons and had their daughter, now 12, riding in the backseat when a car pulled out in front of them and they T-boned the other vehicle at a moderate speed. At the time of impact, she was wearing a seat belt and sitting with her legs crossed with her right foot pushed up against the dashboard of her 2007 Ford Fusion.
The airbag deployed, pushing Tatum's right foot back into her face, breaking her right ankle, femur and shoulder as well as her nose. Her husband and daughter walked away with only minor injuries, and doctors told her she would have been fine if both of her feet had been planted on the floor.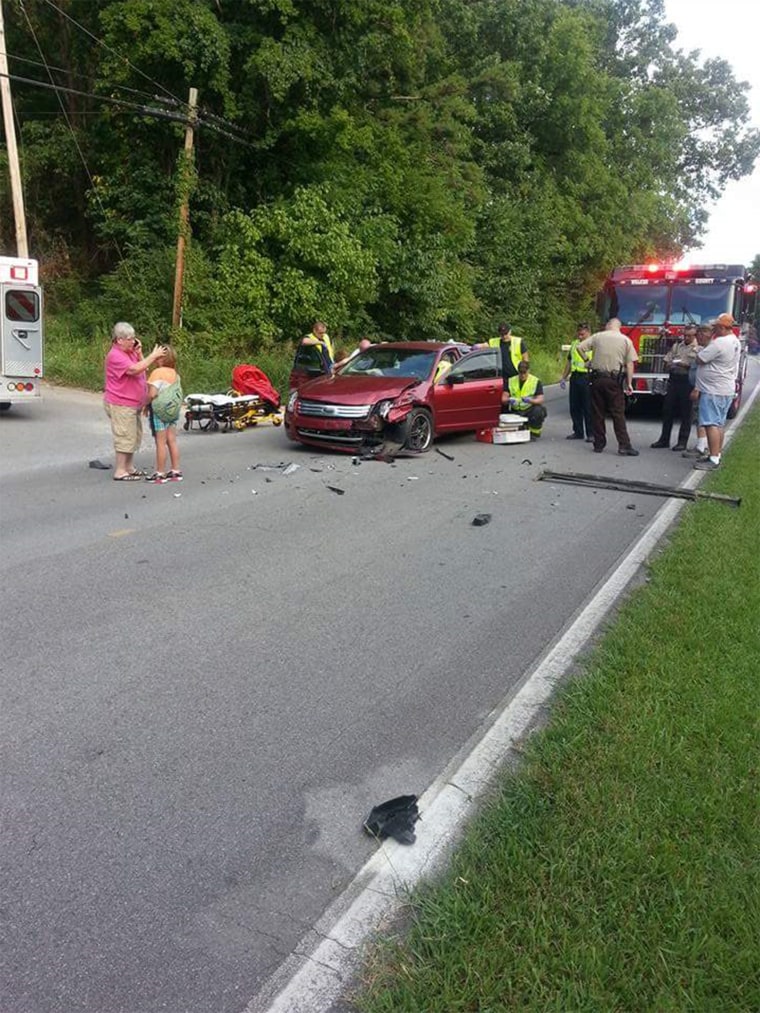 "It's changed the rest of my life,'' Tatum told TODAY. "I am limited now for the rest of my life. I am 33 years old with a handicapped tag on my car."
Tatum is sharing her story with others after seeing a Facebook post by the Chattanooga Fire Department in Tennessee warning people against putting their feet on the dashboard.
She saw some initial comments from people saying it wasn't really a big deal and wanted to disabuse them of that notion.
"I was like, 'Look people, this is real,''' she said. "Look what happened to me."
"I told her for years to stop doing it, because I knew that that would happen if we ever have an accident," her husband, Nick Tatum, 37, told TODAY. "It doesn't matter if you have your seat belt on or not, you're going to lunge forward, which makes your leg harder to pull back with all those G forces going forward. It is extremely dangerous."
Tatum recovered on her own with no physical therapy because she didn't have insurance to cover it. It took her four weeks to get on her feet and another two weeks with a walker. Her injuries still cause her pain while walking and standing for long periods of time.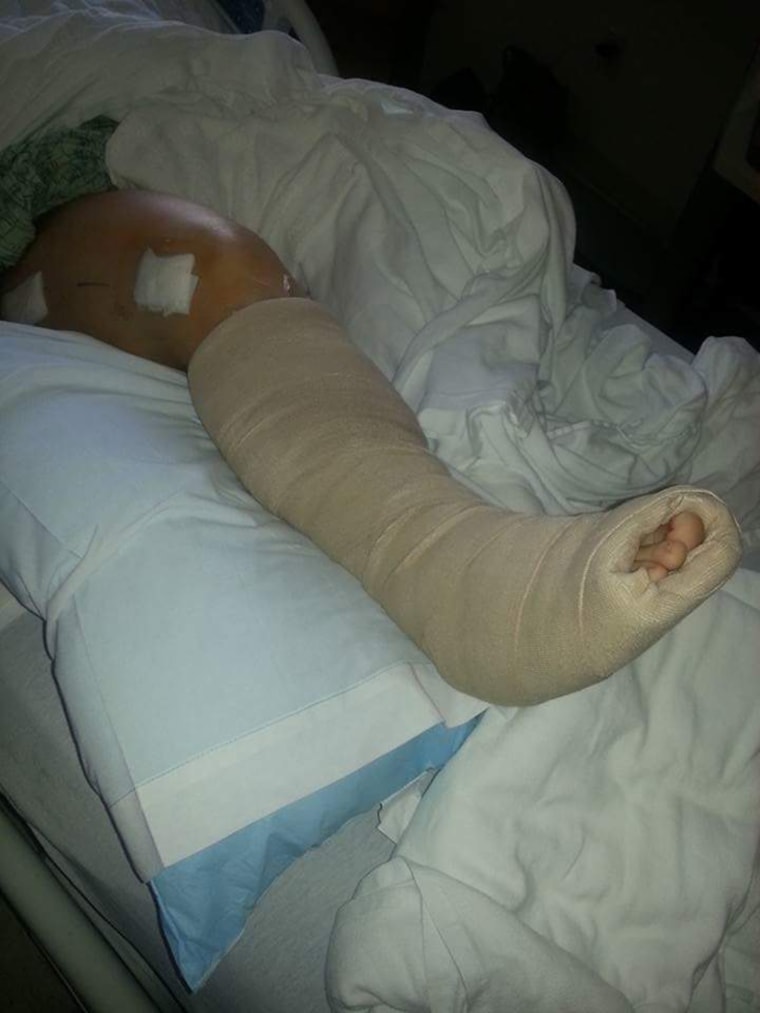 She had just graduated from school at the time of the accident and had hoped to become an emergency medical technician, but said the accident left her unable to perform the job.
"This one simple mistake made such a huge impact on our whole family's lives,'' Nick said. "It just tore her up and you just don't get over stuff like that. You can only heal so far, and scar tissue doesn't change and things that were broken didn't grow back the same way."
Bruce Garner, the public information director with the Chattanooga Fire Department, posted the warning on the department's Facebook page after driving down I-75 from Ohio to Tennessee earlier this month and seeing numerous people with their feet on the dashboard.
"People need to guard against complacency and realize that it can happen to them,'' Garner told TODAY. "You don't have enough time to react before an accident because you don't know what's happening.
"At first we got comments on the post from young girls saying, 'Eh, I'll take my chances.' Then they saw the real-life example (of Tatum), and you didn't see any more comments like that. If you tie the safety message with an actual person who's experienced this, you really can't ignore it anymore."
Tatum was grazed by the airbag and only had one foot against the dashboard, unlike some people who will put both feet up on top of it.
"I am confident (the airbag) would put your knees through your chest or your eye sockets if you have both feet up like that,'' Nick said. "It's like playing with a loaded gun."
Audra has set up a fundraising page with the hope of getting the message up on highway billboards about the dangers of putting your feet on the dashboard.
"If I can stop that from happening to even one other person, it would be amazing,'' she said. "I just want to put that image in people's heads and say, 'Get your feet off the dash.'''
Follow TODAY.com writer Scott Stump on Twitter.