A Washington State pet supply store owner's diet is going to the dogs.
Dorothy Hunter, who owns Paws Natural Pet Emporium in Richland, Wash., has vowed to eat nothing but pet food for 30 straight days in order to raise awareness about the diets of pets and humans.
"There's been a lot about the bad foods for humans," she said on her store's YouTube channel. "We sell holistic, natural foods — good ingredients, USA products — at Paws Natural Pet Emporium. I believe in our products and how good they are; I actually believe our pets are eating better than us. With that said, for the next month, until July 19 … I'm going to eat dog food for a month."
Hunter told NBC affiliate KNDO she'd been restocking store shelves when she got hungry — and had an idea. "I didn't have time to get a snack, so I grabbed a bag of treats off the counter, and I was like, 'Wow, you know, these read better than normal people treats.' So, I started eating the treats and I was like, 'You know, I can do this for 30 days."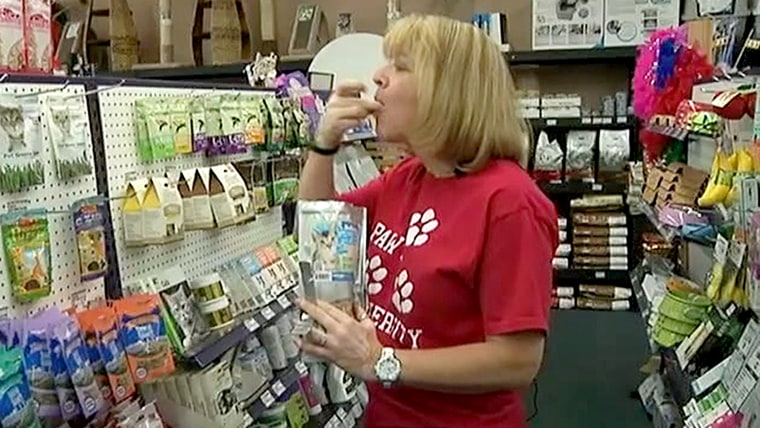 Canned cat food and wet dog food have been added to her diet. Even some of her employees have joined her in sampling pet cuisine.
And Hunter's doing it with enthusiasm. In that same YouTube video, she said she'd have "very good" freeze-dried cheddar dog treats as well as green-bean chips, also intended for dogs. "This is a really good diet for me, because I'm going to be eating some green beans today," she said.
In a statement, the Food and Drug Administration told TODAY that pet food is not intended for humans, since people and pets have different dietary needs, but noted that both are required to be compliant with food additive regulations and free of pathogens.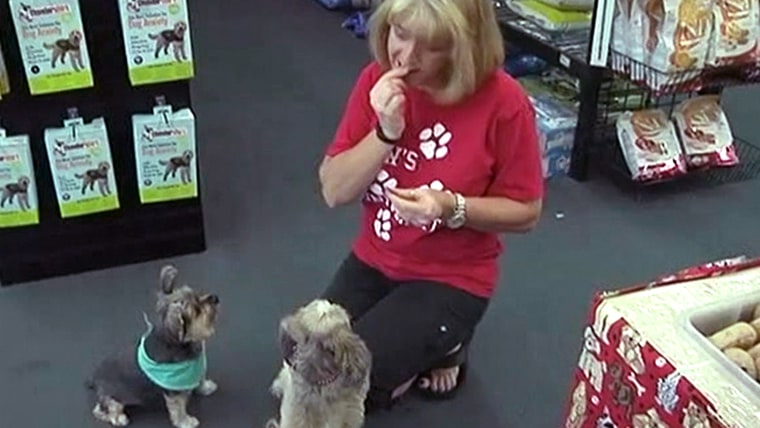 John Tegzes, a consultant for Just Food For Dogs, which makes pet food from ingredients intended for human consumption, told TODAY that while he appreciates Hunter's message of checking nutritional labels, he doesn't condone experimenting with pet foods.
"We're not sure of the ingredients," he said. "We're not sure of potential contamination. And then, nutritionally, it's not necessarily balanced for human nutrition."
TODAY diet and nutrition editor Madelyn Fernstrom said seeking less processed foods is smart, but pet foods can put you at risk for food-borne illness. "There are loads of unprocessed, high-fiber, nutrient dense snacks readily available for people," said Fernstrom. "Choosing to experiment with pet food as a long term option is a nutritional negative and might make you sick."
Although nutrition and lifestyle expert Arielle Haspel told TODAY.com she initially found the pet-food diet "gross," she came around after she thought about it some more. "But then I thought to myself, 'Well, I might actually do this myself.' It really depends on the ingredients."
Haspel agreed with Hunter that people need to label-watch with more consistency. "There are dog foods, probably, now on the market that are certainly healthier than some of the food we're buying in our supermarkets," she added. "What I would say is that if it is marketed for dogs and cats, just make sure it is edible and chewable before you actually try to eat it."
In another YouTube video, Hunter filmed herself eating pumpkin-flavored pet food. Right before taking a bite of Grandma Lucy's Organic Oven Baked Dog Treats, she says she prefers the blueberry flavor, adding, "This is my breakfast."
Follow TODAY.com writer Chris Serico on Twitter.