Nothing has been more enduring than the stereotype of women as chatterboxes, gabbing about everything and anything at any time, all the time. That Chatty Cathy construct simply isn't true, say researchers in a new study published in the journal Scientific Reports. Both sexes actually talk a lot, but when it comes to that "more" part, it all depends on context. 
To measure how much men and women actually did talk, researchers from Northeastern University and the Harvard School of Public Health had study participants wear a small device called a "sociometer," which is able to collect real-time data on social interactions.
In the first experiment, 42 men and 37 women, all of whom were candidates for a master's degree, were asked to complete a task in 12 hours. The participants could talk to each other if they wanted. In the second experiment, 16 male and 38 female call-center employees at a major U.S. company were asked to wear the devices during 12, one-hour lunch breaks. They didn't have any task to complete.
Guess what? 
In that first experiment, women were more likely to engage in longer conversations than men, mostly likely due to the collaborative effort of the project. Women were also more likely to engage in shorter conversations, too. But when it came to that lunch-break scenario, women were only slightly more likely than men to engage in both short and long-duration talks.

And get this. Women were most comfortable talking in smaller group setting. When groups of talkers consisted of more than five people, it was the men who did the most talking.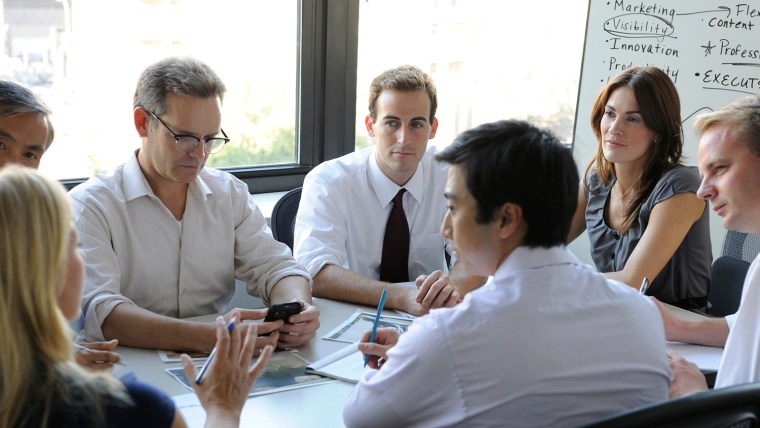 "The talkative woman stereotype has been around a while, but we were able to quantify it, and basically show that a setting matters, and collaboration seems to matter to women," says lead author Jukka-​​Pekka Onnela, assistant professor of biostatistics at Harvard School of Public Health.
The take-away message may be most important for business leaders. "More and more problems are solved in groups and diversity trumps ability," says psychologist Dr. Holly Sweet, co-director of the Cambridge Center for Gender Relations. "When you get more women in a group or in a smaller group, you are going to have a better problem-solving model."
Prior research has already put a gag in the mouths of those who say women are big talkers.
A six-year series of studies published in the journal Science in 2007 of some 400 U.S. and Mexican male and female university students, showed that women spoke a daily average of 16,215 words a day, versus 15,669 for the guys. The participants in this study wore an electronic recorder that caught the chatter.
"A 500 word difference is statistically meaningless," says Dr. Matthias R. Mehl, an assistant professor of psychology at the University of Arizona who led the study. In fact, the three most talkative individuals in the study were men, one of whom used 47,000 words.
"This study (Scientific Reports) adds to what we know," says Mehl. "We have a gender magnifying glass and tend blow up differences. The big picture is much smaller than what people think."