Last week, TODAY national investigative correspondent Jeff Rossen reported on hidden germs at the gym. This time he took his germ meter and test swabs to another environment rife with hidden hazards: the TODAY offices!
Get Jeff Rossen's new book, "Rossen to the Rescue," here.
It was a perilous mission for a good cause: revealing the kinds of office areas where you should be wariest if you want to get through this year's intense cold and flu season.
Rossen got right to work by testing his own keyboard for the general presence of germs. Anything over 100 on the germ meter was considered a fail. Rossen's keyboard registered 790 — nearly eight times the acceptable level of bacteria.
The good news is, wiping with disinfectant wipes helps. After cleaning his keyboard for a few seconds, Rossen tested it again. This time the reading was an acceptable 53.
But what about his colleagues at NBC headquarters?
From his producer Kacey Cherry's desk, Rossen took a reading of 906, over nine times the acceptable level of bacteria. "We don't have to air this, right?" she said hopefully.
In TODAY anchor Hoda Kotb's dressing room, Rossen got a reading just under 100 from Hoda's keyboard. But her phone was a different story: 306. "It's my own germs, hopefully," Hoda said.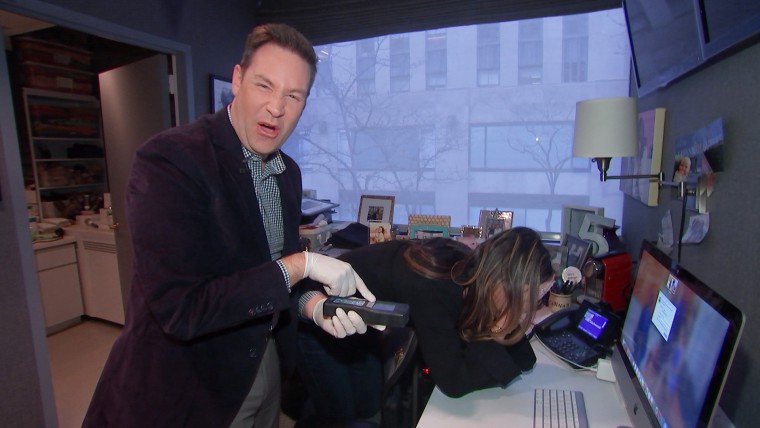 Hoda's co-anchor Savannah Guthrie was hoping for a better score than Hoda, but was disappointed when her keyboard registered 231, more than double the acceptable level of bacteria. But the most shocking reading came from Savannah's phone: 585!
Savannah was quick to point out that "a lot of people use this office": Sheinelle Jones, Dylan Dreyer and Craig Melvin, for instance.
"I want a rematch!" she demanded.
To suggest a topic for an upcoming investigation, visit the Rossen Reports Facebook page.