Want advice from a high-profile divorce attorney without the costly per-hour charge? Attorney Mark Barondess offers counsel to those contemplating marriage or divorce in "What Were You Thinking?: $600 Per Hour Legal Advice on Relationships, Love, Marriage and Divorce." Barondess visited "Today" to discuss his book. Here's an excerpt.
"What were you thinking?" "What was I thinking?" These two haunting questions have probably been pondered by you or posed to you by your family and friends at one time or another. These are the questions that are the subject of lively discussion, maybe even debate, and more frequently, gossip. They are the questions posed on the eve of or in the days following the demise of a relationship. It's the "I can't believe I dated him," or "I can't believe you actually married her — what were you thinking?"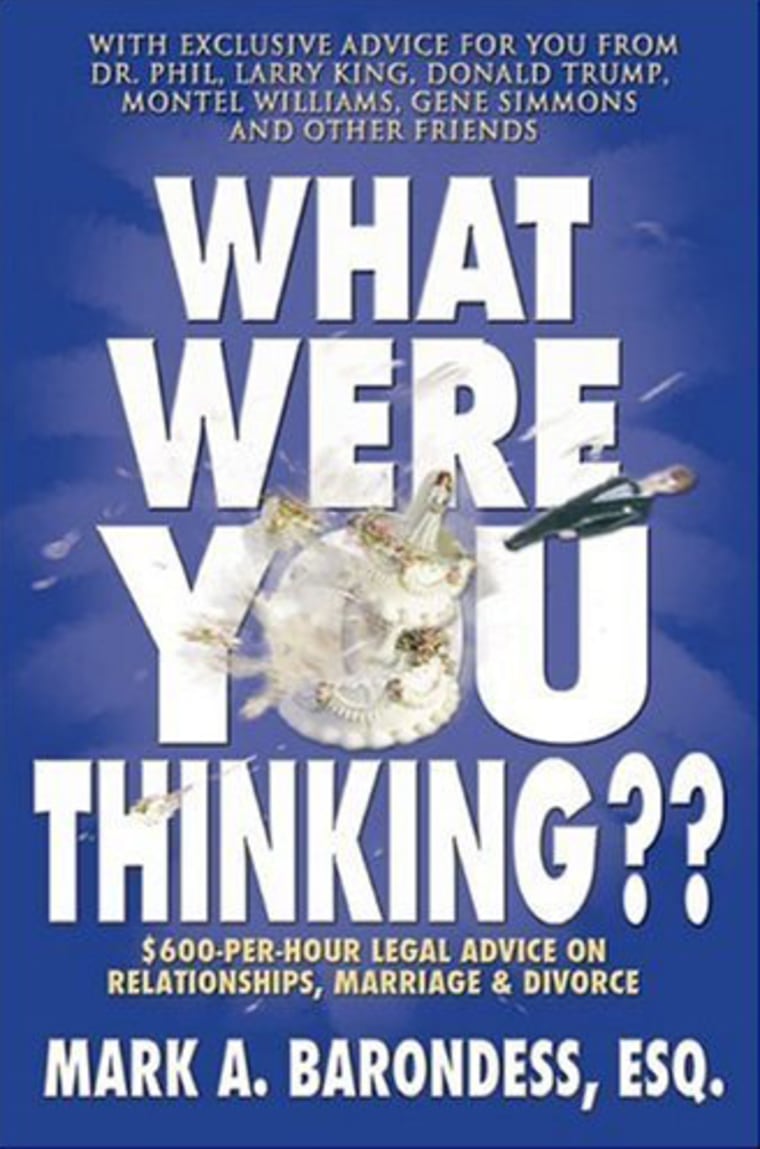 Ninety-five percent of all Americans will get married at some point in their life — and half of us will get divorced. As such, marriage and the peril of divorce should certainly be topics of abiding interest to most people. What about you? When you look back at your life or take a look ahead, should you have gotten or get engaged, married, divorced or remarried? The answers to these questions are invariably up to you, and they should be considered only after the most careful reflection on the experiences that you have had in your life and the risks you are willing to take in order to enjoy the happiness that marriage or divorce can bring. Life is simply too short to have to unnecessarily endure the misery of a divorce once, let alone twice or more.
Imagine the following scenario: Before you considered getting married or divorced, wouldn't it be nice if you could sit down with a lawyer who ordinarily charges $600 per hour and talk openly about your marriage or divorce plans without having any concern as to the amount of the legal fee you would incur? Would it not be beneficial to be able to get some witty straightforward advice for yourself, a family member or friend who was contemplating marriage or divorce? Wouldn't it be helpful to know how lawyers and judges really deal with those whose marriages have failed? Wouldn't it be great to have a better understanding of the laws pertaining to marriage and divorce, as well as a few tricks in your pocket in the event that the joy of "I do" becomes the agony of "I don't"?
There have been numerous books, studies and dissertations written by individuals far more intelligent than I that attempt to espouse the reasons why adultery occurs. My own personal theory? People who commit adultery generally fall into one of two categories: first, they are not "content" and do not care if their marriage falls apart; second, they are not "content" and do care if their marriage falls apart. Of course, in both circumstances, the marriage has already fallen apart, at least for one of the parties. "Until death do us part" has become "Until caught in the act."
Many of life's biggest and very best rewards are bestowed upon those of us who take the largest risks. But before you take a risk, you should at least have a basic appreciation of the potential consequences of your decision.
Adultery Adultery. The Merriam-Webster dictionary defines the act as follows: "Voluntary sexual intercourse between a married man and someone other than his wife or between a married woman and someone other than her husband." It would seem to be a pretty straightforward definition of an activity that is probably second in frequency only to the act of marriage itself — and one that leaves out all the broken hearts and financial consequences that come along with it. As an act, adultery is no laughing matter — just ask anyone who has endured his or her spouse's indiscretion. It can end a marriage in a hurry. Even if it does not, it can also cause lasting hours and have a tremendous effect on all parties associated with the act: the spouses, the third or parties involved, and on their children.
Though certainly emotionally devastating, if your spouse is cheating, divorce is not your only option. There are other solutions to explore. Is one lapse of judgment on the part of your husband or wife who went out and did something stupid one night, enough of a reason to throw away fifteen years? Alternatively, are you big enough to accept the fact that he or she is human, vulnerable, makes mistakes, but still loves you and wants to be with you? I used to tell people that it was not a decision I could make for them, but it was something they needed to come to peace with in their own mind.
Many present-day married American couples have a zero-tolerance policy toward infidelity. (Remember Lorena Bobbitt?) It is certainly a fact that both men and women cheat — though I believe that more women tend to feel that sex is an emotional act, whereas many men can have sex, say thank you, leave and never think about it again.
Certainly in the case of adultery, there is a difference between a one-night fling and a "relationship." Whatever the indiscretion, the perpetrator has to carry it around with him or her and live with what they have done. Moreover, for most, it is an enormous burden to carry, whether it was committed just once or multiple times. Frequently following an extramarital encounter the spouse feels remorse and is contrite. They regret that the encounter hurt their lover as well as their spouse.
A basic premise of most religions is the concept of forgiveness. The Lord's Prayer implores us to "Forgive us our trespasses, as we forgive those who trespass against us." However, in reality, I never saw a great deal of forgiveness implemented, at least not in marriage. In all fairness, it is hard for there to ever be true forgiveness of an affair. There will always be suspicion in the other person's heart, that feeling of trepidation. There is always going to be that question, "Where are you going?" "Who were you just talking to?" It is hard for the wronged spouse not to heave the affair in their partner's face every time something comes up. To imagine your love having sex with another is gut-wrenching. The person who cheated and " 'fesses up" or got caught winds up feeling that the debt for their indiscretion can never be re-paid. The cycle of remorse and recrimination never ends. Only the most unique and rare couples can survive an affair with their marriage truly intact.
Advice to remember
The excitement of an affair is nothing compared to the excitement caused when you get caught.
If you are not satisfied with your sexual relationship with your prospective spouse, do not get married under any circumstance until you can resolve those issues — if you are already married talk openly about the issues with a competent therapist.
The grass is almost never greener on the other side.
The passion of sex always changes over time — what is so exciting with your lover will eventually become "the same old thing."
Trust is earned — keep your eyes open and use your common sense.
If you commit adultery, assume that you will be caught and be prepared to accept the consequences.
Affairs usually occur between your spouse and the last person you would expect — in addition to those that you might expect.
Most affairs can never be kept secret — a secret is no longer a secret when any third party is told about the affair.
There is nothing worse than having a child with someone whom you never intended to raise a child.
AIDS and other sexually transmitted diseases can kill you.
Do not use credit or debit cards to pay for expenses associated with the affair and do not buy gifts or pay for travel for your paramour.
Video cameras are everywhere.
Cell phone records tell stories — use a land line or pay phone.
Excerpted from "What Were You Thinking?: $600 Per Hour Legal Advice on Relationships, Love, Marriage, And Divorce" by Mark Barondess. Copyright ©2005 by Mark Barondess. Published by Phoenix Books. No part of this excerpt can be used without permission of the publisher.