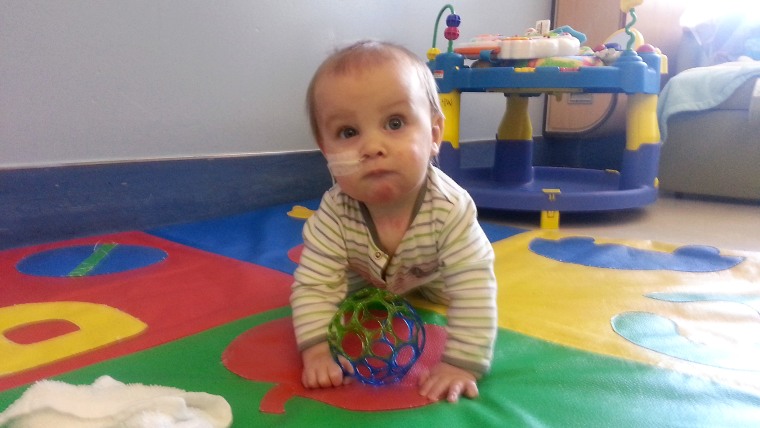 A 9-month-old baby is baffling doctors with his rare diagnosis — a condition that keeps him from opening his mouth.

A nurse first noticed something was wrong after Wyatt Scott was born on June 27, and she scooped him up to check his palate.
"She couldn't get a finger in his mouth," says Andrew Scott, Wyatt's father. "I don't really think it hit us at that point."
Wyatt was diagnosed with congenital trismus, a condition that causes limited mouth movements. The best known form of trismus is lockjaw, muscle spasms in the jaw caused by a tetanus infection that make it almost impossible to open one's mouth.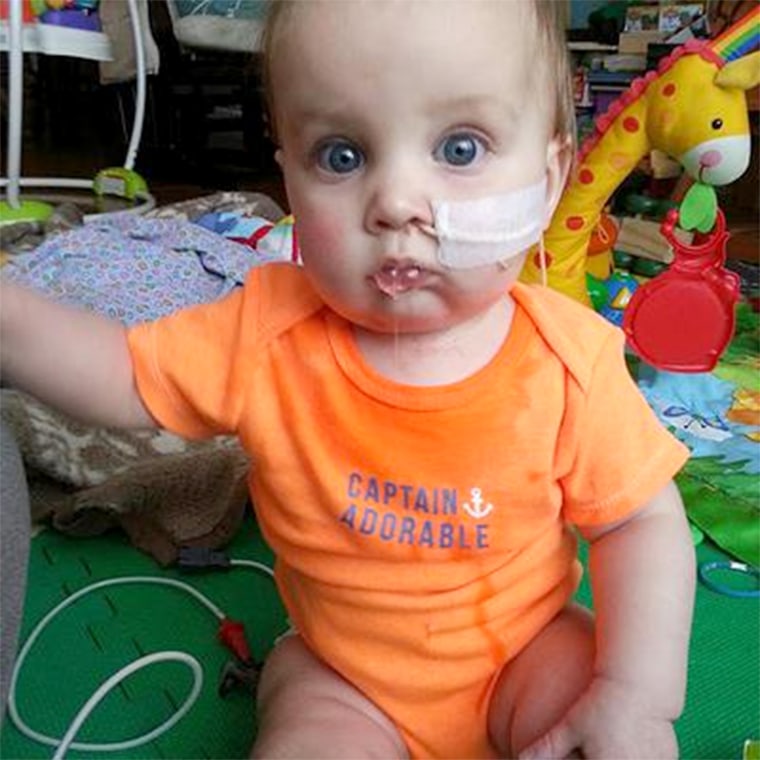 But Wyatt does not have tetanus-caused trismus. In fact, doctors have no idea why Wyatt's mouth doesn't open.
"Congenital trismus is exceedingly rare," says Dr. Wayne Ozaki, professor, chief of pediatric plastic surgery and director of craniofacial surgery at Mattel Children's Hospital UCLA, who has not treated Wyatt. In his entire career, Ozaki has never seen a case of it.
Dr. J.P. Vaccani, a pediatric otolaryngologist at Children's Hospital of Eastern Ontario, where Wyatt lives, says there have been incidences of babies born with trismus but these cases differed from Wyatt's because either a fused joint or a band of tissue connecting the upper and lower jaw caused the disorder.  
"The interesting thing with Wyatt is that we don't know why. We have had other kids with trismus but with Wyatt we haven't had a cause," Vaccani says.
Not knowing a cause makes it challenging for doctors to treat. And it proves challenging for Wyatt's parents.
One day, Wyatt spit up, like any baby. Because he can't open his mouth, he can't clear it and sucked the vomit into his windpipe, causing him to choke. Scott called 911 immediately as his wife, Amy Miville, tried giving the baby breaths. Then as Scott started CPR, he felt Wyatt's body become limp. He couldn't feel a pulse.
"It was pretty horrible. It was scary. I really thought we were going to lose him," says Scott.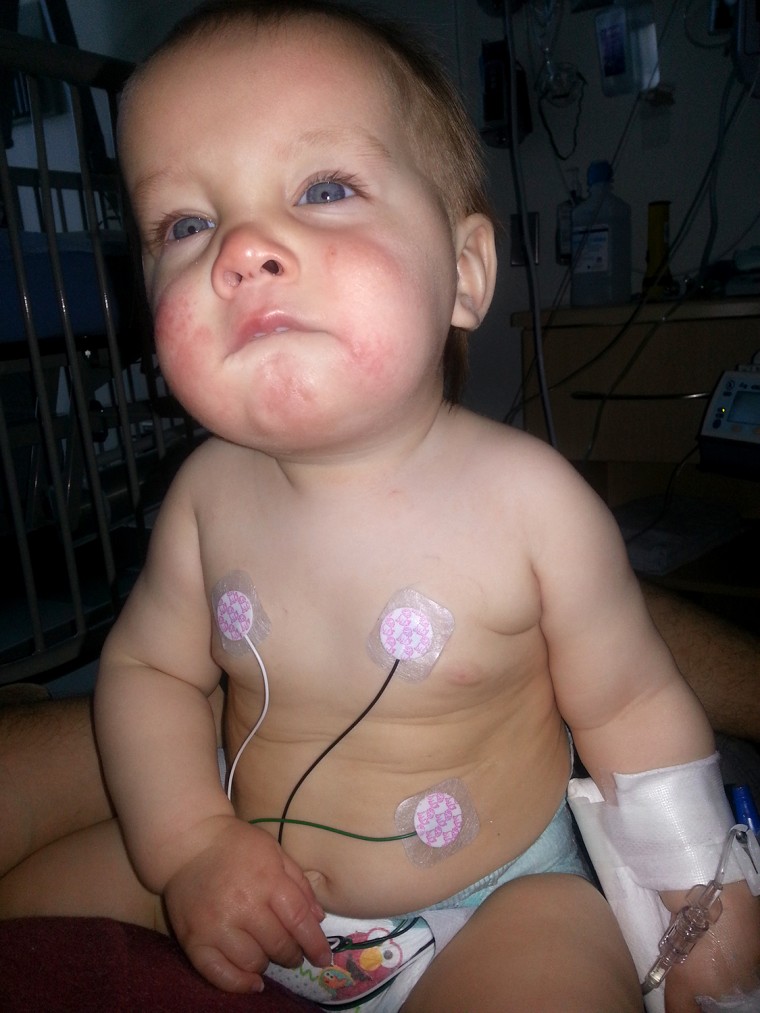 As the ambulance arrived at the house, Wyatt gasped and began breathing again.
"Luckily, we did save him and he is still with us," Scott says.
Scott and Miville have had to call 911 six times because their son was choking. And daily care is also tough. Wyatt's mouth must be suctioned; the condition makes the little guy drool more than usual. Someone must always watch him and he is attached to an oxygen monitor at night, which sounds if he doesn't have enough oxygen because something is blocking his airway. A tube snakes down his nose so he can receive food.
Wyatt is developing normally, though he has spent only six consecutive weeks at home before a scare sends him back to the hospital. He coos and babbles and is starting to roll over, which can be a real mess when he's eating.
Wyatt receives Botox injections, which relax the muscles in his jaw. Twice daily, his parents perform physiotherapy on his mouth, which works the muscles to help them slacken. After nine months of treatments, Wyatt can get one and a half fingers in his mouth — a huge improvement since birth.
Even though the treatments seem to be making small improvements, doctors remain unable to offer a cure. Scans have turned up no problems with his muscles or jaw, so Vaccani believes that the boy might have what's known as a neuropathy, meaning there is some damage to his nerves, causing the trismus. There is some evidence of nerve abnormalities.
While Ozaki has not reviewed Wyatt's records, he believes that if Botox and exercising work, a muscle problem might be the cause. Even though scans have not shown any problems, he wonders if there is some unseen muscle damage. If this were the case, surgical intervention might help.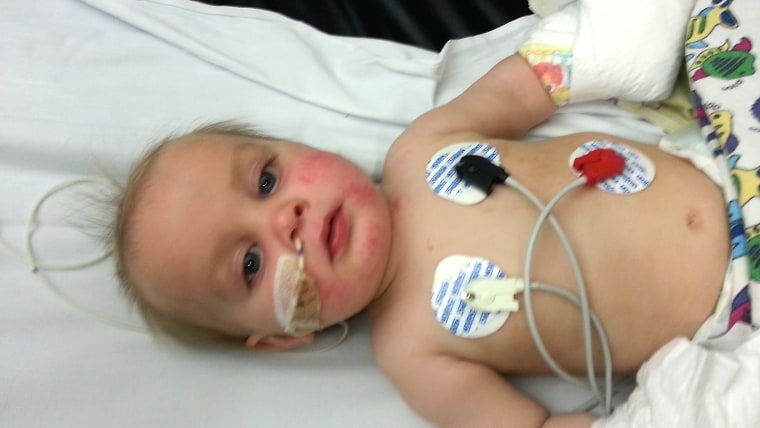 "When people have mechanical trismus like that, the muscles are tight. A lot of times you can put [them] to sleep and force the jaw open more," he says.
His parents built a website What's Wrong with Wyatt with the hopes that others who have had similar experiences will provide clues as to what might be wrong with their son.
"I have been impressed with the power of social media," says Vaccani. "[It] has been a powerful tool to get the information [out]."