When it comes to style, former fashion editor Elisa Goodkind and her daughter Lily Mandelbaum are on a mission to prove it's what's underneath a person's clothes that really matters.
"I can always tell that someone has style when they're naked," Goodkind told TODAY.com. "I can see whether they have it, because it's just so much about who they are, in their skin."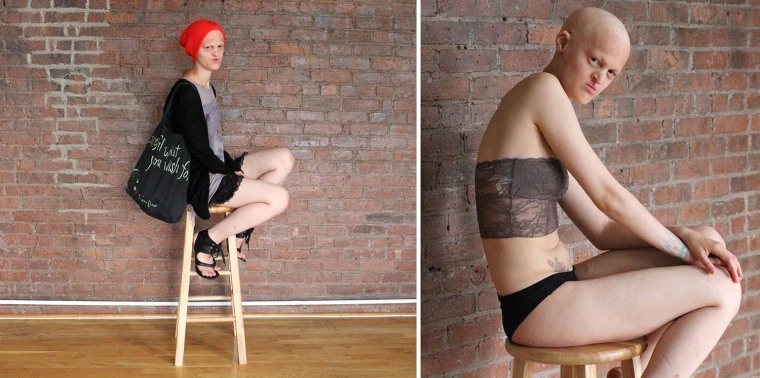 Goodkind and Mandelbaum regularly find themselves in this situation as the producers of "What's Underneath," a web series which premiered three months ago on their lifestyle website StyleLikeU. The series invites a diverse group of women and men of myriad body types to strip down to their underwear in a New York City studio and recount their experiences with body image and style.
"The primary objective of the project is to empower people to realize that true style is not about money, trends, Photoshopped imagery or a singular ideal of beauty," Mandelbaum told TODAY.com via email. "By asking people a series of intimate questions about style, body image and self-expression, while simultaneously having them remove their clothing, we want to show people that true style is about the authentic person inside the clothes, their confidence, their spirit and their willingness to express themselves honestly."
(Note: This video contains some profanity)
The most recent installment of the series, posted Monday, features Melanie Gaydos, who has a condition called ectodermal dysplasia, which can affect hair, teeth, nails and sweat glands. But before the bald, high-fashion model discusses that part of her life, she's asked what her style says about her.
"Hopefully, that I am cool, comfortable and creative," she says, sitting on a stool in front of a brick wall.
Mandelbaum told TODAY.com that Gaydos' interview is notable because she "has turned the pain of the extreme alienation and judgment she has faced, with regard to her looks, into her greatest strength, as she is now a fashion model thriving in NYC against all odds."
In Gaydos' video, while removing articles of clothing between questions, the model offers her take on topics ranging from the origins of her career to the assumptions people make about her.

"A lot of people judge me; I think people think I'm pretty [expletive] weird," Gaydos says. "When I go on a photo shoot, if there's other industry models there, they normally don't really know what to make of me. ... It's difficult for me in the fashion world, because a lot of people think of me kind of as a gimmick: 'Oh, she's just being exploited for her differences.' People have to talk to me to get to know me in order to understand where I'm coming from, or see where I'm coming from. It's pretty difficult."
When she starts to choke up, a voice from behind the camera says, "Go ahead. It happens on every one of these."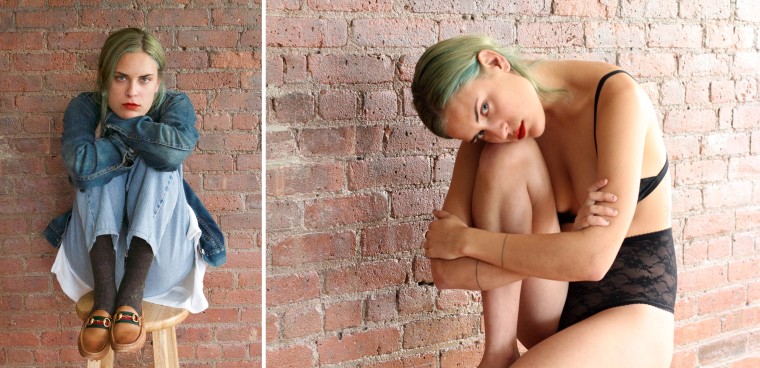 Goodkind told TODAY.com that the series' difficult conversation topics and emotional reactions align with the project's goals: "Our objective is to blow these beauty normatives out of the water, to free people from these standards, which are not standards that anybody can really attain."
Gaydos isn't alone in sharing emotional stories whose shock value far exceeds clothing removal.
In her interview for the project, Tallulah Willis, whose parents are Bruce Willis and Demi Moore, says she grew up with body dysmorphia — "feeling like I was ugly, always."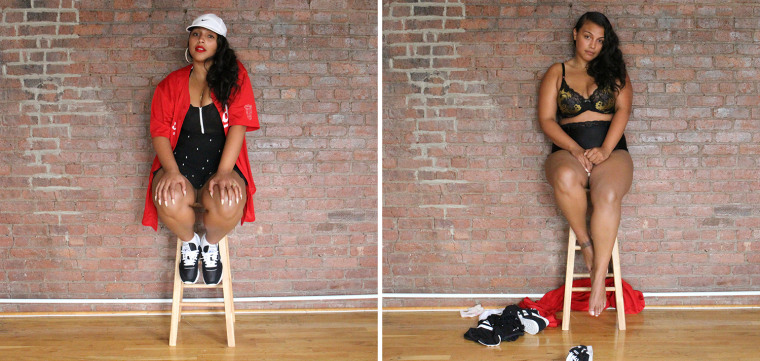 Writer-model Paloma Elsesser says she struggled with depression, drug use and finding her racial identity, adding, "I think I felt pretty alienated, being bigger, being mixed race, being of lower socioeconomic standing."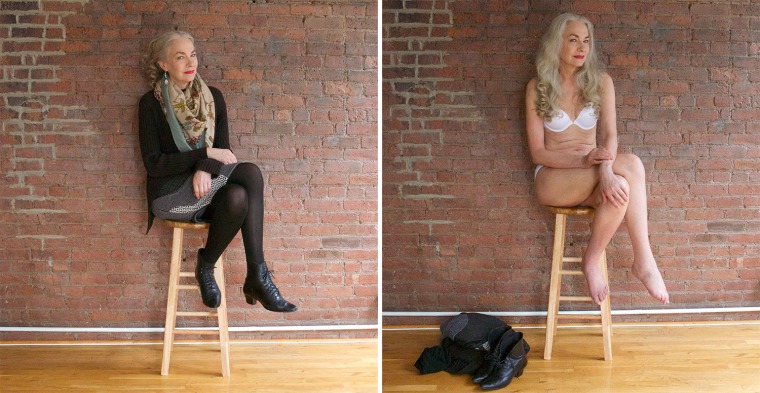 In the video for Jacky O'Shaughnessy, the 62-year-old American Apparel model says, "I think there's just an epidemic of poor body image, certainly for women at my age and getting older," adding that her ex-boyfriend once told her, "You're too old; I don't want to be seen with you in public."

Punk rocker Meredith Graves says she's furious when she's judged by her looks instead of her politics, and shaken by the violent nature of Internet comments. "People will go in the comments [section] and say, 'This band sucks, and I hope the lead singer gets raped and killed,'" she says, adding, "We live in a world where men feel so entitled to women's bodies, that when they don't get what they want, they go on killing sprees."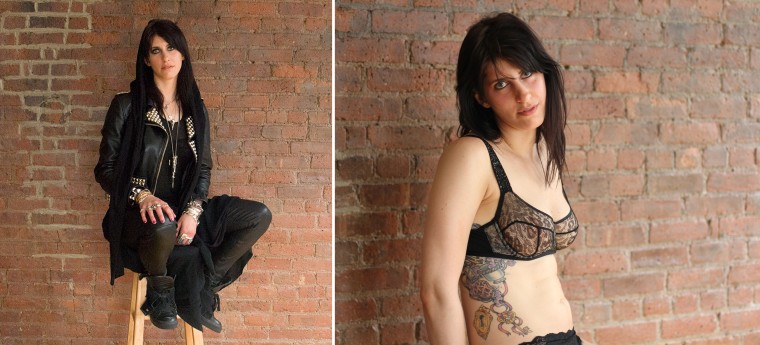 Visual artist Eryn Lefkowitz chronicles her battles with eating disorders in her interview. "I've had to learn healthier ways to cope with stress and to deal with body image," she says. "I'm learning to become more secure with my body."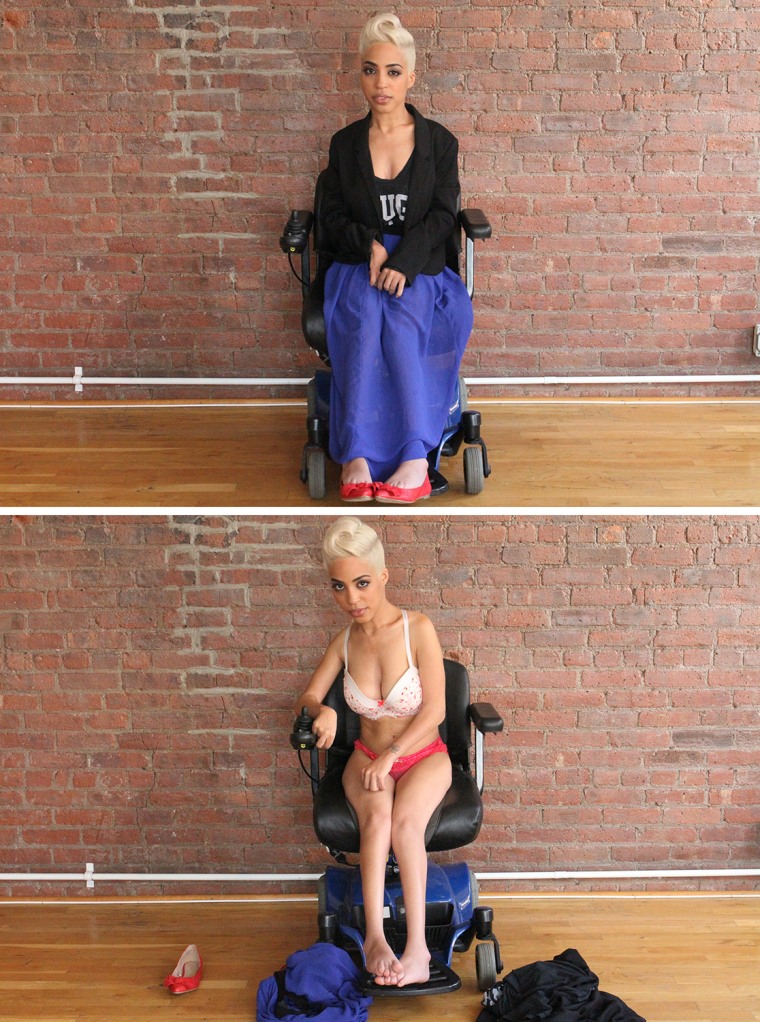 As executive editor for the fashion website We The Urban, Jillian Mercado refuses to let her muscular dystrophy and wheelchair use dictate her sartorial choices, telling "What's Underneath" that "people have stereotyped me into this notion that I can't have style, but I don't care."

While the initiative is relatively new, the creators' message isn't. With a résumé that includes editorial stints at Vanity Fair and Glamour, Goodkind collaborated with her daughter in 2009 to launch the StyleLikeU website with a mission to honor "authentic" style despite supposed industry standards.
Mandelbaum said working with her mother has been fulfilling.
"When we are making videos, it's always a beautiful process," she said, "because we completely share a vision for the project and see the same beauty in all of our subjects."
Follow TODAY.com writer Chris Serico on Twitter.