Spring weather has encouraged more people to head outdoors. And with beach season just around the corner, people will be stocking up on sunscreen to protect them against burns, skin damage and cancer.
But with more than 1,000 sunscreen products on the market, how do you know which ones are the most effective?
Consumer Reports recently tested 34 water-resistant sunscreen products. Trisha Calvo, the magazine's deputy editor of health and food, revealed to TODAY which ones that made the top of the list, including:
La Roche-Posay's Anthelios 60 Melt-In Sunscreen Milk, $36.
Vichy Capital Soleil 50, $28.50.
Coppertone Water Babies SPF 50, $10.50
Equate Ultra Protection SPF 50, a Walmart brand, $9.
Consumer Reports also tested sunscreen sprays, which it does not recommend for children unless parents first spray the product into their hands and then rub onto the child. Among those that rated high:
Banana Boat Sun Comfort Continuous Spray SPF 50+, $11.
L'Oreal Quick Dry Sheer Finish 50+, $11.
Although it's easy to lather on an entire tube of sunscreen at one sitting, Calvo said only "two-thirds of a shot glass full is what you should use for your entire body." That breaks down to about a teaspoon of sunscreen for each exposed body part, she said.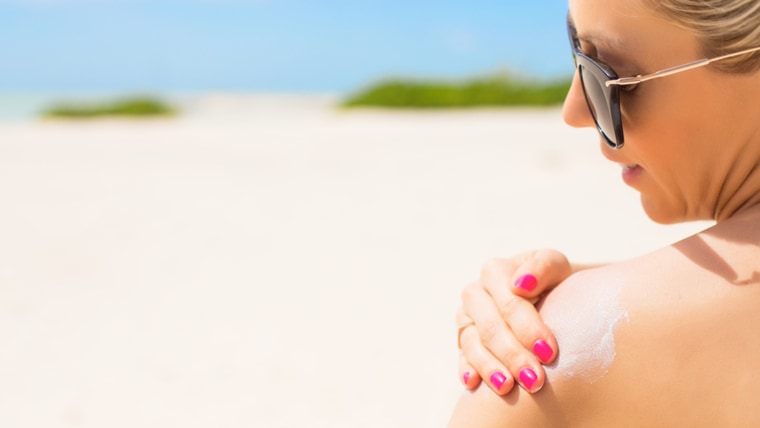 Consumer Reports tested the sunscreens by applying them to the back of panelists and having them soak in a large tub of water for the amount of time labeled on the product. Then they exposed panelists to UVB light from a sun simulator. The results were calculated after reviewing the products' effectiveness and overall claim. Products were also tested for UVA protection.