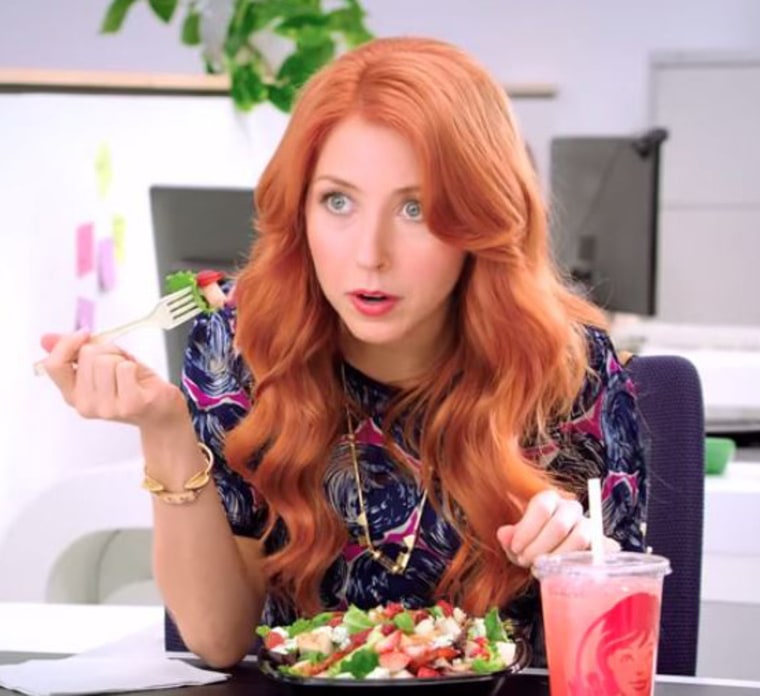 Blondes may have more fun, but redheads are everywhere on TV. A new study found that 30 percent of network television ads during prime time featured someone with red hair.
In case you were wondering, no, redheads are not that common. In fact, they only make up 2 percent to 3 percent of the global population.
Yet there they are: selling Sprint "Framily Plans" and Wendy's salads and iPads with Verizon 4G LTE coverage. They aren't just extras, either; 56 percent of the ads with redheads feature them as a main character, while the rest were extras or background characters, according to the report from Upstream Analysis, a media services firm. (Honda has a special affinity for them, the report said). Harris first wrote about her findings for the Huffington Post. 
The report's author and Upstream founder Janet Harris noticed the trend. To see if her initial impression was correct, she used a real-time TV monitoring platform, Critical Mention, to quantify the number of redheads on TV, Harris told TODAY in an email. More than 1,700 commercials were analyzed. 
By redheads, we are mostly talking about women. They outnumber their fiery-haired male counterparts 2-to-1, Upstream found, although there were more redheaded boys than girls among child actors.

So, why are so many redheads starring in prime-time commercials? 
"I think it's the novelty factor," Andrew Rohm, professor of marketing at Loyola Marymount University in Los Angeles, told NBC News.
Yes, there are studies that say red is the color of sexual attraction, possibly raising our heartbeats and even stimulating our appetites. They could just look great on camera. But the most likely reason there are so many redheads in TV ads is that they are so rare in the first place. 

"The first challenge that these companies have is breaking though the advertising clutter," Rohm said. "The first job for a traditional 30- or 60-second commercial, because they are so fleeting, is to make us pay attention. That is where the redheads come in."
Keith Wagstaff writes about technology for NBC News. He previously covered technology for TIME's Techland and wrote about politics as a staff writer at TheWeek.com. You can follow him on Twitter at @kwagstaff and reach him by email at: Keith.Wagstaff@nbcuni.com