While most Americans recognize the flu is a serious illness, many don't understand the most effective ways to prevent or treat it, a new survey finds.
How do you stop the flu? If you think it's by frequent hand washing — like 88 percent of those surveyed — you're not quite right. Yes, it's important to keep your hands clean, but the best way to prevent influenza is with a flu shot, experts say.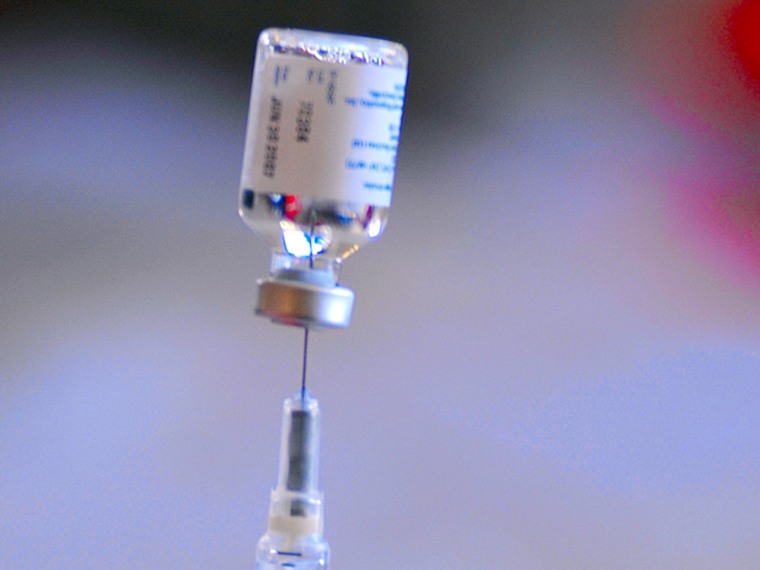 "We're thrilled that more than 90 percent of those surveyed knew how serious and highly contagious the flu is," said Dr. Susan Rehm, medical director of the National Foundation for Infectious Diseases, and vice chair of the department of infectious disease at the Cleveland Clinic. "About two-thirds know they should be getting vaccinations."
However, there's a big disconnect between knowing how important the vaccine is and actually getting the shot. During the last flu season, just under 42 percent of Americans age 18 and over got flu shots, according to the Centers for Disease Control and Prevention. For children six months to 17 years, about 56 percent were vaccinated during the 2012-2013 flu season. About 20 percent of the United States population comes down with the flu each year and up to 200,000 people are hospitalized, Rehm told NBC News.  
"Even normal, healthy [people] can be seriously ill or even die from influenza," she said. 

Other misconceptions about the flu: 

An estimated 45 percent of respondents think they can get the flu from the vaccine. The influenza vaccine does not contain any live virus at all, only components. "It's amazing how the very simple message that flu shots are beneficial seems to have gotten lost," said Dr. Amy Crawford-Faucher, an assistant clinical professor in the department of family medicine at the University of Pittsburgh Medical Center. Crawford did not participate in the research. 
Nearly half of those surveyed incorrectly believe antibiotics help fight influenza. Antibiotics work only for bacterial infections and not viral illnesses like the flu.
Many people do not realize a prescription antiviral therapy can shorten the duration of illness and lessen its symptoms, if taken within 48 hours. 
About 41 percent of people don't realize flu is contagious before symptoms start. 
"People often rely on neighbors, friends and relatives, as well as other sources that may not be as up to date" with their flu facts, said Dr. T. Warner Hudson, medical director for the UCLA Medical Center Occupational Health Facility. 
The new survey, commissioned by the NFID and funded by Genentech, Inc., the maker of a flu therapy, included the online responses from 1,000 adults nationwide. 
If you haven't been vaccinated yet, there's still time. The current flu season is just getting started, with Texas, Mississippi and other southern states reporting more illnesses than other parts of the country, according to the CDC. 
And as holiday party season kicks into gear, if you're not feeling well, stay home. "It's not very considerate if you know you are sick to go out to a holiday party and potentially be getting everybody else sick, too," said Anna Post of the Emily Post Institute. "It's much better to cancel and stay home, even if it's not as fun." 
It's hard to predict when the full force of the season will hit — last year it struck early — but it tends to peak in January, according to Rehm. And even if you got vaccinated last year, you're not protected this season. It's recommended that you get the flu vaccine every year.
NBC News' Erika Edwards contributed to this report.