Suzy Wengel lost almost 90 pounds by taking her diet into her own hands — literally.
The nutritionist, biotech company CEO and mom used handfuls of food in just the right combination to control her portions and create an eating plan that made her a "publishing sensation" in her native Denmark.
Now, her book, "The Scandi Sense Diet," is getting buzz in the U.S.
Wengel had been yo-yo dieting since her 20s. Then a break-up with a boyfriend also led her to binge eat for almost seven years. At her heaviest, she weighed about 220 pounds.
"I used food to deal with my emotions," Wengel, 40, told TODAY. "I had a difficult time identifying when I was hungry, and I never felt [full]. I ate normally in the presence of others, but consumed huge amounts of food when on my own. I felt embarrassment and shame, guilt and disgust with myself and had a very negative body image."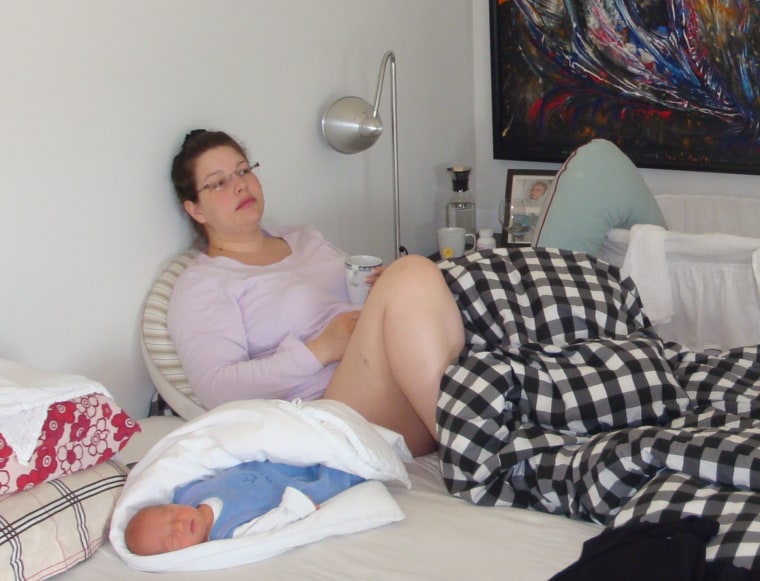 She found her way out of the unhealthy cycle by coming up with her own structured eating pattern, she said. That meant three meals a day with a similar composition of vegetables, protein, carbs and some fat each time, using her hands to control the portions.
From 2011 to 2012, Wengel lost 88 pounds over nine months and has kept the weight off since, she said.
Here are the rules of the diet:
Eat three meals a day, with each meal lasting you for the next five to six hours. Don't snack in-between. Stick to this schedule for at least the first 14 days of the eating plan.
Use your hands to measure the amount of food you'll eat at each meal. Measure the handfuls when you're ready to eat and are placing the food on your plate, Wengel said.
You can have up to four handfuls of food per meal, which Wengel calls a "meal box," divided this way:
one or two handfuls of vegetables
one handful of protein, like chicken, salmon or eggs
one handful of carbs — like potatoes, rice, pasta or bread — OR fruit
You can also have up to three tablespoons of fat, like olive oil, butter or mayonnaise
The diet allows about 10 ounces of milk products every day.
Use common sense. Knowing that some people may get creative with how much food fits into their hand (two chicken filets stacked on top of each other, for example), Wengel said if the portion seems too good to be true, it probably is.
"If you lose weight, your handful sizes are OK," she said. "If you gain weight — and you want to lose weight — you will have to reduce your handfuls" or opt for less fat.
Sweets, soda and alcohol are considered "indulgences." You can have them if you adjust the calories elsewhere. If you want a glass of wine with a meal, for example, you'd skip the handful of carbs at that same meal. If you're craving a slice of cake, you'd skip half of a meal or the whole thing.
Always think about balancing the three meals every day. If you know you're going to a restaurant for a big dinner, cut those earlier meals in half.
Eating this way allows people to consistently eat the same amount of calories without counting them, feeling deprived or eliminating any foods, Wengel said. She estimated a woman would consume 1,200-1,800 calories a day on this plan, while a man would ingest 1,600-2,200 calories a day, producing a calorie deficit for most people. The average weight loss is about 1 to 1.8 pounds a week until it naturally stops, she said.
Wengel also recommended 30 minutes of exercise a day for health.
What the experts think:
"This is a clever play on portion control: Instead of a one-cup serving, you use your hand — basically a cup," said Madelyn Fernstrom, NBC News Health and Nutrition Editor.
"It's a bit of a mess, I think, for most people, unless you wear some rubber gloves, but the concept is sound."
The diet is a healthy mix of protein, carbohydrates and fats, but you need to follow the recommendations carefully to lose weight, Fernstrom noted. You can have extra handfuls of veggies, for example, but not protein. She liked that you can barter for the indulgent foods to help avoid feeling deprived.
The plan also adapts the current trend in weight loss to cut out snacking, Fernstrom noted.
Such all-day "fueling" disrupts the natural daily fasting period and may be counterproductive for weight loss, though research shows the number of meals you eat per day doesn't help you lose more or less weight, said Courtney Peterson, an assistant professor of nutrition sciences at the University of Alabama at Birmingham.
"If sticking to three meals a day prevents you from snacking or eating night, then that's a great thing," Peterson said, since there's evidence doing that increases the risk of weight gain.
The diet may be a good idea for people who have thrown out their food scales and measuring cups since it's all in the hand, Fernstrom noted.