With teens crazy about "Juuling," doctors, lawmakers and anti-vaping advocates are once again blasting the maker of the popular e-cigarettes for how it markets its products.
"You're nothing but a marketer of poison and your target has been young people," Rep. Mark DeSaulnier, D-California, told Juul Labs executives who testified on Capitol Hill this week.
Juul allegedly took material from Stanford University's tobacco prevention toolkit, and altered it to fit its needs, deleting portions that addressed how nicotine influences the brain and other findings, one of the toolkit's authors told NBC News.
The company denied hijacking the slides and talking points, noting the toolkit was for public use, and that the company removed any requested materials from its curriculum guide. Juul's co-founder James Monsees told lawmakers on Thursday that the company's main mission was to help adults quit smoking, and it was committed to getting its products away from children.
But Meredith Berkman, co-founder of Parents Against Vaping E-cigarettes (PAVE), told NBC News the sleek devices, which look like computer flash drives, have upended families' lives, blaming Juul's "predatory practices."
"It doesn't mean you're a bad parent if you don't know your kid is Juuling. It's stealth by design," Berkman said before a House committee on Wednesday.
Meanwhile, the U.S. Food and Drug Administration has released its first anti-vaping commercial aimed at teens. "The Real Cost" campaign includes TV and online ads, a social media blitz and posters in schools.
With sales of vape devices soaring, the FDA has also been taking steps to limit sales of flavored e-cigarettes — the kind most popular among kids.
About 3.6 million adolescents and teens were vaping e-cigarettes as of last year, according to the Centers for Disease Control and Prevention. The agency reported a 78% increase in high school students vaping from 2017 to 2018, and there are now concerns vaping is hurting the performance of teenage athletes.
Juul is by far the most popular e-cigarette product, leading Juul Labs CEO Kevin Burns to say "I'm sorry" to parents whose children were addicted to his company's products.
Doctors are concerned there's a misconception among teens that e-cigarettes are safe. Smoking e-cigarettes actually delivers cancer-causing chemicals that get into the body — and popular fruity flavors appear to be the worst, researchers reported.
Last November, the FDA moved to limit sales of flavored e-cigarette products, such as Juul, to underage users, both in stores and online. It was short of a total ban, which the agency at one point considered.
Juul, which has been under particular scrutiny, noted that it would stop selling most of its flavored e-cigarettes in retail stores and was adding age-verification measures online.
A hit with teenagers
Many parents don't realize their teens are Juuling. That was true for Dr. Jenni Levy who didn't know her own 18-year-old daughter was doing it.
Her husband found an unusual cartridge in the laundry that neither recognized. A few days later, they came across an article showing the photo of Juul, an electronic cigarette that's discrete, sleek, easily concealed and resembles a flash drive. Because Juul is such a hit with teens, it's become a big concern for families, teachers and doctors worried about the potential health risks.
When Levy, an internal medicine and palliative care physician in Allentown, Pennsylvania, asked her daughter Emma about the cartridge, the high school senior freely admitted she was "Juuling."
"She said, 'It's mine, it's legal, I'm 18 and I did my research,'" Levy recalled the conversation in an interview with TODAY.
"I said to her, 'We think this is a bad idea.' My biggest concern is she's sucking in vapor and we don't know what that does… I am worried about lung damage, I'm worried about addiction. I'm also concerned that it just seemed really out of character for our very level-headed, risk-averse kid — this was something I never thought I was going to have to worry about with her."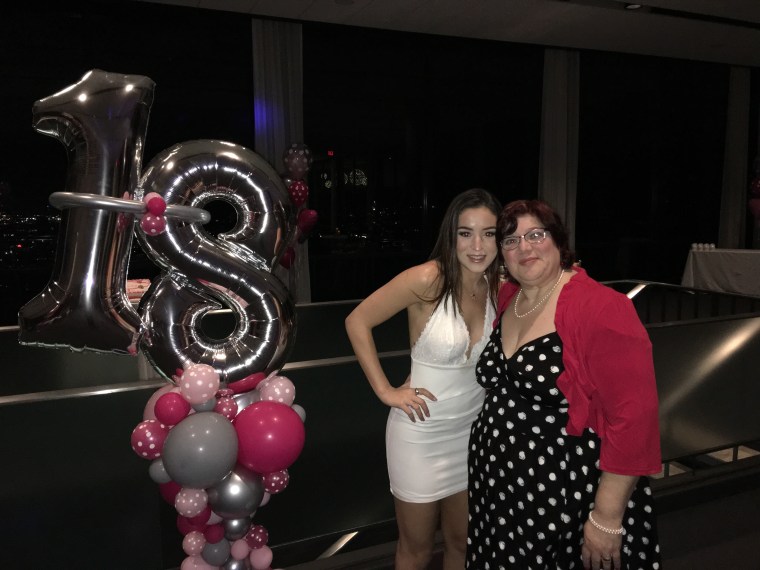 Emma told her mom she was "Juuling" because she didn't think it was dangerous. She "rolled her eyes" when Levy mentioned the potential health risks. She also told her mom she found "Juuling" fun and pretty — she liked blowing smoke rings with the vapor — and her friends were doing it.
A threat to teen health
The long-term consequences of e-cigarette use are unknown, said Dr. Mark Rubinstein, one of the study's authors, an adolescent medicine physician and a professor at the University of California, San Francisco. He strongly recommends against his patients using the products.
"There's no reason healthy adolescents should be exposing themselves to even potentially cancer-causing substances," Rubinstein said.
"I do think this is one of the big threats to teen health right now," said Dr. Wendy Sue Swanson, a Seattle pediatrician who writes the Seattle Mama Doc blog.
"These are a delivery vehicle for nicotine and we know that nicotine is addictive."
Each Juul pod contains an amount of nicotine equivalent to one pack of cigarettes or 200 puffs, according to Juul Labs, the manufacturer.
Visitors to the company's website have been greeted by a message noting its products are "intended for adult smokers." Online customers must be 21 or older and the company says preventing the illegal sale of the products to youth is core to its mission.
Still, Twitter and Instagram are filled with posts showing young people "Juuling." The harmless-sounding name for the activity — instead of "smoking" or "vaping" — and the appealing pod flavors, like "Mango" and "Fruit Medley" create an illusion of safety, Swanson said.
"This is dangerous and I think it's concerning. Parents just need to be really clear to spell out the real risks — that these are likely delivering chemicals that are really bad for these kids," she noted.
A school district in Pennsylvania banned flash drives last year because they looked so much like the e-cigarettes. The concern was kids could "Juul" in front of teachers without the adults realizing it.
Levy told her 18-year-old daughter Emma that she couldn't vape in the family's house. She'd never seen Emma use the device and doesn't think the girl will move on to regular cigarettes.
"I do think she'll quit," Levy said.
What to say to your teens:
Swanson offered these tips for parents who are concerned their kids are "Juuling:"
• Ask your teens what they know about "Juuling."
• Be clear that you're learning about this issue together, but mention that vaping is not in your child's best interest: "Don't believe that just because it's not a burning cigarette it's safe," Swanson advised saying. "E-cigarettes are not good for you nor is becoming addicted to nicotine."
• Emphasize that "Juuling" still means using nicotine. Using that alternative, innocuous-sounding buzzword creates a "divorce" from decades of health campaigns designed to help the public understand that "cigarettes are bad for you, cigarettes will shorten your life, cigarettes will cause harm," Swanson said.