Ask any couple who has been married for decades what the secret to a happy marriage is and they'll likely tell you: not getting divorced. Or the ever-popular cliché: happy wife, happy life. According to the Centers for Disease Control and Prevention, over 2 million American couples are married, but statistics can't tell us how many of them are actually happy.
TODAY teamed up with SurveyMonkey to find out what it's really like to be married in 2017, and how our current attitudes toward commitment and partnership have changed. We asked married and divorced adults what they really think. Here are a few of the most surprising findings: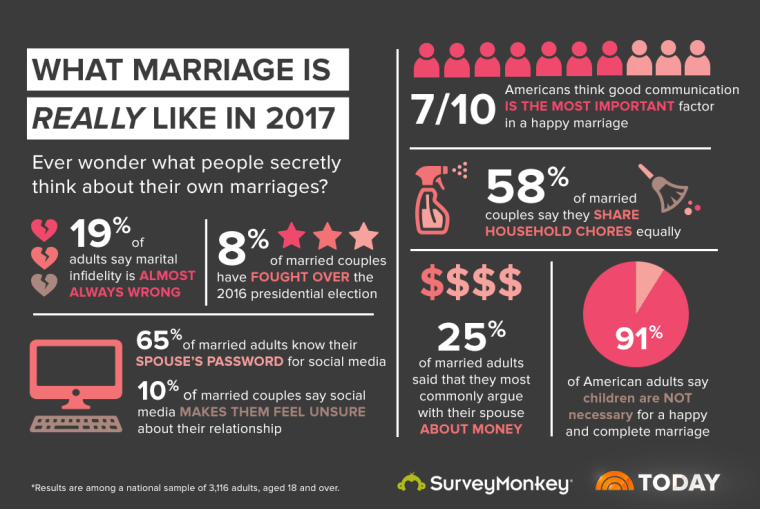 Here are a few more statistics to share with your friends:
Nearly 3 in 10 Americans agree that the institution of marriage is obsolete
Only 17 percent of those married said they have gone for marriage counseling
Among divorced individuals, 28 percent of men said it wasn't their choice to divorce
Aside from infidelity, other common causes of divorce were lack of communication (15 percent) and abuse (13 percent)
This week, TODAY will be taking a closer look at every part of marriage (how to stay married, secrets of the happiest couples and more) so tune in!
*Results from a national sample of 3,116 adults age 18 and over. To learn more about the survey, read here.