As you fly to your vacation destination this summer, the last thing you want to think about is getting sick on the plane. Still, medical emergencies in the sky happen every day. What kind of treatment can you expect if you pass out, choke or otherwise become unwell at 35,000 feet?
The issue has been in the spotlight again since the 55-year-old president of American Express died after falling ill on a flight home to New York last week.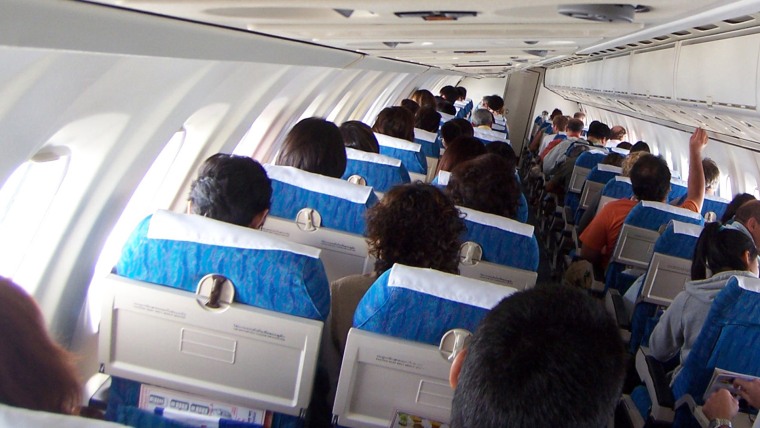 About 44,000 in-flight medical emergencies take place worldwide each year, according to a 2013 study in The New England Journal of Medicine.
Some of its findings are sobering: If you were to suffer a heart attack, seizure or other health problem on a plane, "access to care is limited," the authors write. Thankfully, serious illness is rare.
The most common in-flight health issues included fainting, respiratory problems and nausea or vomiting. The death rate among all passengers with in-flight medical emergencies was less than 1 percent, the study found.
If you get sick, your first responders will be members of the crew. Flight attendants are trained to handle medical emergencies and planes are equipped with first aid kits, said Heather Poole, a veteran flight attendant for a major U.S. airline and author of "Cruising Attitude: Tales of Crashpads, Crew Drama, and Crazy Passengers at 35,000 Feet."
"While we can handle all sorts of situations, we're only allowed to treat symptoms," Poole told TODAY. "We can't diagnose somebody and then treat them. If they're bleeding, we stop the blood — that sort of thing."
Flight attendants can also administer CPR or perform the Heimlich maneuver, Poole said.
Is there a doctor on board?
The FAA requires defibrillators and emergency medical kits on planes that can carry more than 30 passengers. The kits include medicines such as nitroglycerin tablets, which can relieve chest pain, and dextrose, to treat low blood sugar.
Only a licensed medical professional can use many of the items inside the kit, which is why you will hear flight attendants page for a doctor, Poole said. Every time she's had to deal with a sick passenger, she's been lucky enough to find a doctor or nurse on board to help her, she added.
Indeed, traveling doctors, nurses and other health professionals were able to help in three-quarters of the in-flight medical emergencies analyzed by The New England Journal of Medicine study.
Sometimes, they need a little nudge.
"There have been times I've had a medical emergency, called for a doctor and no one rang their call light. I never let that deter me from trying again and again and again," Poole said. "Not everyone wants to volunteer. A lot of times, they'll sit and pray someone else answers our calls. That's why I keep trying."
Doctors may be reluctant for many reasons. Providing care in a cramped, noisy cabin can be "daunting," according to the American College of Emergency Physicians.
With little equipment and no knowledge of the patient's medical history, some physicians may also be worried about getting sued, though the 1998 Aviation Medical Assistance Act offers protection from lawsuits.
Sometimes, the emergency requires returning to the ground.
On domestic routes, the pilot can usually land in 15 minutes if it's necessary to divert the flight because someone is seriously ill, Poole said. It's a different story on international routes, when a plane might be over an ocean and hours away from an airport.
But it turns out most health problems can be successfully treated on board: only 7 percent of flights with medical emergencies had to divert in The New England Journal of Medicine study.
The emergencies can be hard on flight attendants, too. Poole remembers rushing to a passenger who passed out and then suddenly regained consciousness during meal service on an international flight.
"It's not easy to smile and serve passengers, and then out of nowhere have to deal with an almost dead passenger, and then go right back to smiling and serving passengers. My heart was pounding like crazy after that," Poole recalled.