While there are many factors that contribute to a healthy complexion, water and eating the right foods will make a big difference. There are four standout nutrients that seem to play a role according to scientific research: beta carotene, lycopene, omega-3 fatty acids and vitamin C.
You can find these nutrients in loads of tasty foods: think bell peppers, strawberries, tomatoes, pumpkins and watermelon, just to name a few. Here, I share a few go-to recipes for beautiful, hydrated skin. Dig in, and enjoy nourishing your skin from the inside out!
Water
Drinking water is one of the most important things we can do to improve our skin.
Water plays three critical roles for the skin:
It flushes out toxins.
Water helps to circulate nutrients and oxygen to all of our skin cells.
It helps to plump up and firm the skin.
For those that struggle with drinking enough water, there are plenty of ways to sneak water into your diet through food. Low sodium broth, green tea, fruits and veggies are all packed with water and important nutrients.
Try this "cuc-alicious" dip recipe for a fun way to eat your water.
To get double the water benefit, use cucumber or celery slices to dip.
What to eat
Instead of going out and buying a new expensive cream for your face, try eating your way to great skin.
Filled with nutrient-rich matcha, kale, flax seeds, berries and more, these pops are an easy way to get all of the important nutrients for a gorgeous complexion.
Too impatient to wait for the popsicles to freeze? The same recipe can be used as a smoothie for a fun breakfast or snack.
Read on for a delicious one-day menu that hits all the marks.
Breakfast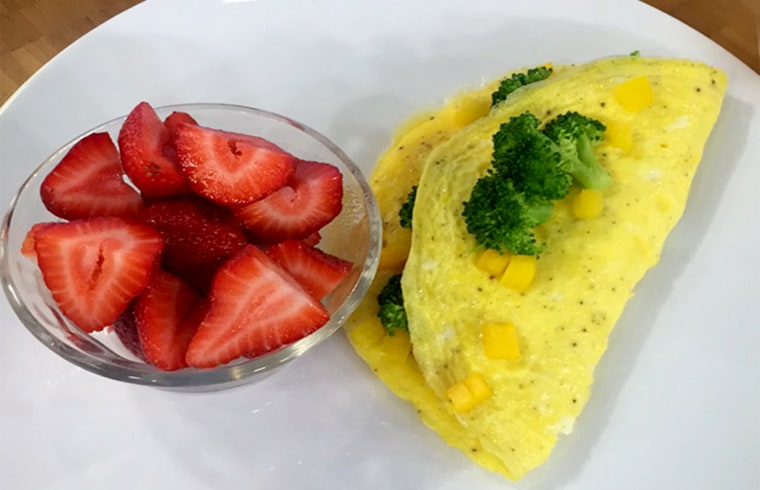 Wake up to a vitamin C-rich morning meal. Enjoy a hearty omelet stuffed with sautéed broccoli and bell peppers. Elevate the goodness with sliced guava, kiwi or strawberries on the side. These fruits and veggies are loaded with skin-enhancing vitamin C, a potent antioxidant that may help with collagen repair, assist in photo protection and promote wound healing.
Research also shows that it may decrease harmful free radicals and inflammation. Plus, they're tasty and good for you, too. What a deal!
Lunch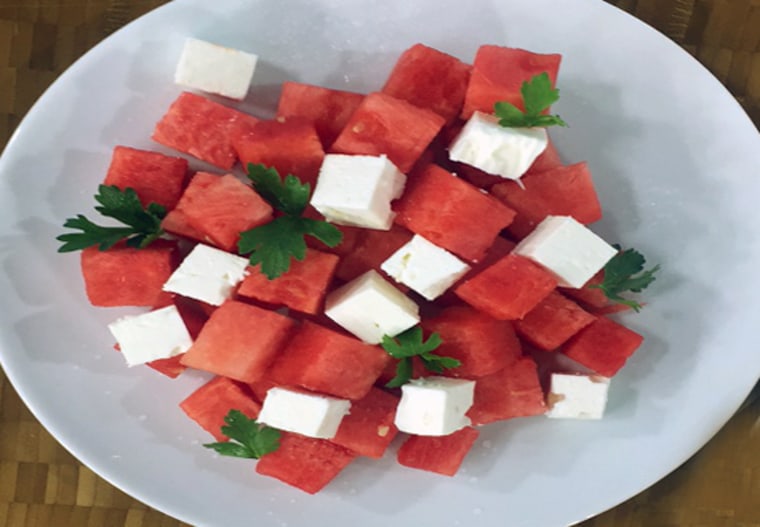 Lycopene is an antioxidant which gives red fruits and veggies their deep-colored hue, and research shows it may help to protect against sun damage and lower the risk of skin cancer. Eating a diet rich in lycopene may also help reduce inflammation and prevent collagen breakdown, one of the major causes of wrinkles.
For your mid-day meal, create a delicious feta salad featuring watermelon and tomatoes. Round it out with a whole grain roll and this amazing lycopene-rich gazpacho soup, and you're in business. Get the easy gazpacho recipe!
Dinner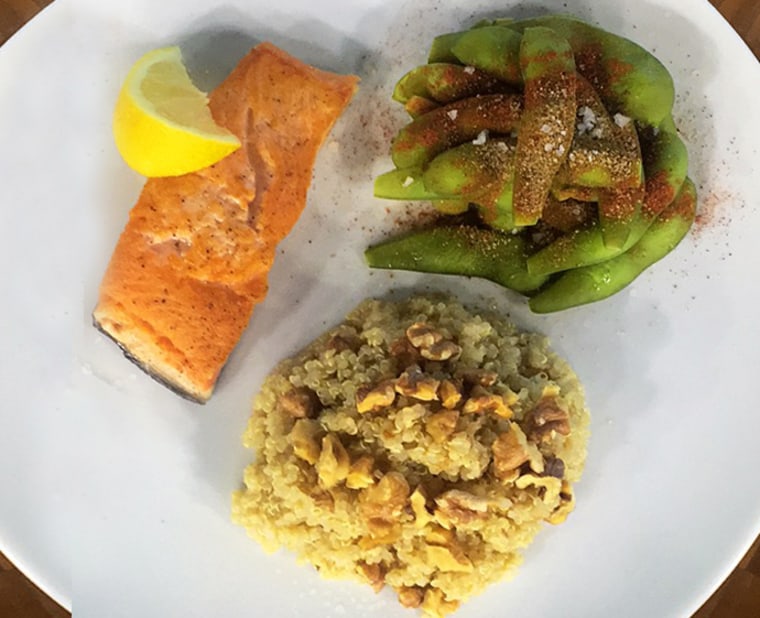 For supper, dine on arctic char or salmon, since they're swimming with omega-3s. Then, up the ante with omega-3-rich sides, like spiced edamame and a portion of brown rice or quinoa mixed with toasted, chopped walnuts.
Dessert
Craving dessert? Dive into this simple (and healthified!) vanilla pumpkin pudding topped with chopped apricots or mango. Omega-3 fats — coming from the fish, walnuts and soybeans — may help skin retain moisture and boost elasticity. Plus, the beta carotene-rich dessert (thanks to pumpkin, apricots and mango) may help reduce sagging skin, wrinkles and even clogged pores. A delicious and satisfying dinner that's good for you and your skin — get cooking! Try the spiced edamame recipe and the sweet vanilla pudding recipe.
For more delicious recipes, follow Joy on Instagram and check out her website!