Beauty comes in all shapes and sizes — and now that's true of some retail store mannequins. Shoppers in New York City are celebrating five unique mannequins in the store windows of JCPenney. The national retailer is showcasing the mannequins, including the model of a woman in a wheelchair, a man with dwarfism and a double leg amputee, which were specially designed for TODAY's "Love Your Selfie" series with the help of Fusion Specialties in Denver.
The models were created in the image of five people representing unique body shapes and were revealed live on TODAY in April. 
The real life inspirations for the mannequins are: Dawna Callahan, who uses a wheelchair due to incomplete paralysis; Neil Duncan, a former Army paratrooper who lost parts of both of his legs in an explosion in Afghanistan; Ricardo Gil, who has dwarfism; Desiree Hunter, a 6-foot-1½-inch college basketball player; and Beth Ridgeway, who is plus-size.

JCPenney is featuring the mannequins as part of its "When it fits you feel it" campaign.
"We felt like this was a great opportunity to really make sure we were helping showcase the important subject of body image," says Debra Berman, senior vice president of marketing, JCPenney. 

TODAY's goal with "Love Your Selfie" is to encourage greater acceptance of all kinds of bodies.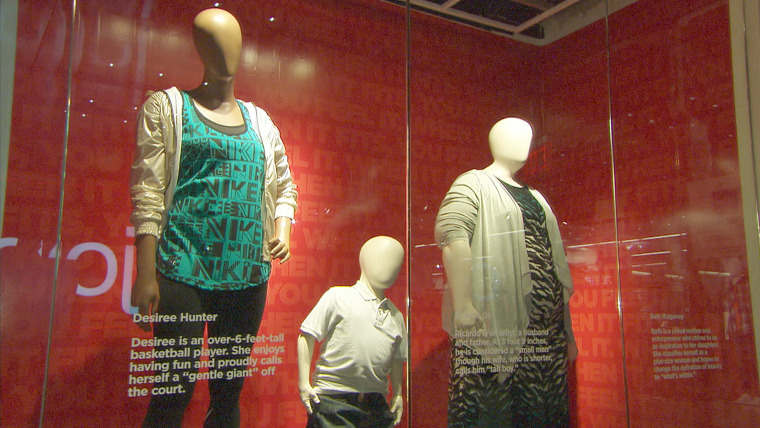 After only 24 hours on display, public reaction so far has been overwhelmingly positive. 
"I think it's time that stores embrace the fact that we're all different," one woman shopper at JCPenney told TODAY. "We come in all different sizes, heights, weights." 
The mannequins are on display in JCPenney's Manhattan store through the end of August.