After losing 175 pounds together, Brian and Erin LeBlanc are enjoying their shrinking bodies and bulging wallets.
She's still a "carboholic," while he enjoys ice cream, but the Edmonton, Alberta, couple shed weight by eliminating most fast food, focusing on portion sizes and becoming passionate about exercise. They're saving money in the process.
"We're happier than we've ever been," Brian, 30, told TODAY. "Making the changes that we have has really allowed us to live life to the fullest."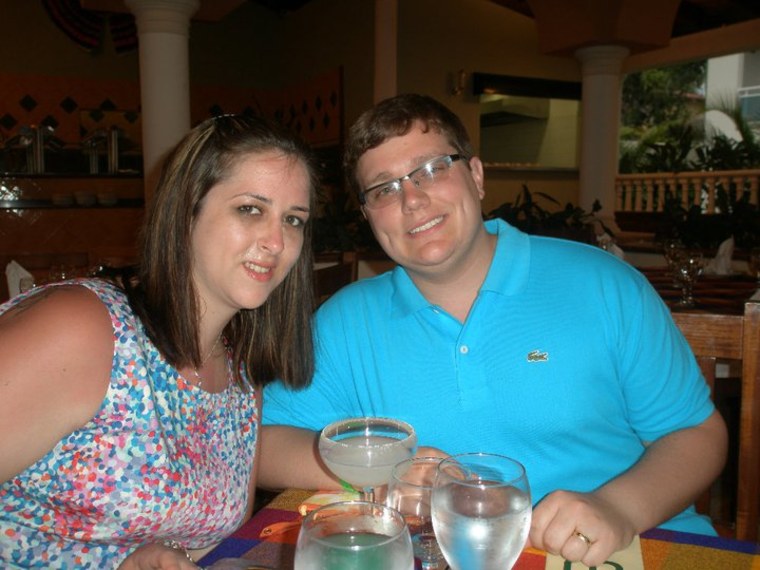 He weighed 250 pounds when he decided to slim down two years ago. Erin, 31, joined his effort one year ago, topping the scale at 190 pounds. He's since lost half his body weight and Erin has shed 50 pounds.
They did it by no longer going out to eat, minimizing alcohol consumption, and changing their grocery shopping habits — steps that also allowed them to save more than $500 a month, they said.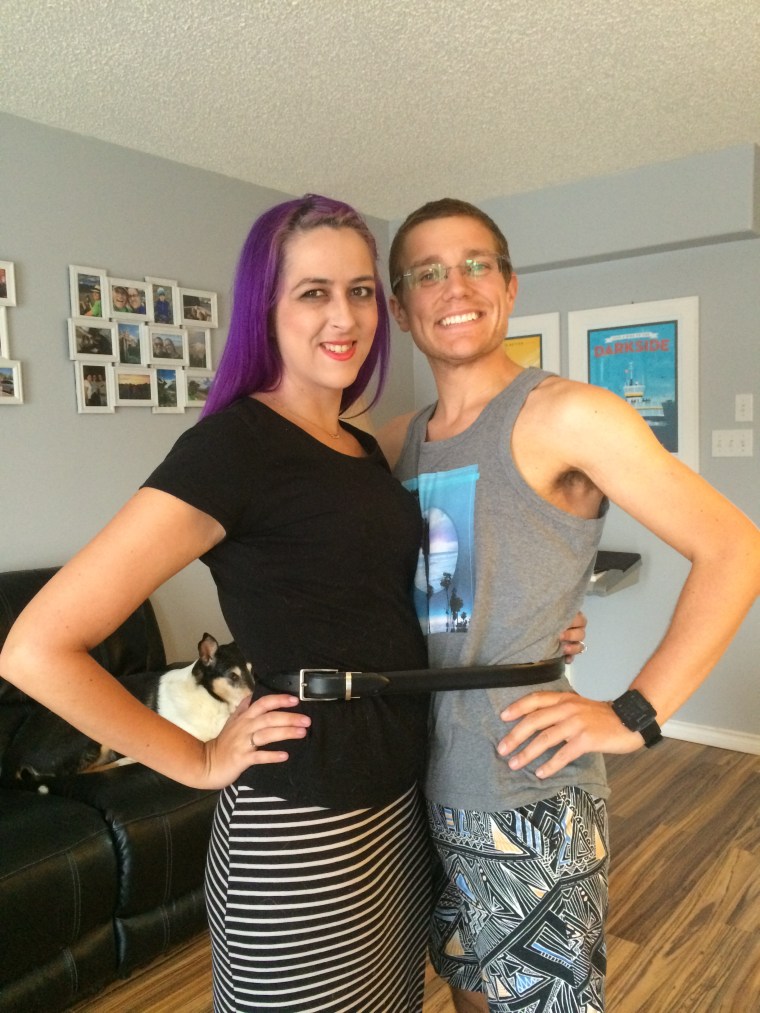 Here's their advice for weight-loss success:
1. Buy a kitchen scale
The LeBlancs say one of the most powerful things they did was buy a food scale and weigh everything they ate. The scale should have a golden aura around it because it's so "magical," Erin said.
"Once you start measuring and weighing what you're eating, it's shocking how much you can underestimate what you're actually eating," she noted.
"For me, it was just portion control," he added.
2. Log your calories
The couple's basic motto is: calories in, calories out. You have a certain amount of calories in the day to work with, and you have to balance what you eat with how much you burn, otherwise you'll gain weight.
After previous false starts, Brian believes this weight-loss plan stuck because he and his wife took the time every day to log and measure everything they were eating. Brian has been logging his calories for more than 640 days.
The couple used the MyFitnessPal app to figure out their caloric needs: During the weight-loss phase, they both ate about 1,300 calories a day. To maintain, Brian is now up to 2,200 calories and Erin tries to eat no more than 1,800.
For more inspirational stories, check out our My Weight-Loss Journey page
3. Don't rigidly cut out certain foods
Erin describes herself as a "carboholic" who loves cereal and pizza, so cutting out carbs was out of the question. The couple still enjoys ice cream and potato chips, but in sensible portions.
"Denying yourself those things that you really enjoy can be really problematic. In our experience, it's been a recipe for disaster," Brian said. "We still eat food that we enjoy; we just eat less of it."
When it comes to ice cream, they'll have half the serving listed on the label — or about a quarter of a cup of ice cream. They'll add half a slice of cake for a dessert that's about 200-250 calories.
Instead of having a whole Big Mac meal at McDonald's, Erin now enjoys a kid-size Happy Meal once in a while.
RELATED: After relying on comfort food, woman loses 100 pounds by remembering 3 easy tips
4. Find exercise that you like
Brian tried running in 2015 and really liked it. Running clears his head, helps him deal with stress and makes him feel better, he said.
Erin? Not so much. "I am not a runner, I don't get that runner's high," she said. She even has a T-shirt with the slogan: "I hate running." But she loves lifting weights, finding it rewarding and empowering.
The key lesson: Find an activity you like, look forward to and get satisfaction out of.
5. Make small lifestyle changes
The couple eased off fast food slowly to make that change more manageable. Brian started running small distances and counting his steps; he now runs half marathons. Erin began going to the gym twice a week; she now goes almost every day. Pacing yourself is important, they say.
Go for "very small, slow changes that built up over a long period of time to be sustainable," they advised.
6. Shop smarter at the grocery store
The LeBlancs used to buy enough fruits and vegetables for a week or two and had the best intentions to eat those healthy foods, but would then get bored and go out and eat fast food instead. Erin estimates about 50 percent of their food would get thrown out, "which is insane."
They now go to the grocery store two to three times a week and buy what they are going to eat in the next couple of days for maximum freshness and zero food waste.
7. Adjust other people's expectations
Brian and Erin both grew up in places where food was a big part of the culture, with "big, big servings" for everyone. Their family still practices that food philosophy and it's been difficult for some of their relatives to adjust to the couple's new lifestyle.
"When we go to visit, we'll say no, we just don't want to eat all that food," Erin said. "We're not going to eat a giant plate of food just to make other people happy."