As part of Joy's 25,000 pound Weight-loss Challenge, TODAY viewers were invited to submit short essays on how their lives had been transformed while following the monthlong diet plan. Two participants would win a trip to New York City and a makeover, courtesy of TODAY. When selected, Penny Matthews told TODAY show producers she had been afraid to step on the scale before beginning the weight-loss challenge, but "now I'm not scared."
Read her essay: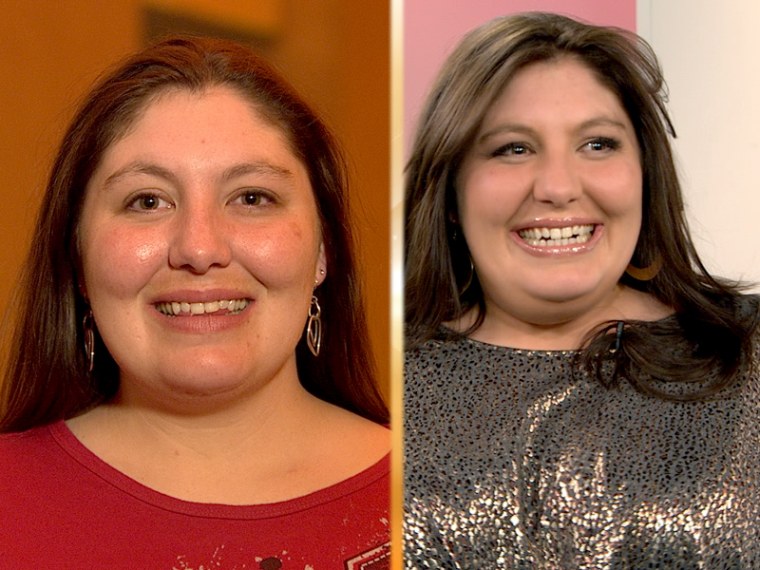 By Penny Matthews
I started accounting for my weight with the first [Weight-loss Challenge] segment.I had reached 220 pounds, a gain of 90 pounds over two years. I got on the scale and decided that I was going to weight myself every Tuesday and keep a written diary.
My weight gain started in September of 2010. That is when my sister passed away from cancer. I was just beginning my second semester towards becoming an RN. I had just found out I had made the Dean's list the day she died. I withdrew from school until I was under better emotional control. After that, the weight started to pile on.
The following May, my 10-year-old dog Cisco was diagnosed with bone cancer and had to have a leg amputation. He was given 4 months to live.
Traumatically, later that month I had a fall off a horse. It resulted in breaking my back and consequently killing the nerves to my bladder. I was almost virtually bed bound, having to learn to walk again. This only compounded my weight gain.
In August 2011 Cisco had to be put to sleep. Then I had surgeries to implant an Interstim that would allow me to void.
Things started to improve and I was able to slowly start riding again in December 2011. I was released from physical therapy the same week that Joy's weight-loss challenge started and saw it as a good time to start working on my wellness plan and taking accountability for my eating habits.I lost 16 pounds during the month. Seeing the weekly weight loss was like having 4 mini-goals met during the month. I now have my incentive back. I truly owe it to the first day's tip of keeping a weight-loss diary.
It's not too late! Follow Joy's 25,000 pound Weight-loss Challenge
FOLLOW-UP EMAIL:
Because Tuesday is my Weight Day, to be posted on the calendar, I was amazed that I hadlost three more pounds as of February 7th. I would say that now having lost a total of 19 pounds means that it has been going great since the 31st and that I have maintained a steady weight loss from many of the tips from Joy.
I now continue to keep a log and record on my calendar, and have, as well, greatly reduced my Starbucks drinks. I go to Drayers where I had my [physical therapy] because once I was released, they set up a personalized workout for my needs.
Then, there is the long walk to get the horse, so I think I am definitely getting 30 minutes of walking every day. I then added in Greek yogurt protein shakes for breakfast and added veggies to the dinner table.
I also try at all times to keep trigger foods out of the house and we also always add spice to our meals.
To not make my back hurt, I use commercial breaks to clean the house! Finally the most important tip Joy had was to forgive my splurge and just shake it off and get back on track.
This essay has been edited for clarity