/ Source: TODAY contributor
Having trouble keeping up with our increasingly organic, eco-friendly world? Let me be your guide! From all-natural makeup to the best in eco-conscious jeans, I will test and review the products and treatments that are best for you and the planet.
If you're looking to give your wardrobe a sustainable upgrade, why stop at organic cotton? It's now possible to adorn yourself in an inspiring array of environmentally conscious fabrics that are as unpredictable as they are stylish.
Take soy. Until now, my experience with soy has been limited to tofu stir-fries or a frothy soy latte. Who knew that the supremely functional soybean could also be transformed into a luxurious fabric? Trust me, there's something undeniably exciting about outfitting yourself in a soy-based T-shirt — or skirt or stretchy pair of yoga pants.
As the desire increases for clothing that is grown sustainably and manufactured in an environmentally friendly manner, designers continue to seek out (and experiment) with some unlikely fiber sources. Soy is just one of many newer fibers used by Richard Ziff in his Of The Earth (www.oftheearth.com) clothing line. Since 1992 Ziff has been creating highly wearable casual and active wear that never loses sight of where it came from — and where it's going. "We consider the whole life of the plant," he says. "And we ask ourselves how we can be sustainable on a farm level, by making sure that all aspects of the plant are used and by supporting the local/regional economy, and in turn the national economy and finally the global economy."
To assist in my eco-fiber education, Ziff walked me through the four basic categories of sustainable fiber and highlighted a few that I find most intriguing (a skirt made out of soy? A sweater made from recycled water bottles?).
Organic cotton
Used alone, cotton is versatile and practical, but when combined with other fabrics — think hemp and silk — the possibilities are endless. "Every time you blend a fiber you create an amazing fabric story," says Ziff. "When you start blending you open up your palette to get not only new textures but also a different drape."
Bast fiber
There's more than one way to create fiber from a plant. Bast fiber comes from the stalk, which is broken down into fiber, then into fabric. Hemp, linen and their lesser-known cousin, ramie, are all sourced this way. "We got really excited about these fibers," says Ziff. "You can get into some really interesting textures, weaves and knits."
So what's with ramie? According to Ziff, the fiber is processed like linen and hemp — with better results. "It's more ready-to-wear than linen," he explains. "It doesn't wrinkle as much." And though I've only recently been introduced to ramie, it has been cultivated in China for thousands of years. "Linen became popular [in the U.S.] because Europe was a strong cultivator of the fiber," Ziff explains.
Animal protein fiber
Wool, cashmere and silk — harvested from the silkworm — are naturally eco-friendly fibers. When you think about it, these fibers are the ultimate in sustainability. Shear a sheep and his wooly coat will eventually grow back, and even a cashmere goat will continue to produce his luxurious down when shaved. Ziff blends wool, cashmere and silk with organic cotton.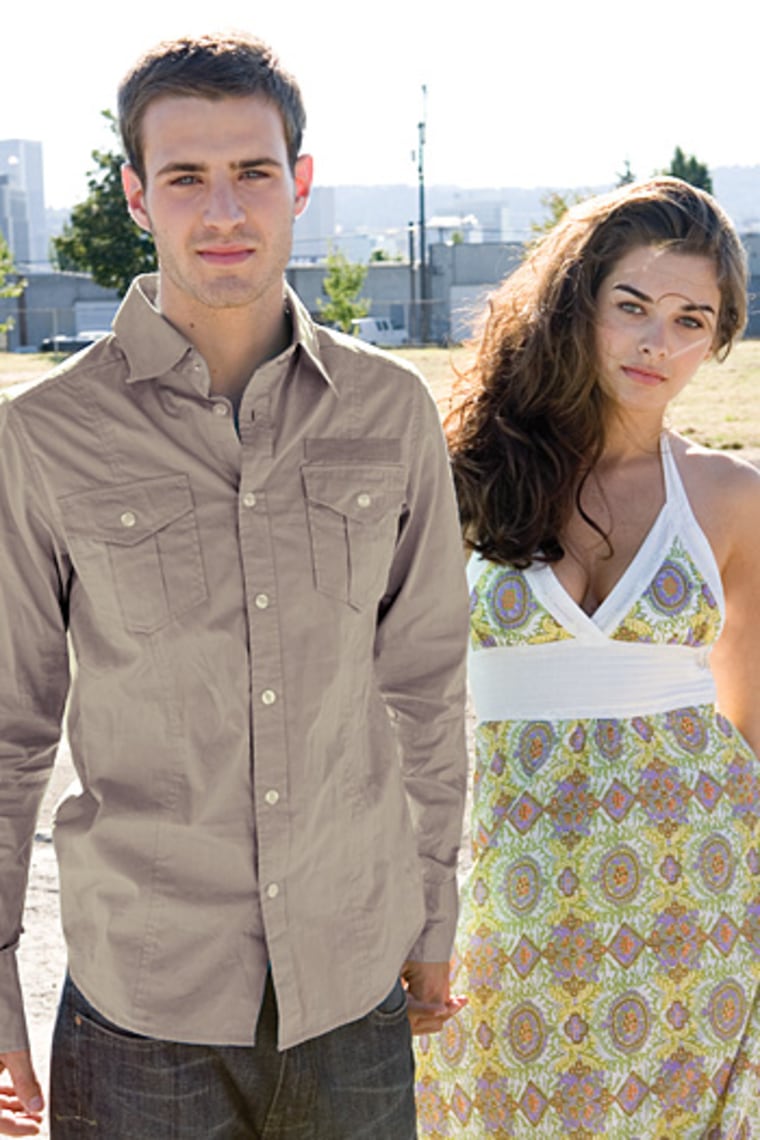 Eco-poly
This is where it gets really exciting. Manufacturers are using various chemical processes to turn either a natural source (soy, bamboo, wood pulp) or a synthetic source (recycled plastic water bottles) into fiber. Soybeans, when pressed into soybean oil (their primary use), leave behind a "cake," or the remnants of the bean, explains Ziff. The cake is then processed into a polymer, which can be turned into fiber.
"The fabric is similar to polyester and when blended with organic cotton it has a very luxurious hand and an incredible drape," he says. Of The Earth uses soy in everything from men's T-shirts and polos to women's dresses and active wear. Bamboo, Tencel — processed from wood pulp cellulose into a fabric similar to rayon — and PET (made from recycled water bottles) are processed in a similar fashion. To create fiber from used plastic bottles, the bottle is first chopped into chips, then broken down into a polymer and then spun into fiber, says Ziff, who uses the fabric in canvas, denim and knitwear.
As many people have already been wondering about bamboo (learn more here), I pose the same question about soy, Tencel and PET: Is a fabric truly eco-friendly if it is processed with chemicals? Ziff has hope: "The solvents and methodology that are used can be renewable," he says. "They're not renewable yet, but it's going in that direction."
Marisa Belger is a writer and editor with more than 10 years of experience covering health and wellness. She was a founding editor of Lime.com, a multiplatform media company specializing in health, wellness and sustainable living. Marisa also collaborated with Josh Dorfman on "The Lazy Environmentalist" (Stewart, Tabori, and Chang), a comprehensive guide to easy, stylish green living.
Please note: Neither Marisa Belger nor TODAYshow.com has been compensated by the manufacturers or their representatives for her comments or selection of products reviewed in this column.