You may remember Catherine Scott from the funny-turned-touching YouTube video her son, Anthony Carbajal, shared this summer. What starts as a comical Ice Bucket Challenge for ALS turns into the emotional reveal that both family members are fighting the disease.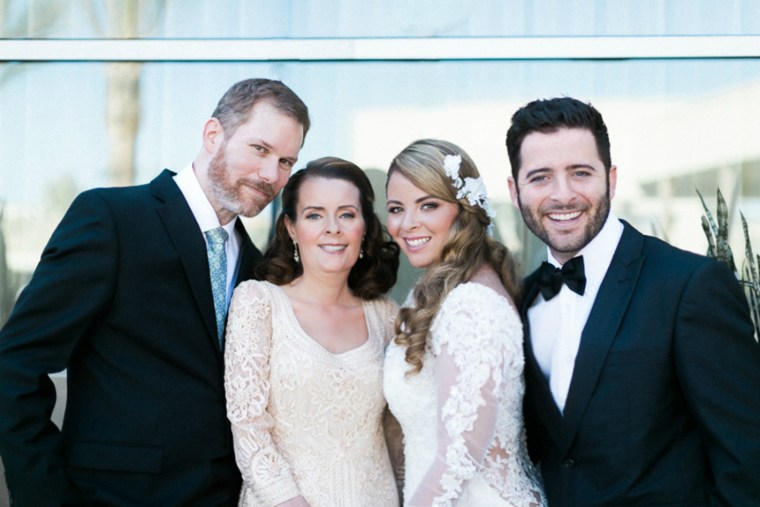 The video, which became one of the most viral and memorable Ice Bucket Challenges to emerge from the social-media storm, made Scott and Carbajal the faces of ALS to many. Now, the family is back with another heartwarming video as the mom shares an unforgettable wedding dance with her daughter.
Carbajal uploaded the video, taken at his older sister's wedding reception, last week. In it, his mother rallies from a health scare to wheel herself back on the dance floor for the special moment.
Everything had been going smoothly on Sep. 26, as Anthony's sister Vanessa Carbajal married Bronson Escobedo at the Betty H. Reckas Cultural Center in Long Beach, California. But when the siblings' mother got out of her wheelchair to stretch her legs, she lost her balance and fell, hitting her head on the ground.
Vanessa, who does not have ALS, said her mom appeared to suffer a concussion and didn't realize why paramedics arrived. "She was asking why they were there, were they there for her," Vanessa told TODAY.com. "She had no idea that she fell. She had no memory of it whatsoever. So, that's when my heart dropped, and I was kind of like, 'Oh my gosh.' It was a really scary moment for us."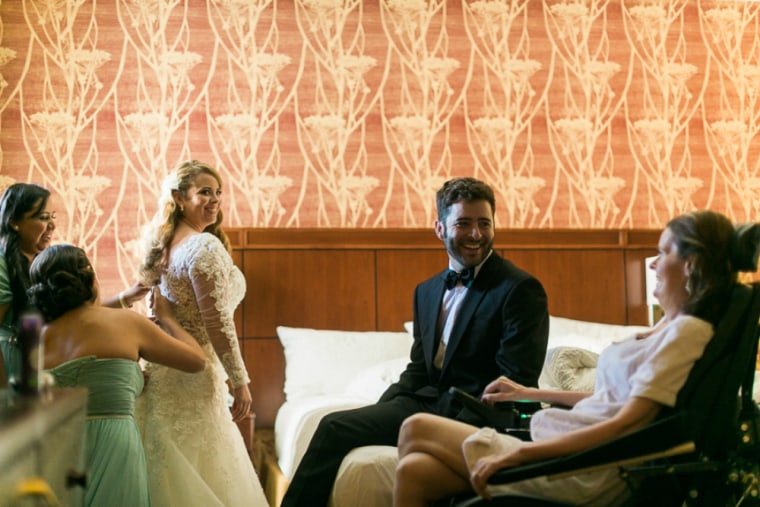 Despite paramedics' insistence on transporting her to the hospital, Scott resisted at first. "I told them to get the [heck] out of there," she said with a laugh. "I didn't want to leave the party."
In addition to planning much of the wedding, Scott had endured multiple medical procedures in the weeks leading up to the ceremony, fighting to become strong enough to attend the big day, her son said.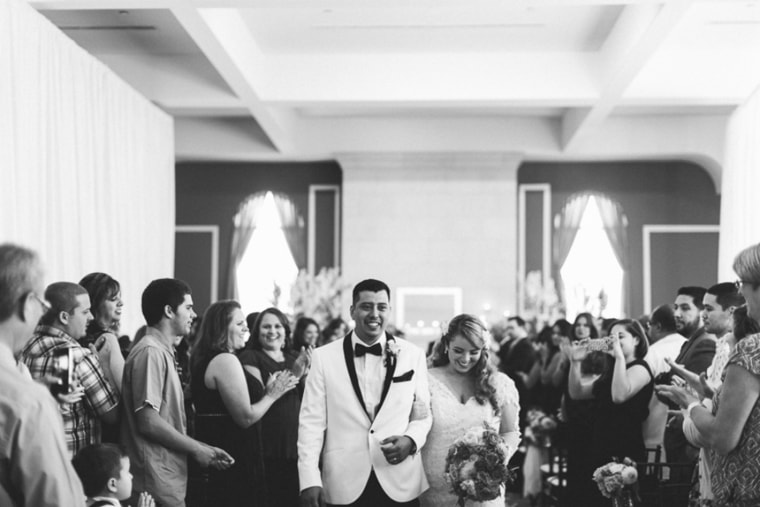 After the dance-floor fall, she was taken to the hospital for observation, but as the reception came to a close, she managed to make it back in time for one more meaningful song: Wilson Phillips' "Hold On."
"My mom used to sing that to us," Anthony said. "It was one of her favorite songs when I was a kid."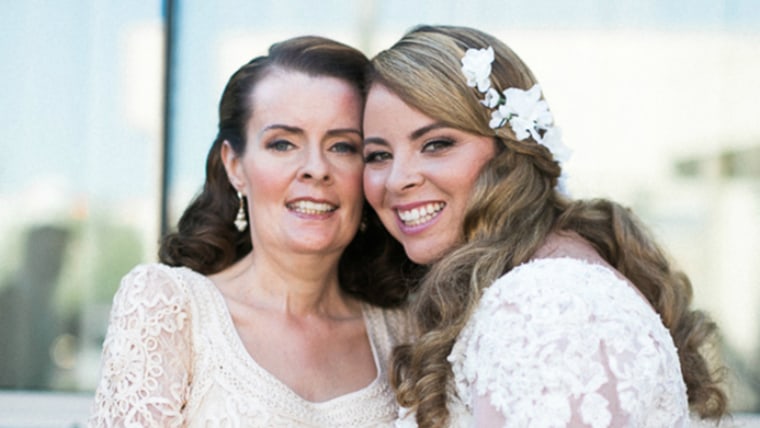 Scott wheeled onto the dance floor to rejoin her daughter, who danced beside her for the final moments of the reception.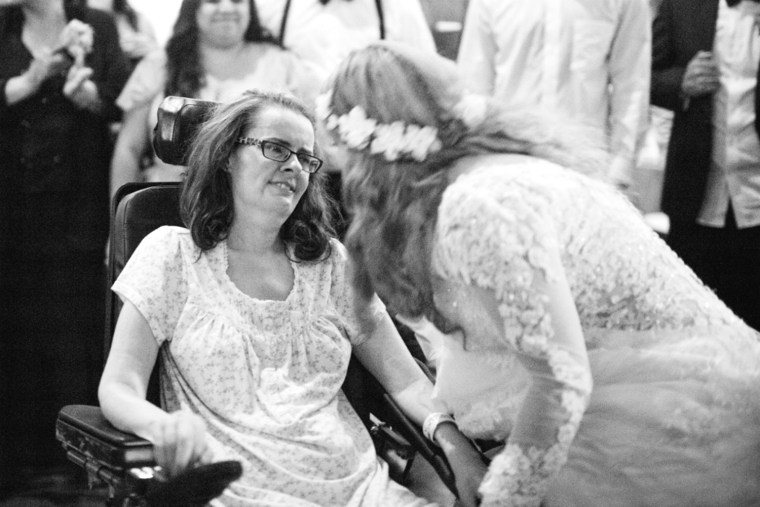 "The reception hall agreed to stay open an additional 15 minutes, just so I could bring out my mom," Vanessa said. "Everyone was clapping for her. I was singing to her. I just wanted my mom to know that she's loved, that she's special and that this whole wedding happened because of her."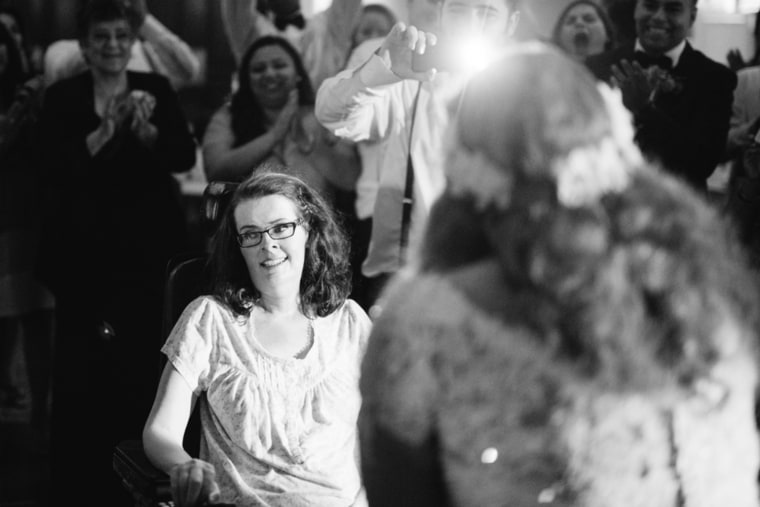 Her mother also raved about that moment. "I just couldn't take my eyes off of (the bride)," Scott said. "She was more beautiful to me in that moment than she ever had been before. Tears were just flowing down my face with joy. I was just so overwhelmed with happiness."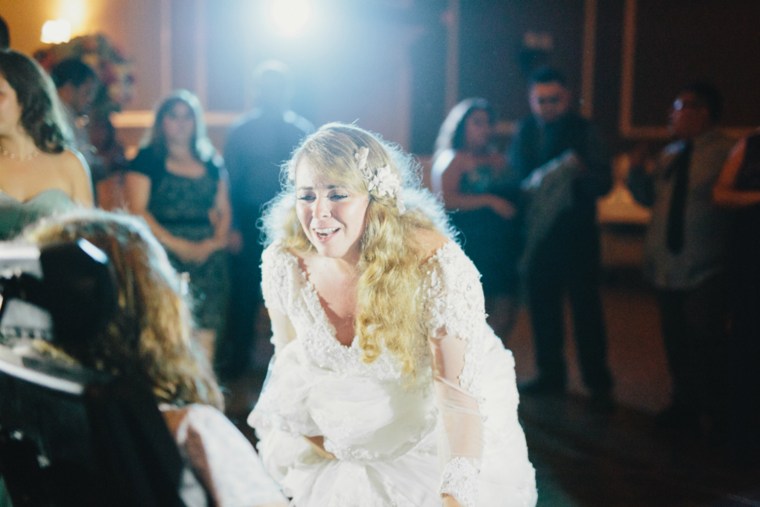 By their side, Anthony captured that reunion in a video that already has accumulated more than 40,000 views on YouTube.
"I believe that life is what you make of it," Scott told TODAY.com. "You either go get 'em and see the beauty of everything and do what you can, when you can, or you just do nothing; it's just your choice. And I've always had to work hard for everything I had. And I just know the value of being positive and strong and keeping it together, because, you live a better quality of life, and I don't want to look back and have any regrets, you know?"

Anthony said that after his Ice Bucket Challenge video went viral, he was motivated to remain a public advocate for ALS research and treatment. "I think I realized what that [first] video did, and that took one day to do," said Carbajal, who was diagnosed in January. "There's a lot of ALS patients that don't have the kind of support that I do right now, and I think that video has created a lot of positivity around [fighting] this disease, and I think that's the only way we're going to be able to make a difference."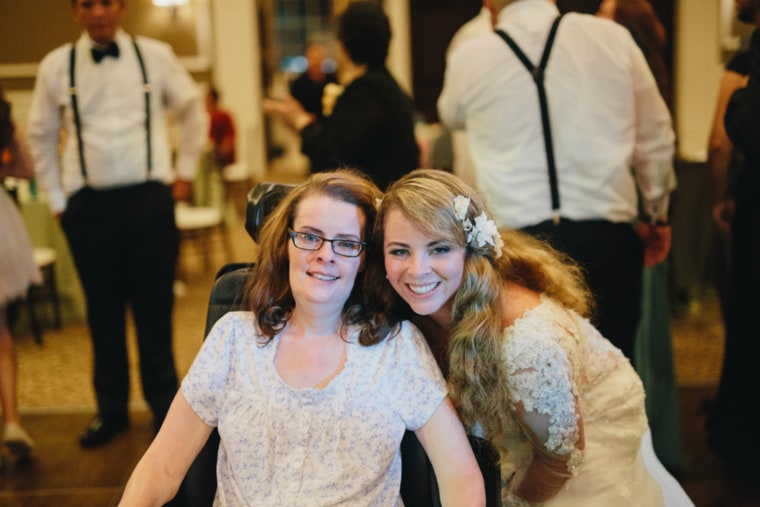 In addition to posting more videos, he's launched websites ALSBucks.org and KissMyALS.org, both of which aim to raise money and awareness for his favorite charity, ALS TDI — an ALS research and drug-development program. It's a fight against time, as he says simple tasks, like holding his cell phone and brushing his teeth, are already becoming more difficult.

"This disease is challenging to accept, because there's no cure, there's no treatment, your prognosis is not very long," he said, adding that his grandmother, Marie Dolan, also had the disease before passing away in 2006. "But if I can make a video that goes viral, and I can be on the 'Ellen' show, and I can do all these things, I think if that's possible, then a cure is possible or a treatment is possible. … If I get 83,333 people to donate a dollar a month, we'll raise $1 million a year for research."
ALS has slowed his mom's speech these days, but she, too, is making the most of her words and actions.
"You can't allow any situation to bring you down," Scott said. "If it does, snap out of it, because there's one life to live. You're not dead until you're dead. Our family tries to live and to do what we can. There's just so much living left to do. People, when they first meet you, they see you as a person with a disease, but we still have so much to offer the world. We're just doing everything we can to try to push advocacy, and get funding for research, so that, hopefully in the future, there will be a treatment or a cure, so that people won't have to suffer from this disease anymore."
Follow TODAY.com writer Chris Serico on Twitter.