/ Source: TODAY contributor
Having trouble keeping up with our increasingly organic, eco-friendly world? Let me be your guide! From all-natural makeup to the best in eco-conscious jeans, I will test and review the products and treatments that are best for you and the planet.
Like most people — with the exception of the guy next to me in yoga class yesterday — antiperspirant/deodorant has been a part of my life since adolescence. I first sensed a less-than-fragrant odor wafting in my direction during a particularly strenuous game of high school field hockey. During the water break I scanned the faces of my teammates searching for the owner of said scent until I realized — with great shock — that it was I who smelled like a lumberjack who hadn't showered in two weeks.
So began my journey into the antiperspirant aisle of my local drugstore. I tried them all: Secret, because it was made for a woman; Degree, because it was made for a man and a woman; and Arrid Extra Dry, whose advertisements promised that I could "get a little closer." I swiped on chalky white solids and drippy roll-ons. And if they didn't smell like summer rain or a cool breeze, my underarms emitted an all-day scent of "shower fresh." 
After college I began to suspect that things smelled too good to be true. Scientists were beginning to link antiperspirant to Alzheimer's disease, and as the armpit is the closest neighbor to the breast, some breast cancer researchers were also becoming suspicious of our antiperspirant/deodorant choices. As of today there is no conclusive evidence that underarm products cause disease, but the jury is absolutely still out.
More from TODAY:
Evidence or not, the research got me thinking: Human beings are designed to perspire; sweating actually releases toxins from the body. So how can it be safe to not only prevent the sweat glands from doing their job (antiperspirant), but to also coat the skin in chemicals that make us smell artificially fresh (deodorant)? I took my question to Christine Harlow, a.k.a. "The Ingredients Investigator," who has been researching the safety of the ingredients in our most common personal care products since 1991.
Harlow's response? It's not. Safe, that is. Many of the products we use on a daily basis — think shampoo, conditioner, toothpaste, hair gel, lotions and cosmetics — are loaded with toxic chemicals, and antiperspirant/deodorant is no exception. "First you need to learn to read the ingredients on product labels," she says. "But most of those ingredients you probably won't recognize unless you're a chemist." Deciphering multisyllabic ingredients is probably the last thing you'll feel like doing while standing in the deodorant aisle of CVS, but Harlow's toxic cheat sheet will have you separating the bad guys from the harmless in no time.
Top five ingredients to avoid
Parabens: These preservatives come in several forms (methyl, ethyl, propyl, benzyl and butyl) and have been found in breast cancer tumors — though the link to cancer has yet to be substantiated. Parabens are found practically everywhere. Really, spend five minutes in your bathroom today and you'll find parabens lurking in products in the medicine cabinet, the shower, and your makeup bag.
Aluminum and friends: Aluminum should be wrapped around sandwiches and not absorbed into the body where, as I mentioned earlier, it has been connected to Alzheimer's disease. But aluminum is a key ingredient in antiperspirant and may look like any of these on a label: aluminum chlorohydrate, aluminum zirconium tetrachlorohydrex gly or any other aluminum compound.
Triclosan: Sounds like a toilet bowl cleaner, but it's really a chemical that is classified as a pesticide by the FDA. It's thought to contain carcinogenic contaminants and is stored in body fat. Also look for triclosan in antibacterial soaps.
Talc: This seemingly benign duster of baby bottoms is often contaminated with asbestos (which is carcinogenic). The catch? The amount of asbestos in talc is unregulated, so you don't know how much asbestos you're in for when you buy products containing talc. 
Propelyn glycol: As a "penetration enhancer," propelyn glycol sounds as if it should be sold with Viagra, but it is actually believed to be a neurotoxin that may cause kidney or liver damage.
Smell good, feel good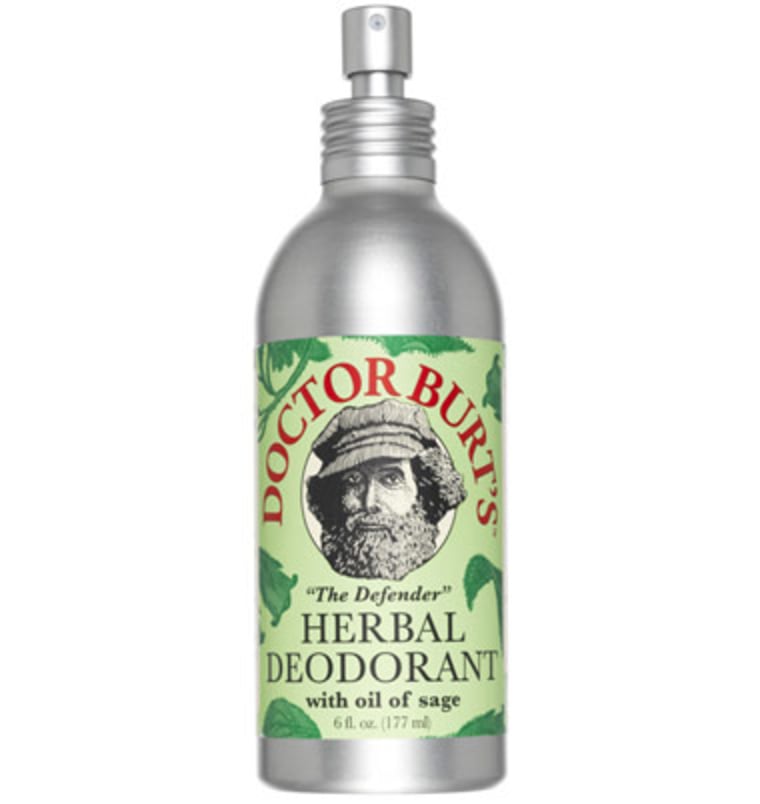 So what's a stinky girl (or guy) to do? Luckily several personal care companies are catching on to the public's desire for toxin-free products. And I've tested most of them as I've searched for the ultimate all-natural deodorant (every health food store sells natural deodorant and some drugstores are even catching on to the trend). One note: if you're going to go natural, you'll have to leave antiperspirant behind as it's impossible halt all sweating without turning to some major chemicals. The good news is that your body will eventually adjust (it will, trust me) by slowing the production of what at first feels like gallons of perspiration.
I experienced several mishaps as I first began experimenting with natural deodorant. Learn from my mistakes. Tip No. 1: nobody over the age of 7 should attempt to get through a humid August day armed with nothing more than two swipes of apricot deodorant. Apricots belong in trail mix, not on armpits. Look for deodorants that have a fresh, clean fragrance that isn't too sweet. Citrus and sage work well for both men and women — I've had success with Weleda's citrus deodorant spray (Weleda's rose deodorant is also lovely, ladies) and I've converted my active, athletic (read: sweaty) husband to Burt's Bees Herbal Deodorant, which is heavy on sage oil.
Tip No. 2: Stay away from clear solids unless you enjoy the sensation of having your upper inner arm stick to your upper inner torso. Sprays and roll-ons are best — natural roll-ons tend to be less watery than their synthetic counterparts. If you are willing to blow your toiletry budget on a truly divine natural deodorant, Dr. Hauschka is my all-time favorite. The Fresh scent is made with witch hazel and sage while the Floral has subtle notes of lilac and jasmine — and they work! I've exercised, sat through
stressful meetings, and raced to meet deadlines all while maintaining a delicate floral fragrance. As a bonus, drhauschka.com features a clickable ingredient list for each of their products. You're only one click away from knowing what, exactly, Sodium Magnesium Silicate is (a naturally occurring mineral which absorbs extra moisture).
Tip No. 3: The Crystal body deodorant makes an excellent paperweight.
For more information on the ingredients in the products you use, check out the Environmental Working Group's Cosmetic Safety Database.
Marisa Belger is a writer and editor with more than 10 years of experience covering health and wellness. She was a founding editor of Lime.com, a multiplatform media company specializing in health, wellness and sustainable living. Marisa also collaborated with Josh Dorfman on "The Lazy Environmentalist" (Stewart, Tabori, and Chang), a comprehensive guide to easy, stylish green living.