It's August back-to-school time — and that means peak season for head lice. Making matters worse this year, the vast majority of states are overrun with bugs that are resistant to common over-the-counter treatments.
In 42 out of the 48 tested states, 100 percent of lice tested have evolved to be resistant to the effects of pyrethroids and pyrethrins, the active ingredients in most OTC concoctions, according to a new report published in the Journal of Entomology.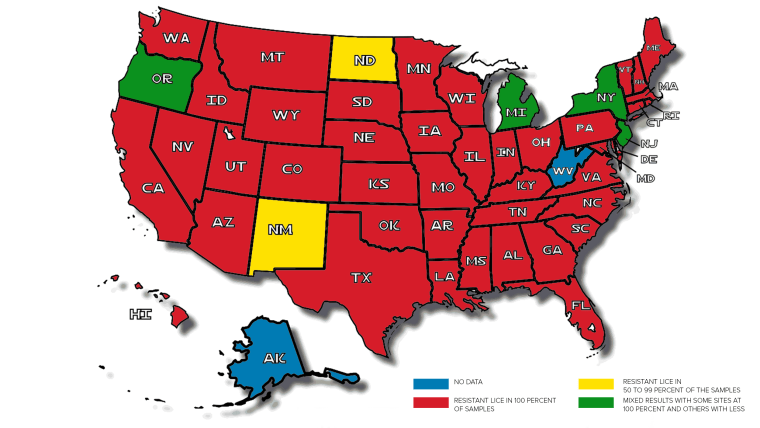 That doesn't mean the drugs are completely ineffective, said study coauthor Kyong Sup Yoon, an assistant professor in the department of biological sciences and environmental sciences at Southern Illinois University Edwardsville. "This mutation makes them somewhat insensitive. But in most cases pyrethrins and pyrethroids can still kill lice with the mutation, if you apply way more of the compound."
Resistant lice were previously found to have spread to 25 states. But the new report doesn't mean the pesky critters are traveling state-to-state on our warm heads; it's just as likely that the spread is because more samples have been collected by Yoon and colleagues at the University of Massachusetts, Amherst.
The new study analyzed data from 138 sites, and 14,281 lice, across the nation. In the vast majority of the sites — 132 out of 138—100 percent of the lice were resistant.
One site, in Michigan, had no resistant lice. The other five had numbers ranging from 60 to 87 percent.
Related: New guidelines for head lice say kids with lice can go to school
The standard OTC treatments contain synthetic versions of a chemical found in chrysanthemums, which lock onto receptors in the insects' nervous systems, paralyzing the creepy crawlies and eventually killing them.
But over the years, the insects have developed a receptor mutation that makes it harder for the chemicals to lock on.
Try a double dose
The findings "are actually kind of scary," said Dr. Robin Gehris, chief of pediatric dermatology at the Children's Hospital of Pittsburgh. "It means that if your child ends up with resistant head lice, it's not just bad luck. They are more likely to have resistant lice than not."
The study is likely to lead to a change in the way pediatricians handle patients with head lice, Gehris said.
Pediatricians have always assumed that if the OTC treatments weren't working, then the parents were doing something wrong.
Gehris said she would still advise parents to try getting rid of a lice infestation with a double dose of OTC treatment first.
"Treat the entire head and leave it on for a few hours and then repeat a week later," she said. "If you still see things moving after the second treatment it's time to call the doctor."
Home remedies
As for home remedies, there's no evidence that any work, Gehris said. She traces their popularity to advice given by a multitude of school nurses.
"Olive oil, mayonnaise, Vaseline, these are all treatments I wouldn't recommend," she said. "But I hear school nurses recommending them all the time."
Yet, Gehris doesn't completely reject those therapies. "If you want to use mayonnaise as an adjunct, I'm OK with that," she explained. "Theoretically, it could work if you put it on thickly enough that the lice aren't able to breathe. But it's hard to imagine that you could get it on thickly enough to really do the trick."
Nit picking doesn't work?
And bad news for parents who rely solely on "nit pickers," or commercially available fine-toothed combs — there's no evidence suggesting combs are successful, Dr. Bernard Cohen, a professor of pediatrics and dermatology at the Johns Hopkins Children's Center told TODAY earlier. "There have been a couple of nice studies showing that nit picking doesn't really work," he said.
If all else fails, there are newer prescription treatments that are highly effective, Gehris said.
"They are amazing," she added. "In my experience, though you are supposed to leave them on for several hours, in most people after 20 to 30 minutes most of the lice are not only killed but are actually dropping off the head."