In late summer, Frances Bu'Lock, a pediatric cardiology consultant, received a phone call from a doctor in Nottingham, England. A couple was expecting their first baby, but a scan showed something unusual — the baby's heart and bowel were growing outside her body, a rare condition known as ectopia cordis.
"The odds they were given were very poor," Bu'Lock said. "A one in 10 chance of survival."
Ectopia cordis occurs in one in 100,000 births and can result in death or termination of the pregnancy.
But a team of nearly 50 medical professionals at Glenfield Hospital in Leicester, England, successfully delivered the baby on November 22, almost a month before the baby's Christmas due date. Vanellope Hope was born via cesarean section and underwent surgery soon after to place her heart in her chest.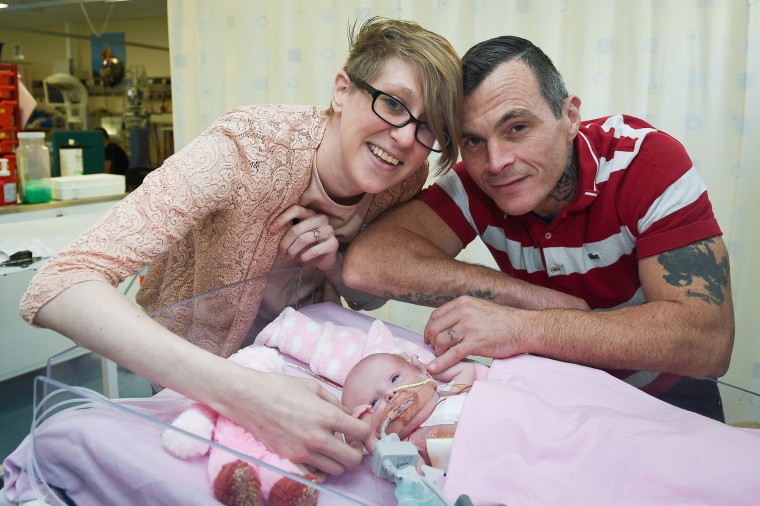 "I had prepared myself for the worst; that was my way of dealing with it," mom Naomi Findlay said in a statement. The family is not doing interviews because they are focused on Vanellope's recovery. "I genuinely didn't think my baby would survive."
But the staff felt determined to do everything they could for Vanellope. Bu'Lock began monitoring Findlay when she was 16 weeks pregnant. The first scan revealed the baby's bowels now were growing inside the body and only the heart remained outside. While that was a promising development, doctors feared the baby could have a fatal chromosomal abnormality as well.
"We had to be certain that there wasn't anything else obviously wrong with the baby," she said.
The couple opted for a blood test and learned the baby did not have the chromosomal abnormalities.
"We jumped up and down in the living room and cried. At that point, we decided to fight to give our daughter the best chance of surviving," said Dean Wilkins, Vanellope's father, in a statement from the hospital.
Doctors wanted Vanellope to grow as big as possible to make heart surgery a little easier. Findlay underwent regular scans and checkups so doctors could understand how Vanellope was developing. But at 25 weeks pregnant, doctors noticed the baby's heart rate dropped.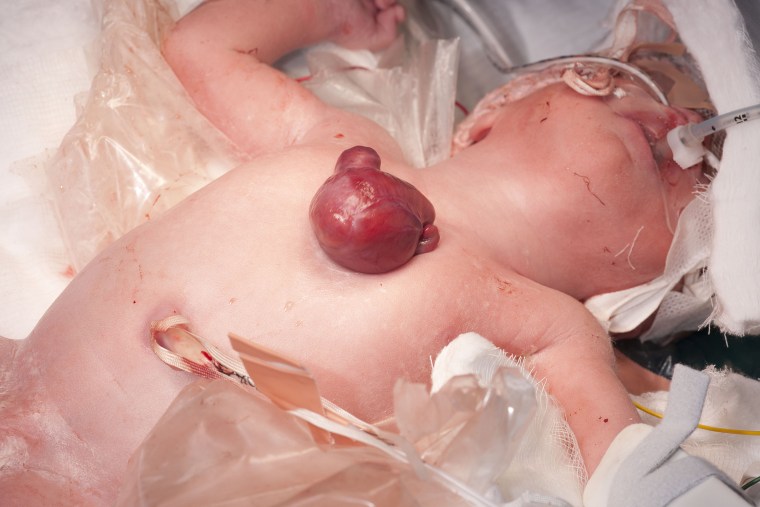 "It was significantly slower," Bu'Lock said. "Sometimes, it could be that the baby was not well."
Bu'Lock said it likely slowed because of the size of Vanellope's heart.
Mom and baby made it to 35 weeks before doctors determined an emergency C-section was needed. Immediately after delivery, doctors placed Vanellope in a large plastic bag.
"We wanted to keep the baby's heart moist," Bu'Lock said. "She had a bit of a shout on the way out, which was rather nice."
That scream gave Findlay and Wilkins hope.
"Both Naomi and I were holding our breath waiting (for her) to take her take her first breath," said Wilkins. "When she cried, we cried."
Doctors stabilized Vanellope and prepped her for immediate surgery where doctors placed her heart back into her chest cavity. But it wasn't as simple as popping the heart into her torso. The opening was smaller than the heart, so doctors needed to widen it as well as take out the thymus gland.
"What the surgeons needed to do was make as much space as possible," Bu'Lock said.
They created a protective lining for the heart using plastic and some plastic tubing. In two subsequent surgeries, doctors removed this and used skin grafts to cover Vanellope's chest cavity. She still faces a lot of challenges — her chest remains inflamed and leaking fluid and she struggles to breathe.
"We don't know if she is going to breathe on her own. She has the drive to breathe," Bu'Lock said.
Still, much of Vanellope's future is unknown.
"To say we are making it up as we go along would be an oversimplification, but it is certainly not far off," Bu'Lock said.
Findlay and Wilkins simply feel grateful for time with their daughter.
"The moment she was born, I realized that we had made the right decision. We know this is going to be a roller coaster and have started to prepare ourselves for the difficult times ahead, but we needed to give her a chance," Wilkins said.