Known for sporting superhero capes during his seven-month battle against a cancerous brain tumor, 18-month-old Victor Skaro — a.k.a. "Valiant Vito" — appears to have vanquished his greatest nemesis.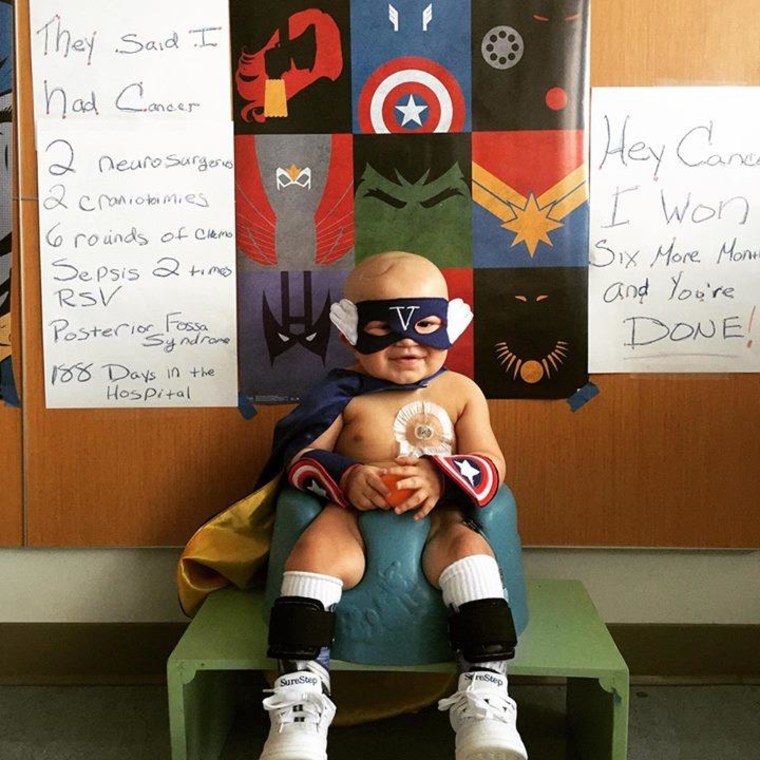 A Facebook page dedicated to the Waconia, Minnesota, toddler's fight revealed the good news in an uplifting update posted Wednesday afternoon, when Vito not only turned 18 months old, but also was cleared to leave the Minneapolis branch of Children's Hospital of Minnesota.
"Hey Cancer," reads part of the post. "Vito Won."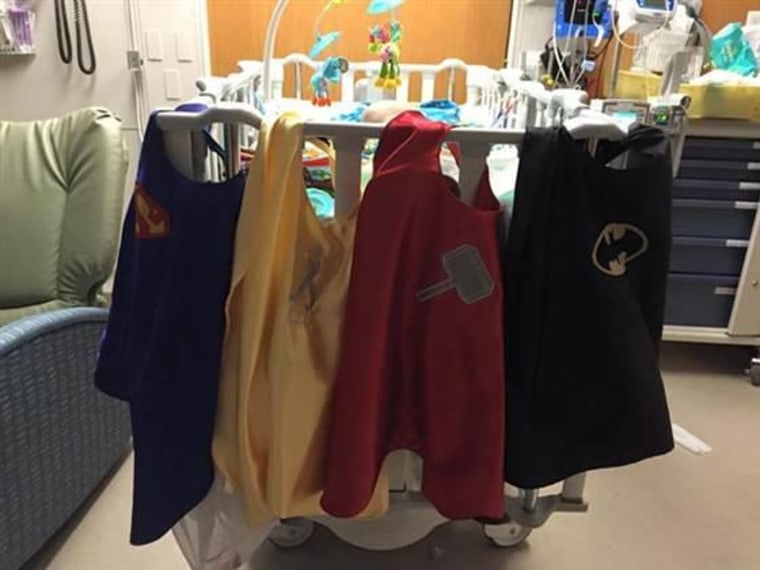 Six months of "maintenance chemo" and intense physical therapy remain but, according to Vito's mother, Nicole, the family is relieved that his future appears brighter than the 188 days in the hospital, surgeries and other maladies he's already endured.
"It's just short of miraculous," Nicole told TODAY.com Thursday.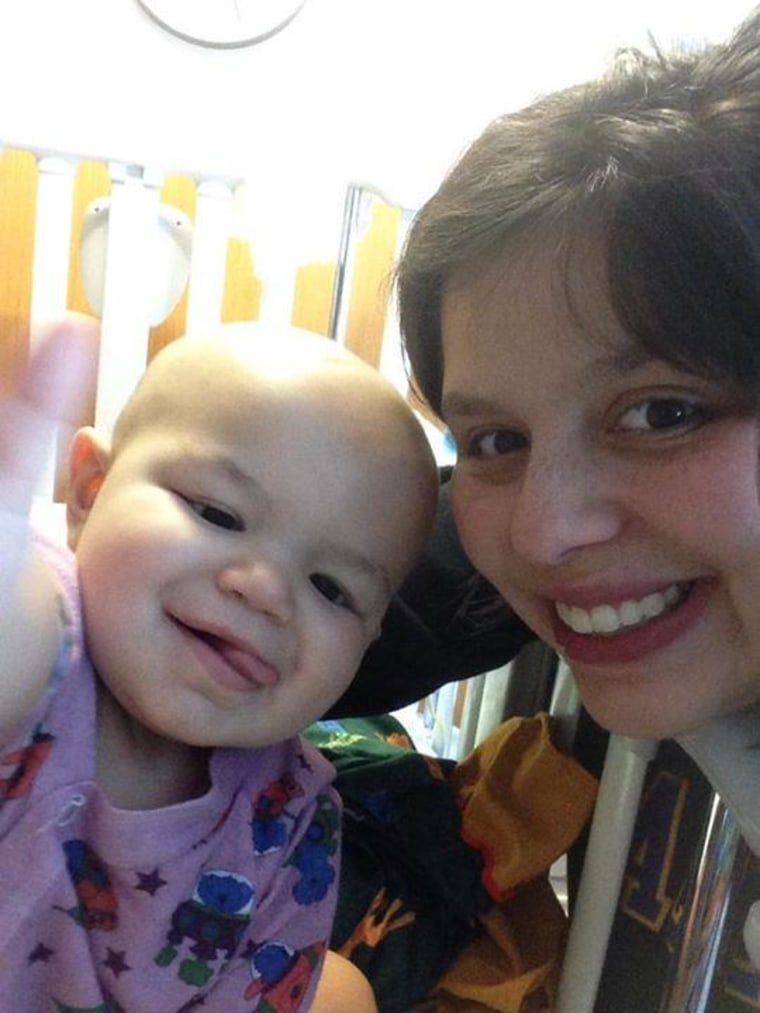 Vito's story went national in December, when word spread of the heroic toddler and his caped crusade. Diagnosed with medulloblastoma on Aug. 25, Vito captured the hearts of Facebook users who saw him take on the disease while fashioning Captain America, Superman, Batman and Thor capes made by local seamstress Kristi Fritsvold.
"His capes are just amazing," Nicole said. "I swear they harness a superhero power."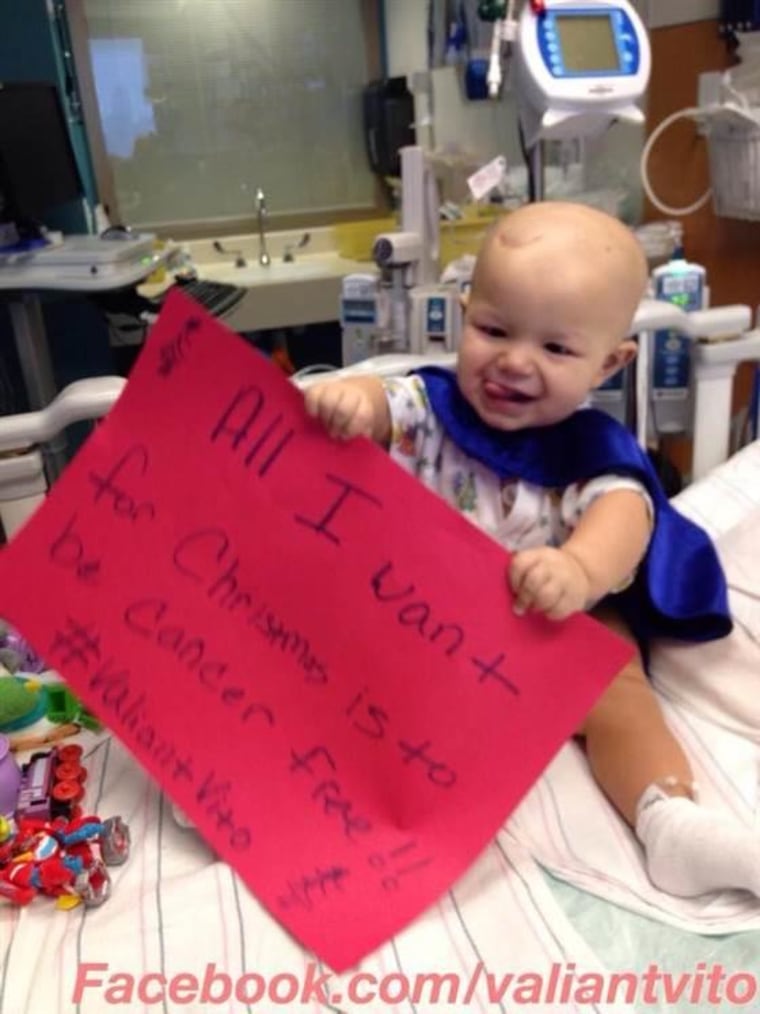 Over the last few months, Nicole has been astounded by Vito's attitude.
"He just smiles," she told TODAY.com in December. "Emotionally, you go through everything with this. As a parent, you'll have a tough day, where you're like, 'Oh, my gosh, are we going to get through all this?' And you just look down, and he smiles, and you just know he's going through chemo — literally poison, going through his veins — and he's smiling through it. It's like, 'If you're smiling, I can't be miserable.'"
Vito's situation was tenuous until just recently. "If you told me last week that Vito would be home in a week, I would have laughed and cried," read an update posted to the Valiant Vito Facebook page late Wednesday night. "But here he is."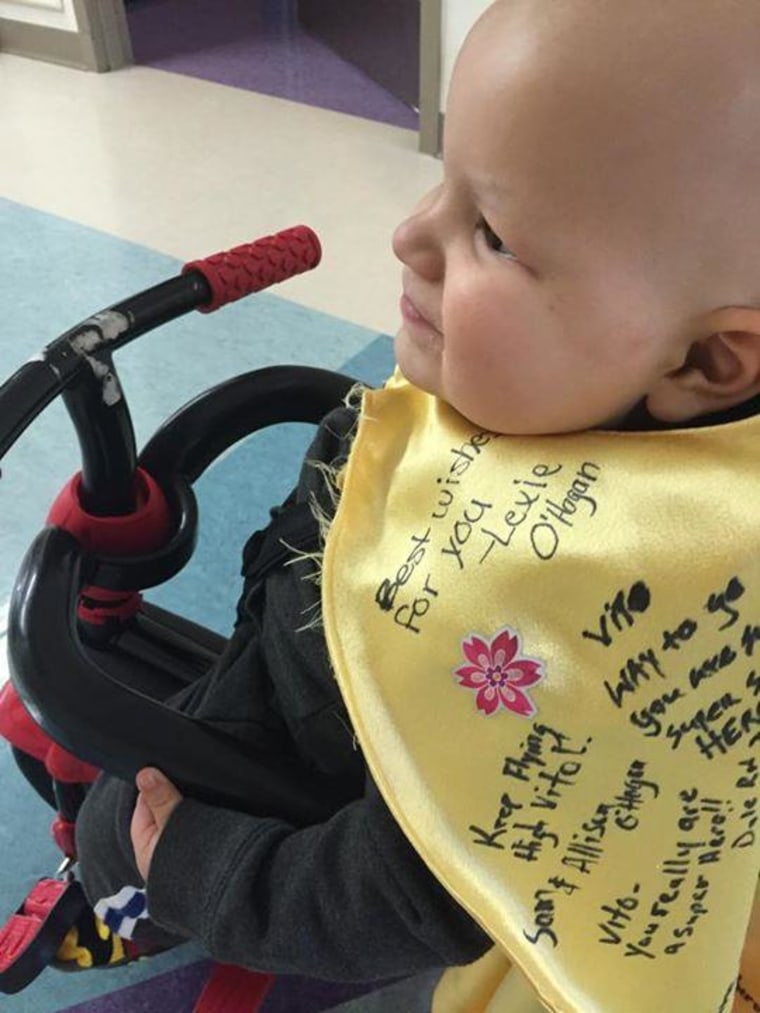 Thankfully, Vito recovered quickly and was cleared to leave the hospital Wednesday, Nicole said. Hospital staffers and other fans of Valiant Vito signed a cape that he wore on his last day as an in-patient.
Citing medical bills, the family continues to fundraise through its GoFundMe page (which had raised more than $11,000 toward the $50,000 goal as of Thursday) and an April 11 event at Waconia Ice Arena. Nicole said she's grateful for the support she's received from the town she calls home, as well as strangers around the world.
"It's just a wonderful celebration of Vito," she said, "and this amazing strength that he has."
Follow TODAY.com writer Chris Serico on Twitter.