Sick of eating the same meals over and over again? Ready to stick to a healthy meal plan? You're in luck: I've created a simple 30-item shopping list you can take to the store that will give you everything you need to make easy, healthy meals and snacks each day for a week.
And the best part is, while there are seven days' worth of meals below, you can also mix, match and repeat these recipes to last a whole month — or more! And this budget-friendly grocery list is easy on your wallet, too! (You'll need a few simple pantry staples, like olive oil, salt and vinegar, so double check the list below to make sure you have the basics before getting started.)
SHOPPING LIST:
VEGETABLES
Broccoli (2 heads or frozen bags)
Carrots (2 bags)
Dark leafy greens, including lettuce (3 large bags)
Onions, yellow (4)
Peppers, bell (5)
Spinach (10 oz. pack frozen, chopped)
Tomatoes (3)
STARCHY VEGETABLES
Beans, any preferred variety (2 cans)
Potatoes, sweet and white (3 white, 3 sweet)
FRUIT
Apples (4)
Bananas (4)
Berries, any variety (2 frozen bags)
Oranges (3)
Grapefruit (3)
PROTEINS
Chicken breasts, skinless (1 package / 4 half breasts)
Eggs and/or egg substitutes (one dozen or container)
Pork tenderloin (6 oz.)
Turkey, ground (2.5 pounds, at least 90% lean)
Turkey, sliced (1/2 pound)
Salmon, wild (1 can/pouch and 1 fillet)
Shrimp (12-16 oz. frozen bag)
Tuna (6 oz. can light, packed in water)
Nuts, seeds and nut butters, any preferred variety (one jar nut butter, one package nuts/seeds)
Lentils (one bag)
DAIRY
Cheese, reduced-fat (1 package shredded, any flavor)
Milk (1 container skim, 1% low-fat, soymilk, or unsweetened almond)
Greek yogurt, fat-free or low-fat (5 single containers)
WHOLE GRAINS
Bread, whole grain (1 loaf, regular or reduced calorie)
Cereals, whole grain (1 box)
Waffles, whole grain (1 box)
Please check your pantry and make sure you have these on hand!
CONDIMENTS/PANTRY
Garlic
Lemon
Dijon mustard
Marinara sauce
Salad dressing, low calorie
Salsa
Ketchup
Olive oil
Vinegar
7-day meal plan:
Breakfasts:
3. Whole-grain cereal with milk and fruit: Enjoy 150 calories of whole grain cereal, 1 cup milk (skim, soy, or unsweetened almond milk) and one of the following fruit options; 1/2 banana, 1 orange, 1/2 grapefruit or 1/2 cup berries.
4. 2-minute salsa scramble sandwich
5. Greek yogurt with nuts and fruit
7. Spinach-cheese-egg scramble
Lunch:
4. Open-faced PB-banana sandwich: Enjoy with crunchy carrots or bell pepper sticks on the side.
7. Salmon salad Dijonnaise: Enjoy over leafy greens with 1 slice of whole-grain toast and 1 orange or 1/2 grapefruit.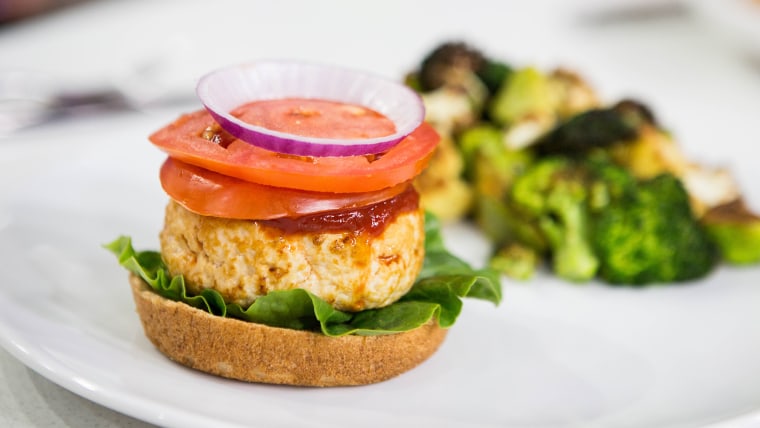 Dinner:
1. Turkey-spinach burger: Enjoy 1 burger without the bun. Serve with a baked sweet potato and mixed green salad with 2 tablespoons low-calorie dressing (or 1 teaspoon olive oil and unlimited vinegar).
2. Lemon-Garlic Shrimp: Enjoy with 2 cups sautéed leafy greens and 1/2 baked sweet potato.
3. Chicken paillard pizza with veggies and salad: Enjoy 1 serving of pizza with a side salad topped with 2 tablespoons low-calorie dressing (or 1 teaspoon olive oil and unlimited vinegar).
4. Baked fish with steamed broccoli and baked potato: Enjoy 5 oz. grilled, roasted or baked fish with unlimited steamed broccoli and baked potato topped with 2 tablespoons low-fat Greek yogurt.
5. Fiesta omelet with baked sweet potato: Enjoy with a plain baked sweet potato on the side.
6. Mini turkey meatloaves: Enjoy 2 mini meatloaves with a salad topped with 2 tablespoons low-calorie dressing (or 1 teaspoon olive oil and unlimited vinegar).
7. Pork tenderloin, baked potato and carrots: Enjoy 6 oz. of roast pork tenderloin with cooked carrots and a baked potato.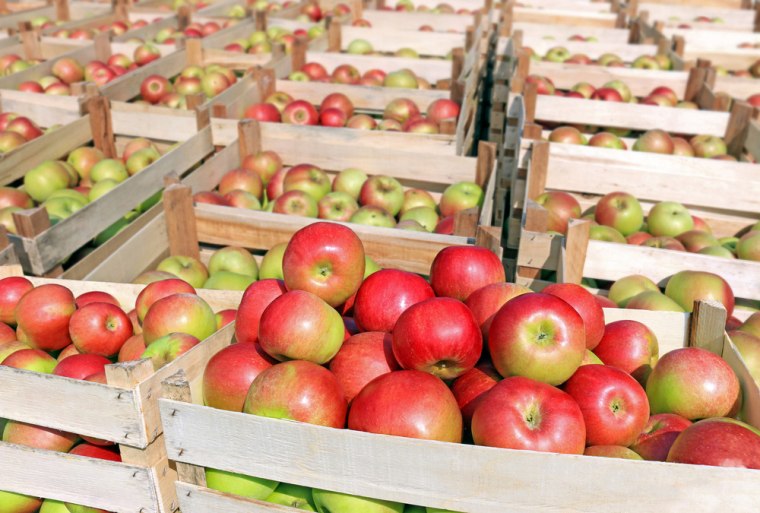 Snacks:
1. Apple with 1 tablespoon nut butter
2. Orange + 15 nuts
3. Apple + 15 nuts
4. Lettuce-pepper-turkey roll-ups (1/4 pound sliced turkey wrapped around lettuce and bell pepper sticks)
5. Banana + skim latte (skip sugar)
6. Low-fat Greek yogurt: And 1 tablespoon nuts (or 2 tablespoons whole-grain cereal)