People considering a new diet for the new year might want to consider the old standards, such as the DASH diet, the Mediterranean diet, or Weight Watchers.
These diets continued to be higher performers according to the U.S. News & World Report 2018 Best Diets. For the eighth year in a row, DASH ranked as the best overall diet. But for the first time ever the Mediterranean diet has tied it for first place.
"I wasn't surprised," Angela Haupt, assistant managing editor of health at U.S. News & World Report, told TODAY. "There is so much really really robust research that shows the Mediterranean diet will help you lose weight and keep it off and help prevent a host of diseases."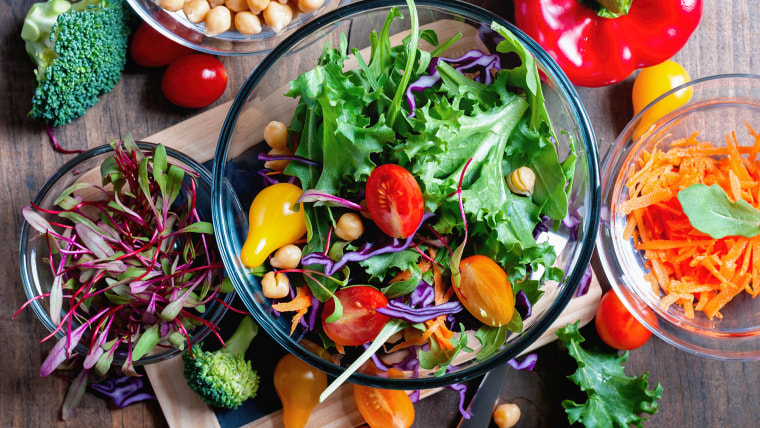 'You're not depriving yourself'
Developed by the National Institutes of Health to lower blood pressure, the DASH diet focuses on vegetables, whole grains, and low fat diary. The Mediterranean diet emphasizes similar foods but encourages the consumption of healthy fats, such as olive or vegetable oils, and allows for some alcohol.
"You are not depriving yourself with the Mediterranean diet. You can certainly have your wine," Haupt said. "What you see with the top performers there is room for flexibility."
When it comes to overall diets, the Flexitarian diet ranks third while Weight Watchers ranks fourth. Once again Weight Watchers comes in first among commercial diets, with Jenny Craig ranking second and the Flat Belly and Nutritarian diets tied for third.
Alisa Sunness, a nutritionist at University of Wisconsin Health, who was not involved in the ranking, said that highest rated diets encourage the same types of eating habits.
"They all support a higher intake of fruits and vegetables, lean protein and heart healthy fats and whole grains," she said. "The diets are using foods with minimal added fats and sugars and using foods in the natural form, and naturally those foods are going to be nutrient dense."
This year, the experts examined two new diets, the Nutritarian diet and the ketogenic diet, aka keto diet. They ranked the ketogenic diet as the worst diet.
"I was surprised because the keto diet is having a moment now," said Haupt. "Of course, we know that is what popular isn't always healthy."
The ketogentic diet is a low carb, moderate protein, high fat diet. But it can be difficult to follow, which could contribute to its low score.
"The best diets come down to what someone can maintain long term," said Sunness. "Some of the eating patterns that exclude food groups are always going to cause concern."
Diets that exclude foods can make people feel deprived and also could lead to nutritional deficiencies, she explained.
The other new diet the experts evaluated, the Nutritarian Diet is a meal plan that focuses nutrient dense foods to bolster overall health and promote weight loss, which Dr. Joel Fuhrman president of the Nutritional Research Foundation, started. It tied for third in commercial diets and 15 on overall diets.
To develop a score for each of the diets, weight loss experts examine how each performs on seven criteria, including:
Short-term weight loss, the likelihood of meaningful weight loss in the first year
Long term weight loss, the likelihood of meaningful weight loss for two or more years
Its ability to prevent diabetes or maintain blood sugar levels
Its ability to promote cardiovascular health
How easy it is to follow
How nutritionally complete it is
Whether it poses health risks, such as malnutrition or rapid loss
While popular diets, such as Whole 30 and the ketogenic diet, rank poorly, Haupt said that doesn't mean that people should skip them if they like them.
"They are bottom of the barrel in the experts' minds but the people who do them definitely seemed pleased," she said. "This doesn't mean they don't work. What it means they are probably not healthy and probably won't lead to lasting health."
Get in shape and hit your health goals in 2018. Sign up for our customized 10-week newsletter!