Six American Ebola survivors, meeting together for the first time as a group Wednesday on TODAY, opened up about the unusual bond they share and the unique reasons they have to be thankful this holiday season.
Many thanked Dr. Kent Brantly, one of the first survivors to recover and who then went on to donate his plasma to most of the others as they recuperated.
"He's a selfless man and he's like our angel and gave us a second chance at life, that's how I feel," said Texas nurse Nina Pham.
"It's just amazing that you gave so much to all of us. Thank you," said NBC freelance journalist Ashoka Mukpo.
Each survivor also spoke about the many things they feel grateful for, particularly on the eve of Thanksgiving.
Nurse Amber Vinson said she's thankful for the "little things — like when I'm cooking, smelling the food as I cook, doing laundry, feeling the warmth and the smell of laundry right out of the dryer."
Mukpo made mention of other survivors who failed to get the same attention as he did during his recovery.
"I'm thankful for all the brave men and women in Liberia, Guinea and Sierra Leone who put their lives at risk to deal with this epidemic," he said. "They're the real heroes."
TODAY's Matt Lauer pointed out that while several of the survivors had doubts about participating in the interview, they all jumped at the opportunity to meet each other.
"Amazing. Surreal to have us all in one room," Pham said.
While the group had numerous things to share with each other, Brantly said there are some details too difficult to discuss.
"I don't think we can really compare war stories. This is a horrible experience for anybody who goes through it," he said.
Yet, all the survivors said they had no regrets about the choices they made, whether serving abroad in West Africa or treating Ebola-stricken patients in the United States.
"I'd still do it," said Vinson, Pham's colleague, about her work.
"Nursing is a calling," Pham agreed. "It's such a rewarding career and it's just in our personalities and in our nature to help whoever needs help."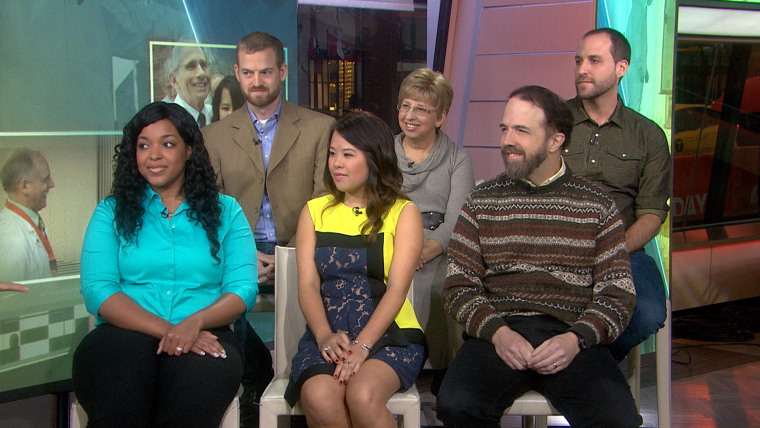 Missionary Nancy Writebol acknowledged that while there is a stigma to being a former Ebola patient, she's thankful for the warmth she's received from many strangers.

"A lot of people have been very kind and have done nothing but wish us well," she said.
"I'm thankful for God's grace and the second chance and the opportunity just to continue to serve, possibly back in Liberia," Writebol later added. 
Dr. Rick Sacra also said he'd also be willing to go back to Africa.
"I'm thankful for the opportunity to go back. I'm also really thankful to get to hang out with my kids, my sons, and just see what happens next," he said. "I'm really thankful for a second chance at life." 
Follow TODAY.com writer Eun Kyung Kim on Twitter.