As an ultra-runner, Jason Romero can cover 100 miles in a single race. He can run for 28 hours straight and touch both rims of the Grand Canyon in a single day.
What he can't do is stop his limited eyesight from getting worse. Still, he keeps running.
"It's who I am, it's what I do," Romero, a single dad who lives in Denver, told TODAY. "I don't believe that there are any limits on the human spirit or the human potential. For me, it's always been: What else is there? What else is possible?"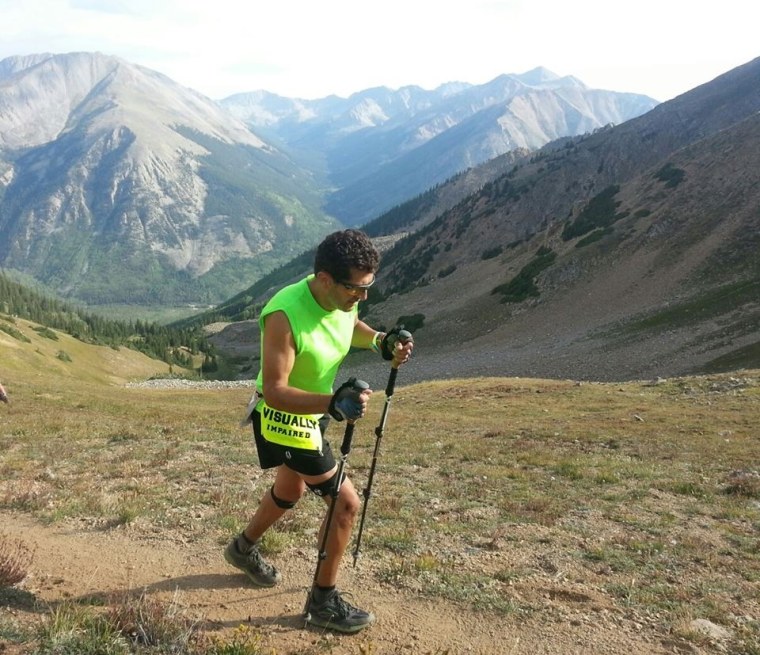 As a teenager, Romero was diagnosed with retinitis pigmentosa, a rare condition that causes the retina to deteriorate over time. There is no treatment and a doctor told him he'd be "blind, lights out" by the time he was 30.
Now 44, Romero said his eyesight did not fade as quickly as predicted, but it has begun deteriorating more rapidly in the last five years. He's lost most of his peripheral vision, so the world looks like he's peering at it through a small tunnel. Romero's central vision is 20/200 and he can barely see anything at night. He is legally blind.
But while his eyes have always been an uncertainty, his love of running is a constant.
Romero ran his first marathon at 23, and then —inspired by a step-uncle who was an ultra-athlete —began taking part in triathlons.
"After that I was kind of like, what next?" recalled the runner, who calls himself "Relentless Romero" on his website. "I wanted to push myself."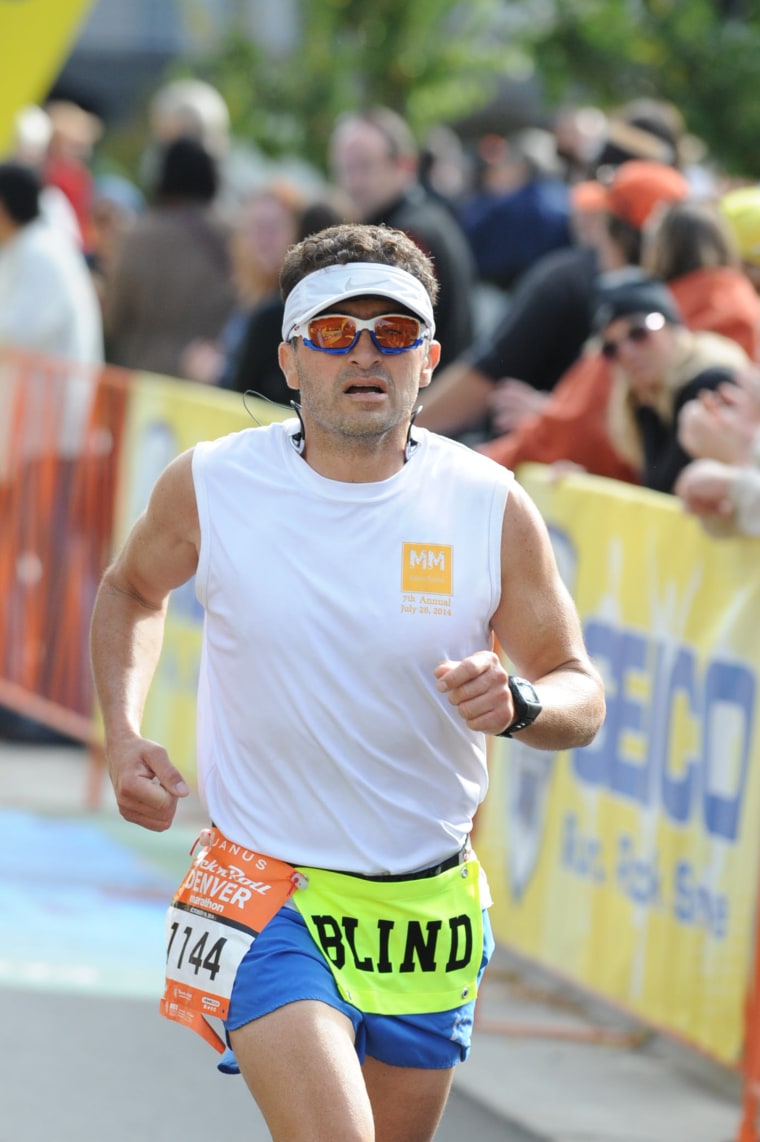 He was fascinated by the Leadville Trail 100 Run, billed as "one hundred miles of extreme Colorado Rockies terrain," so he signed up for the first time in 2010. 
Racers have 30 hours max to cover the distance while climbing over mountain passes — a seemingly impossible feat for most people, but a challenge Romero loves. The fastest he's finished is just under 29 hours.

"You don't sleep and you just make relentless forward progress. You just go and go and go," Romero said.

He's since taken part in many other ultra-marathons, which he calls "eating races" because you have to eat constantly to have the energy to finish. 
Romero consumes about 200 calories per hour and drinks non-stop. Food is fuel, so he has trained himself to have an "iron gut" that allows him to eat anything, anywhere on the run, he said.

The other key ingredient: mental toughness.
"You're going to get to the point of suffering and pain and… if you let that little voice of doubt creep into your head, you're done, it's over," Romero said.
To make up for his deteriorating eyesight, he uses trekking poles to help him navigate the trails and sometimes has a guide running in front of him to call out the different terrain.
Since the long races continue through the night, when Romero has the most trouble seeing, he stares at the guide's ankles in front of him and uses the guide's feet as indicators of where to go. It's his least favorite part of racing because it reminds him that he's going blind, he said.
Despite the many precautions, he's fallen many times. While out for a jog closer to home, he's run into fire hydrants and signs, and sliced open his head, he said.
Romero's fading eyesight is tough on his three children as well, especially since he's stopped driving and the family has started taking the bus to get around. The transition has been so unsettling that Romero has sought counseling for the first time in his life.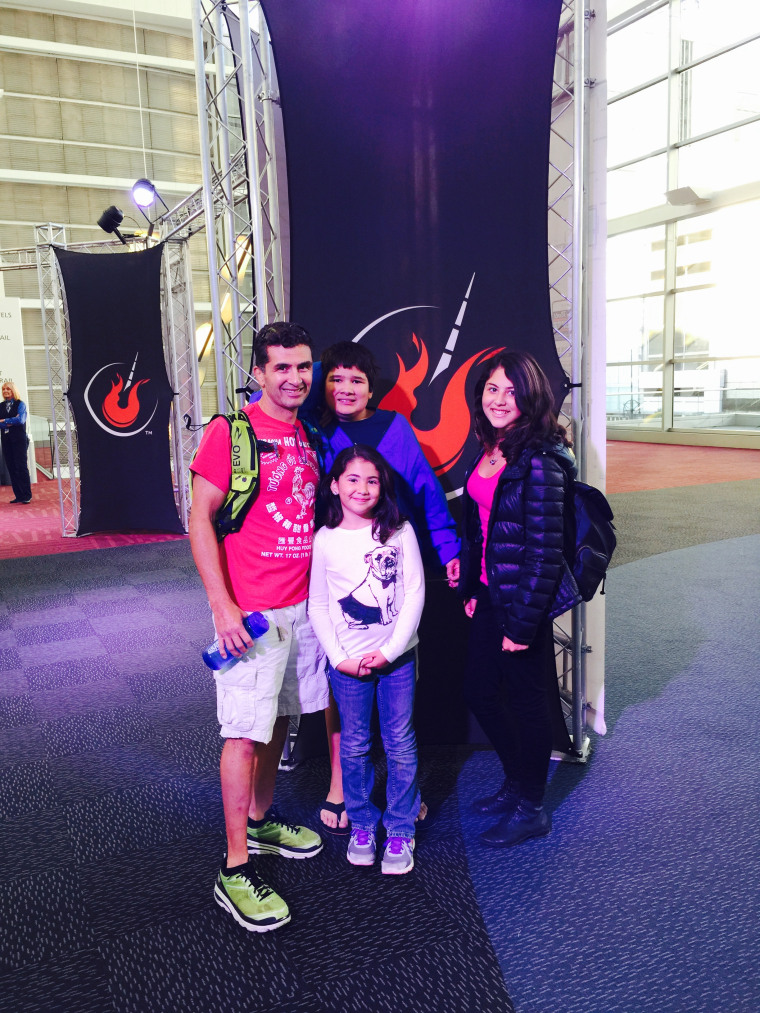 But there's always running — as therapy and as a source of strength.
"When I run, I don't try to work through problems… (I'm) very, very present," Romero said. "At about mile 15 when I'm on a run, everything is gone. The pain, the heavy breathing, the little kinks in my ankles. It's like you're flying, you're floating."
Up next, he wants to try the Badwater 135 — an ultra-marathon that starts in Death Valley.
He'd also love to tackle the Marathon des Sables, a six-day race in the Sahara Desert.

Relentless, indeed.