/ Source: TODAY Contributor
We call it the five-second rule, but is it really safe to eat food that has fallen on the floor, even for just a few quick moments?
The TODAY anchors discussed the issue Tuesday, sharing what they would — and wouldn't — eat off the floor. Here's what you need to know before you think about popping that last bite of cake into your mouth after it's kissed the ground.
The so-called five-second rule is real, says Dr. Richard Martinello, medical director of infection prevention at Yale-New Haven Hospital in Connecticut, "but whether it constitutes good guidance is questionable."
That is, the circumstances matter.
"In short, dry items, when in contact with another surface, pick up less contamination than wet items and, of course, not all surfaces are the same — some are relatively clean, and others relatively (or really) dirty," Martinello told TODAY.com by email.
"Finally, the longer something is on a surface, the more likely it will become contaminated, but whether five seconds is the proper dividing line between something dropped being acceptable or unacceptable is not perfectly clear," he added.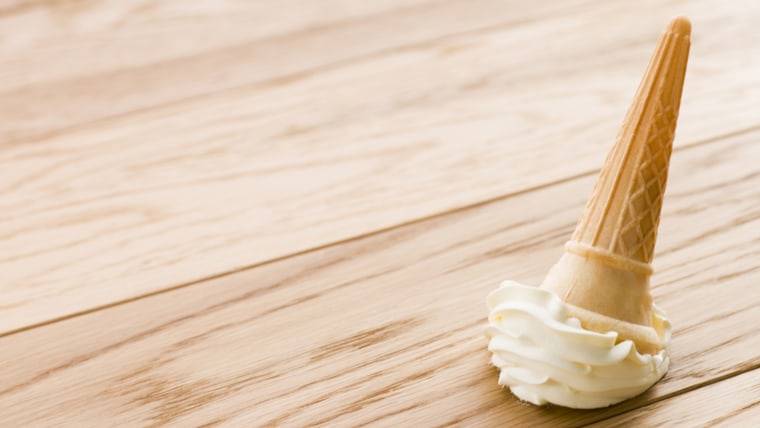 The things to keep in mind, Martinello said, are: Was the item that was dropped wet or moist and did it fall onto a surface that is wet or moist, and was the surface it fell onto clean or dirty?
The last thing to consider, as tough as it may be, he said, is: "How bad do I really want what was dropped and how much risk is acceptable?"
Research also suggests the five-second rule is not just a myth. Researchers at Aston University in England dropped different kinds of foods onto various floor surfaces for three to 30 seconds and tested the transfer of E. coli and Staphylococcus aureus bacteria.
"Consuming food dropped on the floor still carries an infection risk as it very much depends on which bacteria are present on the floor at the time; however, the findings of this study will bring some light relief to those who have been employing the five-second rule for years, despite a general consensus that it is purely a myth,'' Aston University microbiology professor Anthony Hilton told Science Daily in 2014.
"We have found evidence that transfer from indoor flooring surfaces is incredibly poor with carpet actually posing the lowest risk of bacterial transfer onto dropped food."
As for the TODAY anchors, Al Roker doesn't have a rule. "We've got a dog at home," he joked.
And they agreed that wet food off the floor just doesn't work.
"If it's a ravioli, I wouldn't," said Savannah Guthrie. "The 10-second rule wouldn't count."
"If it's a milkshake, you don't lick it up off the floor," said Matt Lauer.
TODAY.com contributor Lisa A. Flam is a news and lifestyles reporter in New York. Follow her on Twitter: @lisaflam