Just like any little girl, Maeve Hollinger loves to jump on the trampoline, play flag football and go swimming. But unlike most other kids her age, the 7 year old recently celebrated an anniversary of a different kind: It's been about five years since she was diagnosed with type 1 diabetes.
"I went to her crib and she didn't move," Maeve's mom, Megan Hollinger, remembered about the night their lives changed. "And I shook the crib and she didn't move. She was dying before our eyes."
They rushed Maeve to the hospital, where doctors told her parents that Maeve's blood sugar was so high the meters couldn't read it.
After confirming she had type 1 diabetes, Maeve's doctor was very matter of fact. "He was basically like, 'Get on board,'" Maeve's dad Paul told TODAY. They've been on board ever since, through the thousands of finger pricks, doctor's appointments and the highs and lows that go along with the disease.
Type 1 diabetes is often referred to as "juvenile" diabetes because it usually develops in kids and teens. It's an autoimmune diseases that occurs when a person's pancreas stops producing insulin, which controls the body's blood sugar levels and is needed to produce energy. There is no cure for type 1 diabetes, and nothing you can do to prevent it.
To manage the disease, Brave Maeve (a nickname her three brothers coined for her) wears a continuous glucose monitor (CGM) that checks her blood sugar levels every five minutes. The CGM is usually attached to her upper arm with adhesive and a copper filament that sits just under the skin. She also uses a tubeless pump called an Omnipod that delivers insulin around the clock, and an additional dose determined by her parents before eating or when her blood sugar is too high.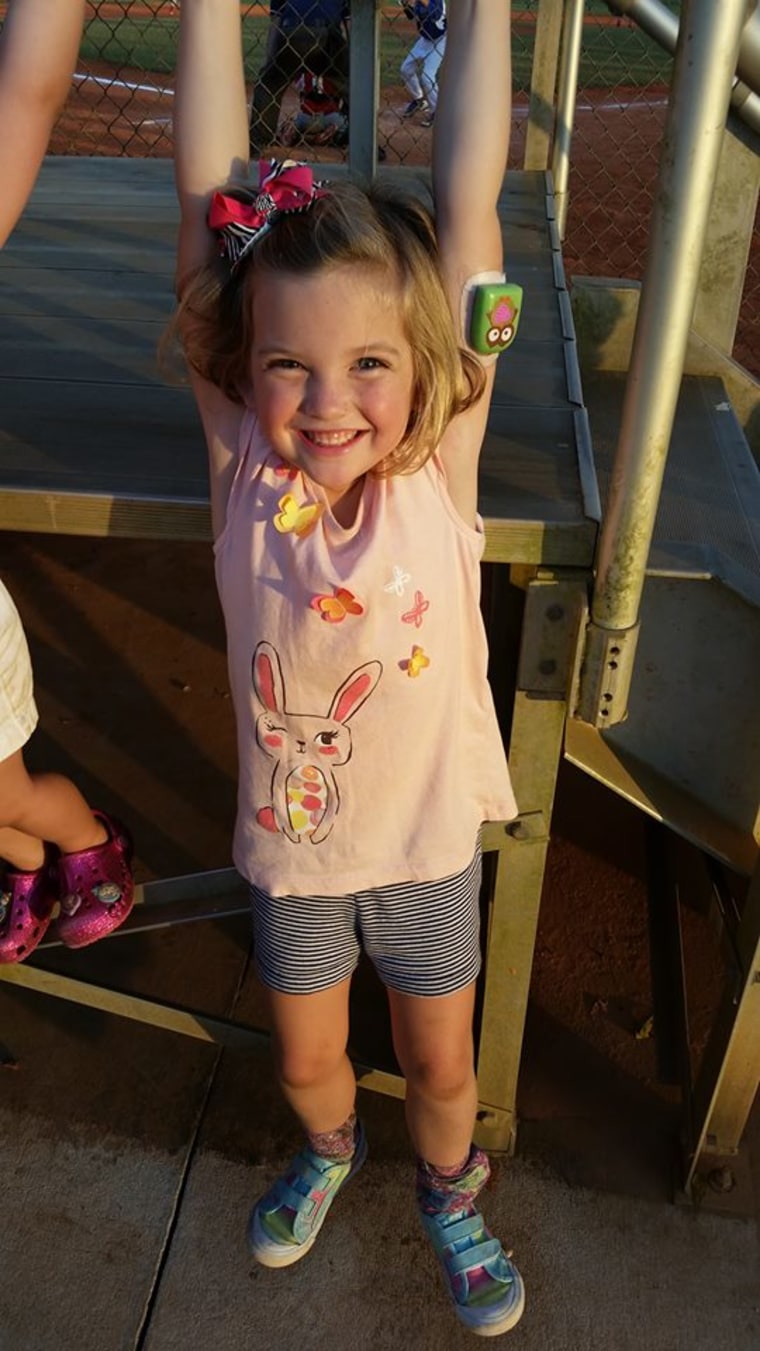 Last year, the Hollingers, who live in Jupiter, Florida, home-schooled Maeve. "What I like to say about it is diabetes has a very strict schedule and school has a very strict schedule and sometimes they don't mesh," Megan said. But this year they wanted to give Maeve the chance to go to school with other kids her age.
"We worked hard to make diabetes fit into the school schedule," Megan continued. "Now she has a one-to-one (aid), someone with her all day during school, and the school nurse, taking care of her diabetes."
After managing her care for over five years, it was hard at first for Maeve's parents to relinquish control, but they were very grateful to have support they can rely on at the school.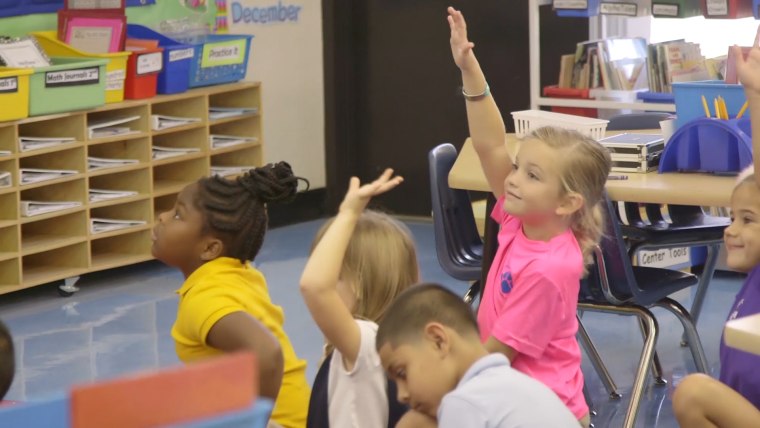 "Our school and our principal have been amazing and they have Maeve's health and best interest at heart," Megan said.
As she's gotten older and become more independent, Maeve's even started to make some of her own decisions about her care. "It's her disease ... We carry it as much as we can for as long as we can," Megan said. "But she has a voice now, and an opinion."
Even though Maeve's taking a hand in some of the things that go along with managing type 1 diabetes, there are still moments that bring her a lot of anxiety.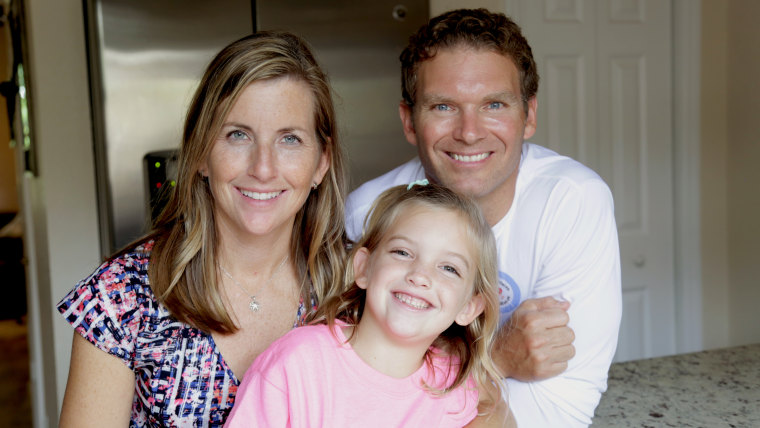 For example, she needs to change her pump site every three days, and her CGM site every seven days, and it's still difficult five years later.
"It's essentially a spring-loaded needle that she knows is coming," Paul said. The one thing that's brought her comfort during these tough changes is her dog, aptly named Pumpy. The two of them cuddle up together on the floor while Maeve braces for the jolt of a site change and after the five-minute process is over, it's back to business as usual for the dynamic duo.
Even though they've learned to manage Maeve's diabetes, the family is still hopeful for a cure. "It is a heavy burden for an adult to carry, let alone a kid," Megan confessed. "And that's why we want a cure."
They've taken an active role in the search for a cure, fundraising for the Juvenile Diabetes Research Foundation and sharing their journey as a family on social media to raise awareness.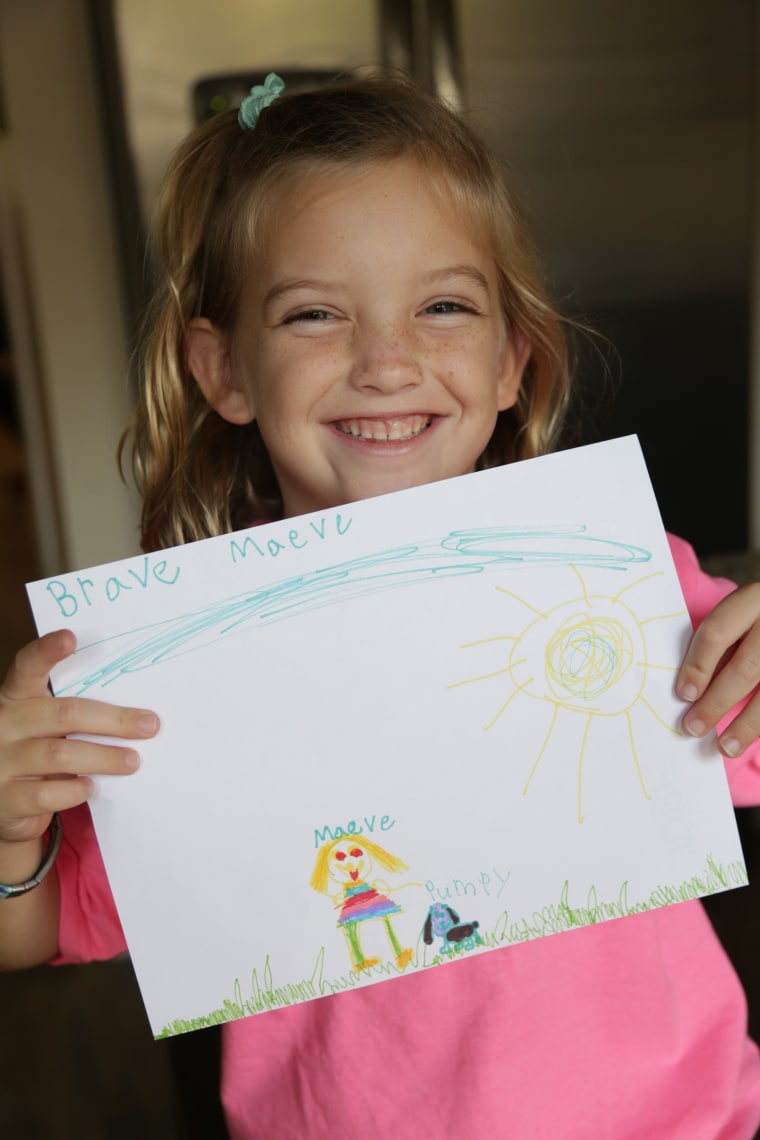 As they look to their own futures, they realize they'll have to turn over more of Maeve's care to herself. "I don't want to have to give up taking care of her diabetes because I don't want her to have to carry it," Megan said. "But it is her disease."
"As we go through time together and I have to take these little steps back, she shows that she is going to be just fine ... She's got this."