When two little girls battling cancer at Texas Children's Hospital feel scared or alone, they know they can count on one another.
Ava Garcia, 4, and Penny Smith, 3, have become inseparable since bonding after having cancer surgery only days apart in August of 2014 at the hospital in Houston. Ava had a kidney removed and Penny also had a cancerous growth removed after Ava was diagnosed with kidney cancer and Penny battled skeletal muscle cancer.
"Ava was terrified at first,'' Christina Garcia, Ava's mother, told TODAY.com. "She would scream when the nurse got near her, but when Penny was there, it eased her mind. Penny grabbed her hand and said, 'Ava, it's OK, they're going to give you medicine,' and then you would see the relief on Ava's face. It was just amazing how these little girls connected. The doctors were saying they've never seen this before where one kid is always asking for the other."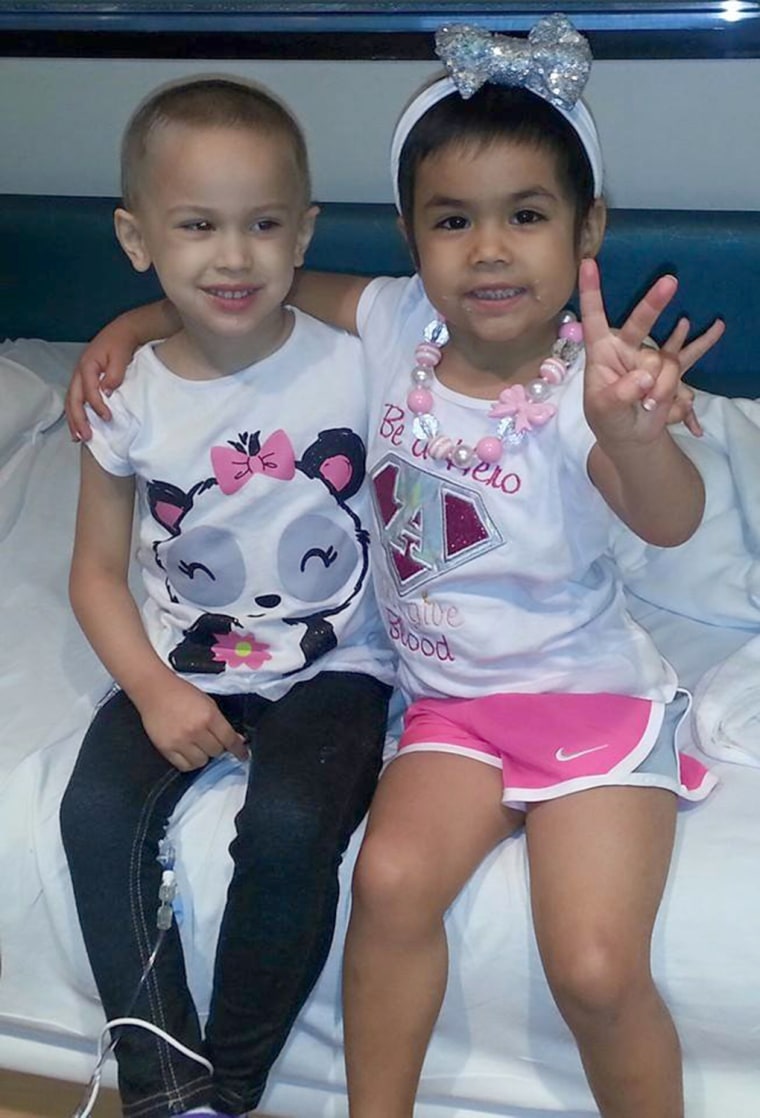 "When we first met Ava, you could tell she was stressed, while Penny was the opposite,'' Penny's mother, Cindy Sagan, told TODAY.com. "I think that helped Ava to play easier instead of being so stressed out, and Penny had a release of playing with someone else and not just playing with toys and with me. I think that pretty much was the glue that stuck us together for the rest of the ride."
Their heartwarming friendship has made this an especially difficult time because doctors are giving Penny weeks, and perhaps only days, to live, while Ava is recovering. Their mothers have also become extremely close as Penny lives out her final days.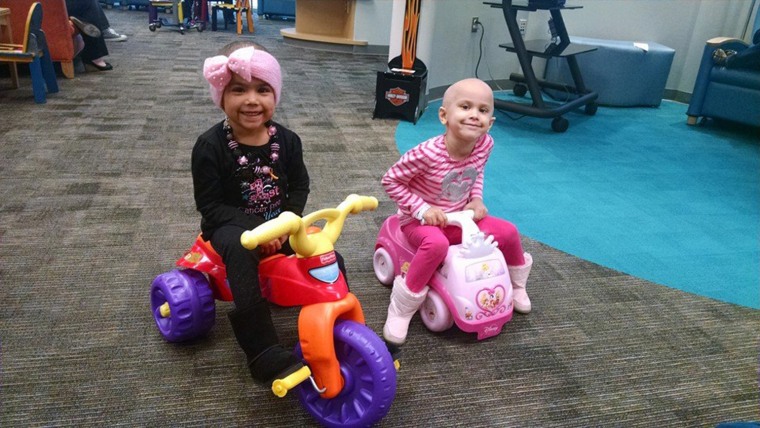 "I have a lot of guilt,'' Garcia said while trying to fight back tears. "I'm dealing with a lot of stuff because my daughter is OK and her daughter is not. It's going to be hard for Ava. I told Cindy that I wish it went by slower so we all would just have more time together."
"It's gut-wrenching,'' Sagan said. "I laugh a lot when I'm stressed out and when something is really upsetting, and talking to people now I hear myself giggling so that I don't just bust out crying. It's just horrible.''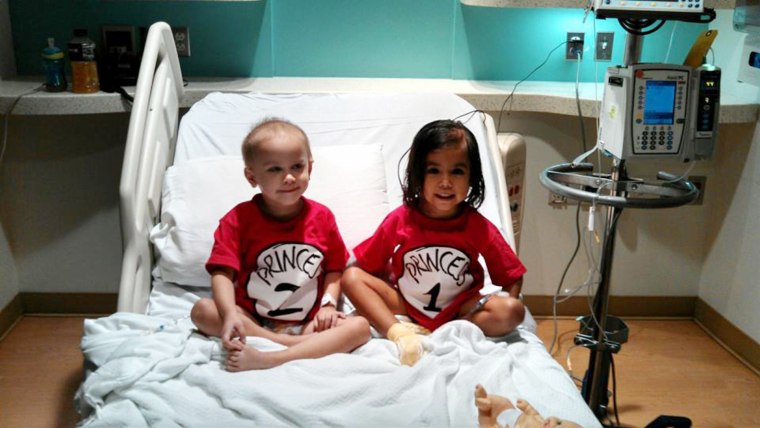 The girls both celebrated their birthdays in November of 2014, exchanged gifts at Christmas, held hands during chemotherapy treatments and played together at any opportunity. Doctors at the hospital knew that if they found one, the other was probably right around there somewhere.
"I think one of the things we see in kids with cancer is that no matter how their disease is going, they really want to be normal, so a friendship two young children strike up can be wonderful even in these difficult circumstances,'' Dr. Stacey Berg, the director of the palliative care program at Texas Children's Cancer Center, told TODAY.com.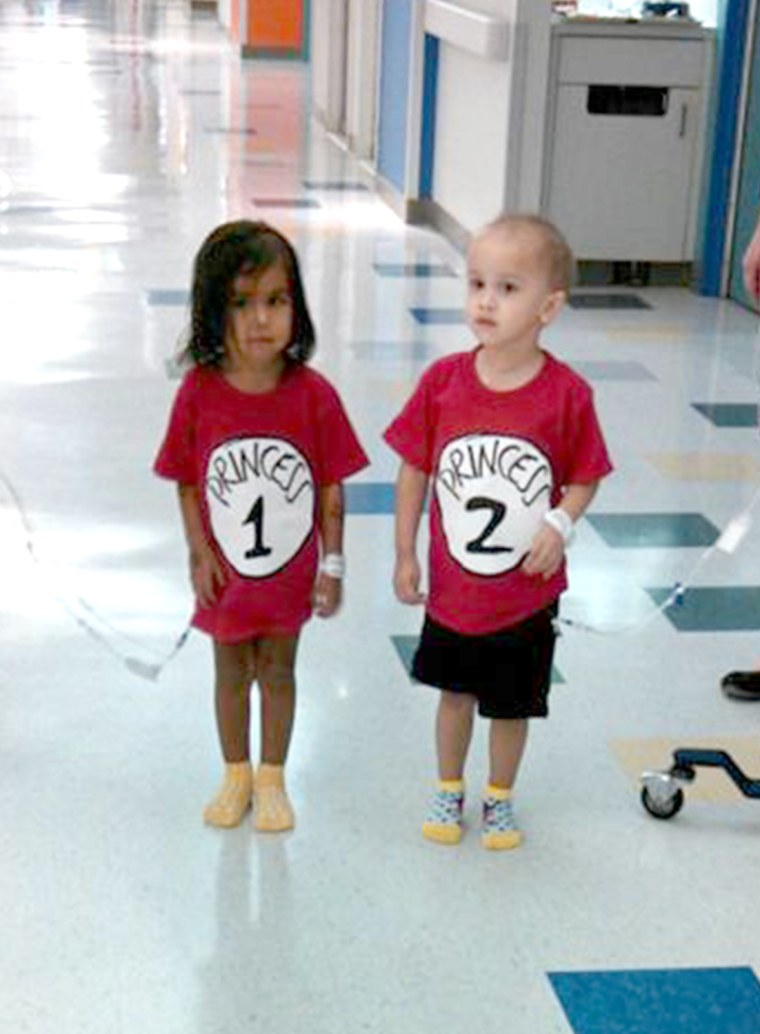 And the friendship between the mothers of the two girls has also been crucial as they go through this together.
"Nobody understands unless they've been through it,'' Garcia said. "We are sisters in life. We'll always be connected."
"It was really important to have somebody else there to relate, for myself and for Penny,'' Sagan said.
Ava has already bonded with Penny's younger sister, one-year-old Lucy, while Penny keeps fighting. The palliative care team has also been there to help in explaining to Ava what is happening.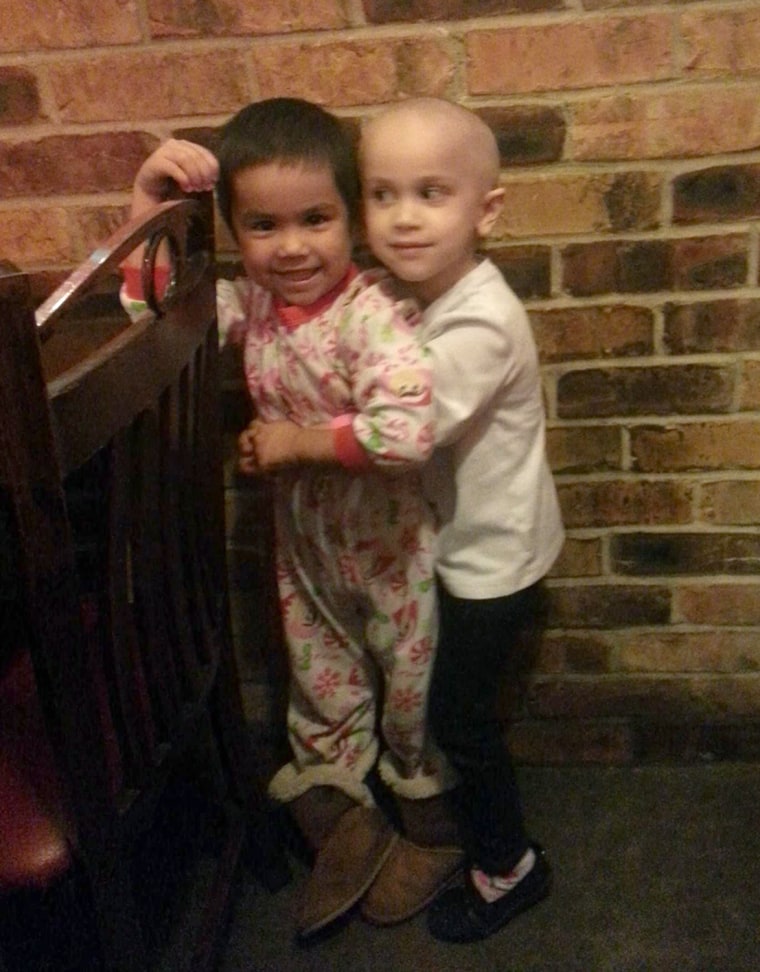 "We help with psychosocial, emotional and spiritual support,'' Berg said. "One of the wonderful things about children is that even when they're sick, they're still kids who will ask straightforward, honest questions, so you tell them what's age-appropriate. Even young children the age of Ava and Penny are able to understand concretely that there's such a thing as dying."
The mothers and their daughters are taking the time to cherish the relationship they have built and remember the good times the two girls have had together.
"At least (Penny) got to enjoy a genuine and loving friendship as any 3- and 4-year-old can have,'' Garcia said. "I'm glad it's touched so many lives and that people got to see Penny and how amazing she is and how these two little girls became best friends. I want people to see how strong kids can be and how sweet and caring they are. Adults can be so cruel, but kids have such a big heart, and I just want the whole world to see that."