Did you sleep with a special stuffed animal, doll or blanket as a kid?
A lot of us did, and funny enough, a lot of us still do. We're also still relying on such items for comfort well into our grown-up years. Known as a "transitional objects" in the psychology world, they can still provide a sense of safety for young adults starting college or a new job, the Chicago Tribune reported this week.
Psychologists told the paper it's nothing unusual and there isn't a mandate to give up your favorite stuffed animal or other sentimental items at a certain age — they'll just become less important when you don't need them.
Most of the TODAY anchors said they don't cozy up to their childhood favorites anymore, but Craig Melvin admitted he still has a red and green stuffed elephant his mother gave him when he was a young boy. Savannah Guthrie has kept a Snoopy doll from her childhood, but said she doesn't sleep with it.
"I think it's nice," she said of the trend. "It's sweet," Hoda Kotb added.
Earlier this year, Best Mattress Brand surveyed over 2,000 Americans about their past sleeping habits and If you still sleep with a stuffed animal, you may not be as weird as you think..
"We wanted to see what the average person used to do and what they do now," project manager Carly Johnson told TODAY. "Who actually still sleeps with that special item, (and) how would you deal with a partner who did?"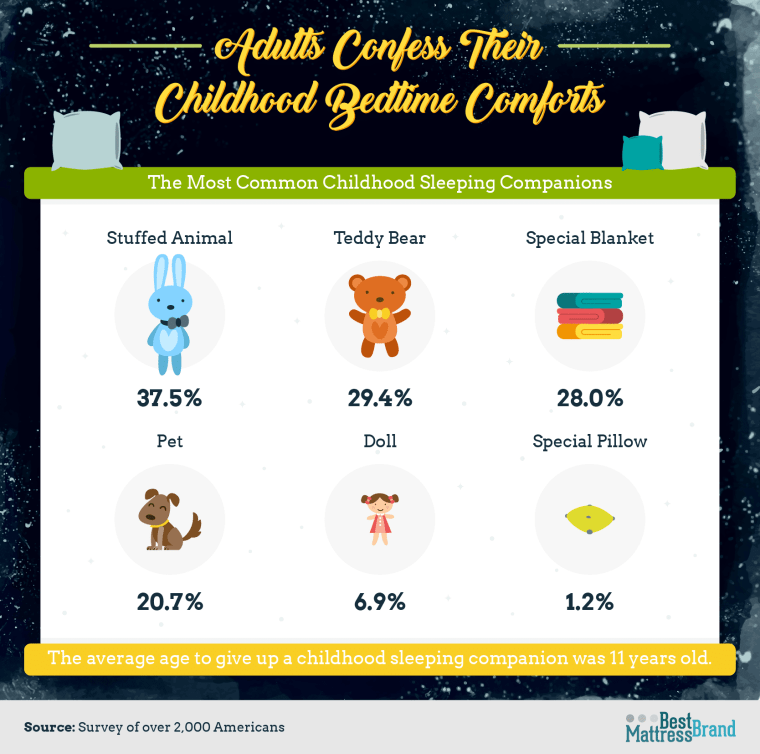 The results tend to differ according to the item that the person slept with, but millennials are the largest group that still sleeps with that sentimental something into adulthood. Sixteen percent of millennials, to be exact. That's compared to only 8 percent of Generation X and 2 percent of the baby-boom generation.
Possibly the most famous millennial who still sleeps with stuffed animals is actress Amy Schumer. On "The Ellen DeGeneres Show" in December 2016, Schumer revealed she sleeps with a "gang" of six cuddly friends. Her then-boyfriend (the couple has since broken up) was not a fan at the time, "He's like 'get them out of our bed. They look disease ridden and it's not cute,'" she told DeGeneres.
What does it mean? Is there a significance to still sleeping with a childhood favorite? Dr. Howard S. Friedman, professor of psychology at the University of California, Riverside, drew comparisons to studies done in the 1920s.
"We do have data from the 1920s about the children's bedtime environments," Friedman told TODAY via email. "So perhaps we would be able to see how such things relate to later health, sleep and longevity."
The survey found that of the respondents who slept with a stuffed animal, 72 percent said they toss and turn as adults. But people who slept with stuffed animals were the least likely to snore now.
In addition to these factors, the survey asked people how they would feel about being with someone who still slept with a stuffed animal.
"I thought when you stop sleeping with these security items is interesting," said Johnson. "And what about the people who don't? How does that affect them?"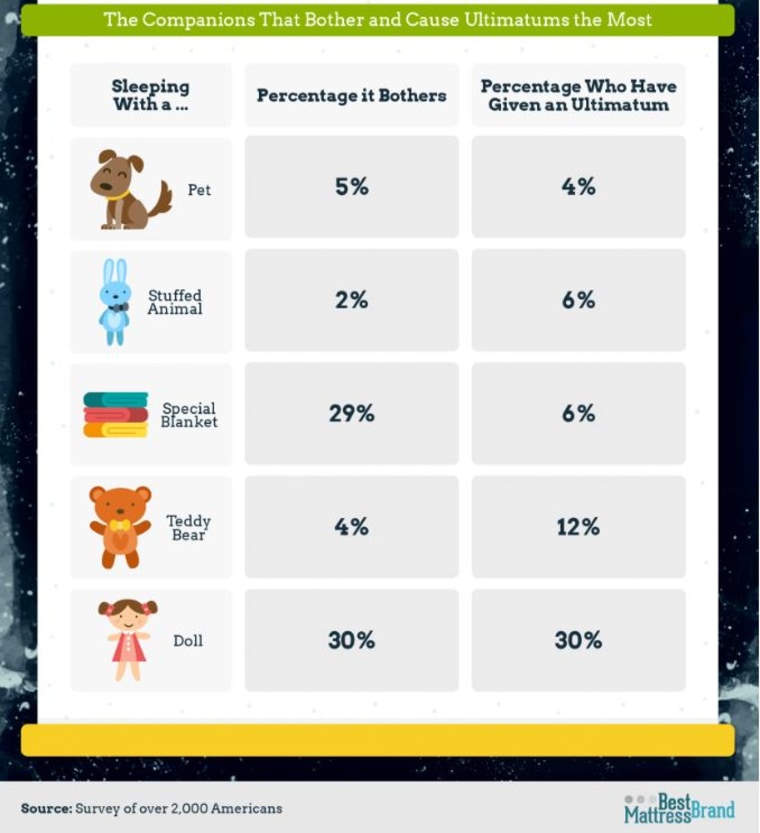 While not many people were bothered by their partner sleeping with pets, stuffed animals or teddy bears, 29 percent were uncomfortable with dolls.
"I'm not sure what the scientific explanation is," said Johnson. "I could only speculate."
Friedman, however, guessed that these sleep habits could draw from a range of environmental and emotional factors.
"There are all kinds of things that could cause or confound any associations, ranging from feelings of security, to childhood exposure to allergens," said Friedman. "[As well as] cultural changes and generational changes in what is appropriate."
Friedman also noted that, while he is always skeptical of uncorroborated self-reports, the study is rich in possibilities. One thing, though, is for sure: Habits that are formed early can be hard to break.
This is an updated version of an article that was originally published in May 2017.