TODAY celebrates Al Roker birthday this week with a special series "60 Rocks with Roker."   
This is the new face of 60 in 2014: Ron Howard, Michael Moore, Jerry Seinfeld, Howard Stern, Oprah Winfrey and our very own Al Roker, who celebrates his 60th birthday today. 
For Al and other baby boomers who are turning the big 6-0 this year, there's good news. The 60s really can be "swinging," according TODAY's survey of about 1,500 adults, ages 45-69.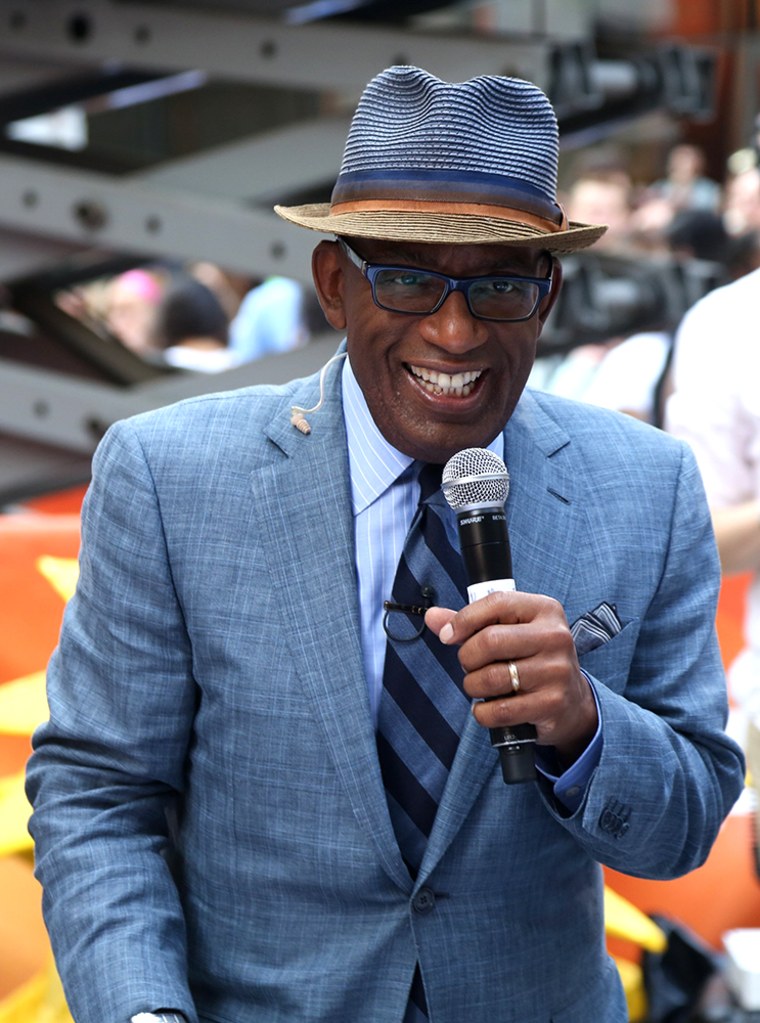 Among study participants in their 60s:
A whopping 72 percent say they feel younger than their age.
79 percent say their journey so far is "about" what they expected or even "better" than they expected.

That's not a surprise to folks who research what it's like to get older. 
"First, let's say 60 isn't old," says 60-year-old Dr. Carolyn Aldwin, director of Oregon State University's Center for Healthy Aging Research. 
That's what the TODAY survey found: For people in their 60s, old is age 72.
"And, second, there are many sources of happiness for people later in life, especially if they are healthy; and we are, for the most part, staying healthy longer because we learned about lifestyle and its effects on health," says Aldwin.

Indeed, according to our survey results, the 60-plus crowd is pleased with their health.
14 percent rate their health as "excellent" 
61 percent rate their health as good  
only 4 percent rate their health as poor
22 percent rate it as fair  
The biggest health concerns for people 60 and over: 
high blood pressure (47 percent) 
arthritis (29 percent)
higher than acceptable cholesterol levels (43 percent)

Although these are health troubles known to affect an aging population, this cohort of 60-plus individuals seems to be dealing with it better. 
"Many people of this age group with these problems are still very active because they know how lifestyle issues, such as eating right and exercise, can not only make them feel better, but also, sometimes, reduce the amount of medication they may need to help with a problem, or sometimes even eliminate the need for medication," explains Dr. Roy Buchinsky, director of wellness at University Hospitals Case Medical Center in Cleveland, Ohio.

Despite achy knees, staying active is extremely important to this age group. 
Slightly more than 40 percent began exercising more in their 60s to keep looking and feeling good. 
Although 40 percent of folks ages 50-59 worried about their ability to perform mentally and physically, only 36 percent of those 60-69 waste time worrying about that potential decline.

Not a big deal
Surprisingly, though they may not be more active than individuals in their 40s, people in their 60s are actually more satisfied with their activity levels than younger groups. 

"I have an 87-year-old father-in-law who runs half marathons and patients in their 60s who are reaping all kind of health benefits from staying active, like reduced stress, better mental acuity, less aches and pains," says Buchinsky. 
"Age is just a number," he says.

Turning 60 is not that big of a deal, most people in the TODAY survey feel. Nearly three-quarters actually "embrace" it. And yes, aging brings wisdom with 65 percent of participants saying they indeed feel "wise."
Enjoying life more
More than half of respondents say they are. Sure, those grey hairs and wrinkles may not be loved, but it's clear people worry about those cosmetic concerns less in their 60s than in their 50s. In fact, nearly 70 percent report greater self-confidence, compared to 68 percent of folks in their 50s and 56 percent in their 40s.
"I don't think many people (in their 60s) would want to go back to their younger years when you worry about everything because you think absolutely everything is important," says Aldwin, whose research has shown that older individuals, on average, not only seem to perceive life as having fewer stressors and hassles, but they also seem to respond to those problems better than younger individuals. "This generation of 60-year-olds, by and large, has less disability, is less likely to go into a nursing home, and is much more likely to maintain cognition and a great sense of humor."
There's nothing like a good laugh to keep you feeling and looking young. In fact, people in their 50s and 60s, laugh more than younger people, according to the survey. More than half laugh multiple times a day, and more than one-quarter laugh daily.
They may be laughing a lot because they feel pretty good about where they are in life and who they have become. The keys to happiness they've found are good advice for any age group.
Secrets to happiness? 
Never stop learning and growing, say 60 percent of respondents 60 plus.
More than half say thinking and acting young keeps them happy.
65 percent cite staying physically and mentally active.
"In general, by this age people may be working at something they love or at least are pretty good at, and they can be light-hearted about life's problems," says Aldwin. "Though they've suffered losses, they can roll with the punches. That's a great way to be."
(You can find more about the TODAY survey methodology here)