An estimated 87 children needlessly die each year from drownings at home — two-thirds of them in the bath and sometimes in as little as two inches of water.
To help prevent these drownings, the Consumer Products Safety Commission has released an emotionally wrenching video, warning parents about the need for constant supervision.
"But I was only gone for a moment…" parents may say about leaving a small child alone in a bathtub. But that's all it takes for a possible tragedy.
"A child can drown in a matter of minutes," said CPSC spokeswoman Ellyn Pollack. "It happens quickly and silently. A baby can slip under the water without crying or screaming or splashing around."
"No product can replace adult supervision," Pollack told TODAY. "Even if a child is secured in a bath seat, do not leave them even for a second — it could still fall over."
Related: What to know about dry drowning and how to prevent it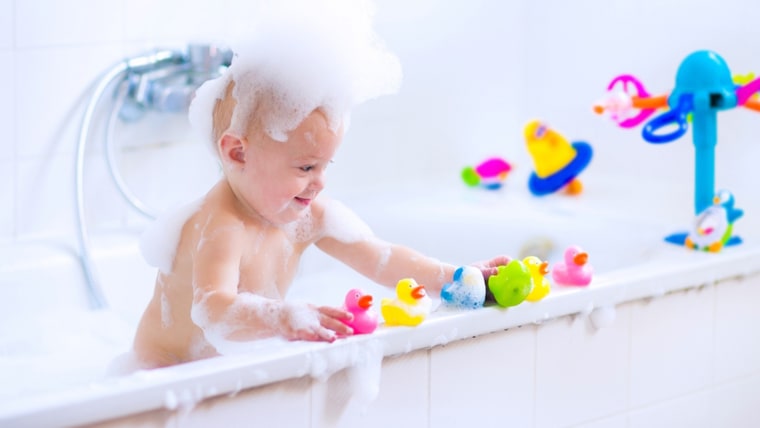 The video is part of an ongoing public service campaign to highlight home safety issues. According to the CPSC, almost as many children who die, suffer injuries such as permanent brain damage in non-fatal drownings.
"Every single one of these tragedies was preventable," said Pollack. "By increasing awareness, we hope to save lives."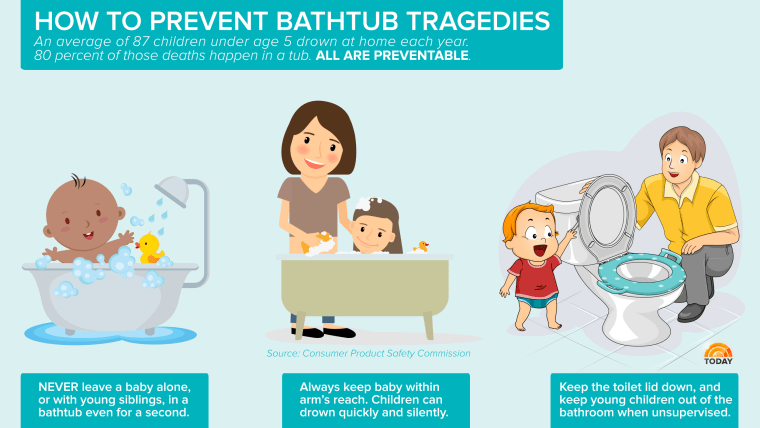 When is it OK to leave a child alone in the tub?
There seems to be wide disagreement over when it is safe for a child to bathe alone, so parents should err on the side of caution. Some experts say age 4, others insist a mature 6 year-old may be ready.
"There is no official recommendation and no real upper limit because kids develop at different rates," said Dr. Gary Smith, director of the Child Injury Prevention Alliance. "Their independence and ability to handle situations varies greatly, so there is no clear answer."
"At age 4, you might be able to reach around to the other side of the bathroom, and then eventually leave them alone for brief periods," he told TODAY. "Teens obviously need their privacy. But it is a continuum."
Dr Heather Felton, a University of Louisville pediatrician and spokeswoman for the American Academy of Pediatrics, said some mature 6-year-olds may be ready to bathe unsupervised.
But, she cautioned, "some I would delay until they are older."
"I am the mom of a 2-year-old and I still wouldn't leave my child to bathe alone," Felton told TODAY. "And it may seem silly, but I don't fill the tub any more than a few inches."
Without supervision, drowning can happen when a child "slips and slides" in the soapy water or goes after a toy in the water.
"They are called toddlers for a reason — they fall over," she said. "Young babies may not have the core strength to get their faces back out of the water or they panic."
Felton also advised avoiding inflatable devices that are supposed to keep a baby's head above water. And just because a child knows how to swim, doesn't necessarily provide protection.
"It gives children and parents a false sense of security," she said. "If there really is an emergency, wrap the child in a towel and take him with you."
And don't forget one-third of in-home drownings are in water outside of the bathtub, according to CPSC.
Don't overlook toilets
The typical scenario involves a child under 3-years-old falling headfirst into the toilet.
"Water safety is universal, whether it's the bathtub, a pail of water, the toilet bowl or an inflatable baby pool," said Dr. Ari Brown, an Austin, Texas, pediatrician and author of the "Baby 411" books series.
"You have to be constantly supervising — you can't take your eye of your child for even a minute," she told TODAY.
As for tub time, Brown suggests that while many children may be able to bathe unsupervised by kindergarten, but it's probably a good idea to "stand in the wings" until a child is 6 or 7.
Other good safety habits for the bath include keeping dangerous items out of reach, for example, a hair dryer.
Other safety tips from the American Academy of Pediatrics:
Set the home's water heater to no more than 120 degrees and always test the bath water temperature to prevent burns.
Use a slip-resistant mat in the tub, and make sure the throw rug beside the tub also does not slip. Consider installing a bar for the child to grip to prevent falls.
Use a rubber cover for the faucet and place a towel over metal rails for shower doors to avoid injuries.
Avoid bath toys with hard edges that could be hazardous if the child falls on them.