Karen Adell Scot started the year as Gary Sconce, a California high school science teacher, and went back to school a woman after her plans to switch genders suddenly became public. In this essay for TODAY.com's "2014 Voices" series, Karen explains the joy she feels despite the frosty response she's had from some students, fellow teachers and her own family, and how the change made her a better teacher.
I transitioned this year. I became my true self, a woman. At age 56, I feel alive for the first time.

In June, I underwent two simultaneous operations — a facial feminization procedure and gender confirmation surgery. What I felt afterward was pure joy. What I had felt all the years before was not joy, but a never-ending incorrectness. A dysphoria.
Imagine that you are swimming in the ocean and you get rolled by a huge wave. You don't know which way is up. You're drowning. You're suffocating. That's what life felt like before my transition. Like struggling to survive under a tidal wave.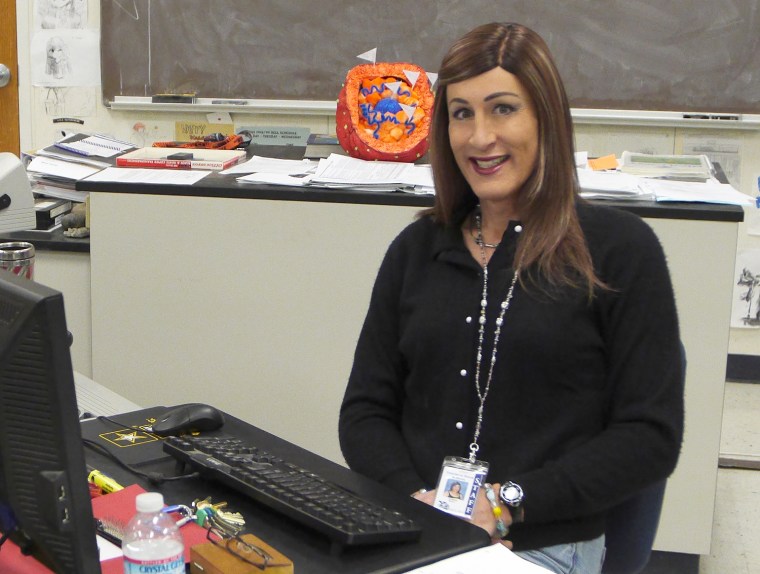 After you transition, you finally get to swim up to the surface and take a breath. Your lungs fill. Pure happiness. I had hidden my true self for almost my entire life. Now, looking in the mirror and seeing the authentic me looking back, it feels fantastic.
I have transformed on the outside, on the inside, and on paper. I legally changed my name from Gary Sconce to Karen Adell Scot. On my driver's license, my credit cards, everything, I am Karen. And I am a woman.
Amid this process, I also have become a better science teacher, a profession I have held for 31 years. As a woman in the classroom, I possess tremendous empathy and insight that I didn't have as a man. Until I began receiving estrogen, I was hyper and uneasy, always feeling discordant with who I was as a person. But now, I am calm, happy, easygoing and organized.
After I came out, one of the girls in my class looked at me and said, "You know, I really liked Mr. Sconce. He was a lot of fun. But you're such a better teacher than Mr. Sconce. Because you listen to us." The students know I'm there for them. I tutor after school Wednesdays through Fridays — English, math, all the way up to up to calculus. It's fun to help them out. And the kids come by Miss Scot's room all the time.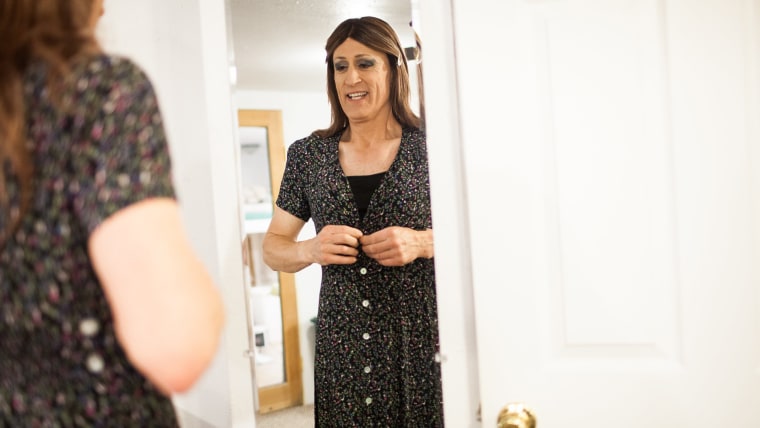 Of course, I've had challenges. I've had difficult moments on the job, in town, and in my family.

When I came out, 18 students were removed or left my classes. That's one out of every 10 students who were on my roll. To this day, there's a group of students who engage in shunning me. I'll greet them while walking by in the hall. They'll turn their heads away and walk to the far side. But the vast majority of the students are open-minded. They understand the concept that a human is a human is a human. The adults have been far less accepting than the kids. Some colleagues, former friends, shun me every day.
But as someone who taught physics for years, here's how I see the good and the bad. Imagine a balance board. You put a massive weight on one side and you put a pea on the other side. That little tiny pea represents the size of the problems I face. That immense weight on the other side represents my joy.
Professionally and personally I am happy and content. I am still working, however, on re-forming bonds with my former wife and my two adult children.
My wife divorced me in September. I didn't want to sign the divorce papers. When I transitioned, I found that I appreciated her and loved her far more deeply than I did before as a man. We were married for 36 years. Losing her has been hard. Then again, I understand her decision. She didn't want to be with a woman. To her credit, she tried to make it work for months. She had to follow her own heart and that meant she couldn't be with me. I still have great hope that we can at least be friends.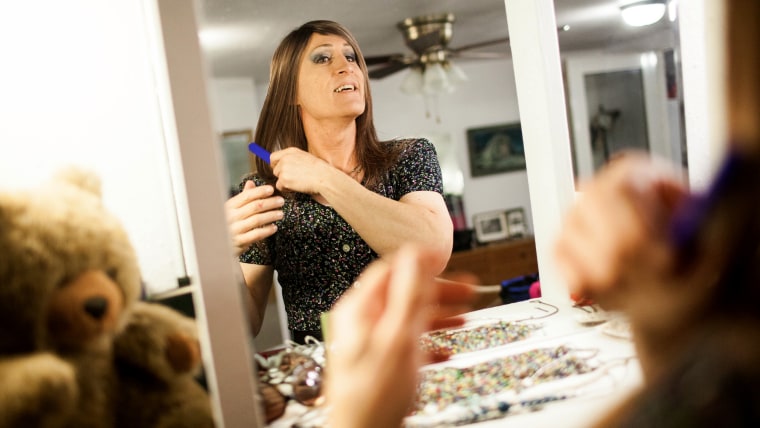 I love my two children. I always will.

My son is trying to re-establish our relationship. We'll communicate maybe once every two weeks by text. But other than that, I don't see him. And I don't see his two kids, my grandchildren. He doesn't want me to feel as if he's shunning me. While he doesn't have reason to email me or contact me or see me, I know he loves me.
My daughter was always a daddy's girl. She always hung around with this hardheaded, conservative, military, law enforcement, hyper-masculine type of guy. That's who I was. On the outside.
When I had my facial plastic surgery, she said, 'If you change your face, you will be dead to me.' And she's pretty much kept that as true. I don't get many reciprocal texts or communications from her. And I don't get to see her daughter, my granddaughter.
Instead of talking with her or seeing her, for now I write her hand-written letters just to let her know I love her, I care for her, I'm thankful for her, and that I pray for her. That's all I can do. It's out of my control whether she chooses to openly love me again or be with me again.
So, I have adopted a Zen attitude when it comes to both of my children. On my side, I will love them. I will keep trying. But I won't let their choices change the pure joy I feel in this moment.
And that saves me. 
Karen Scot's story was told with the help of Bill Briggs.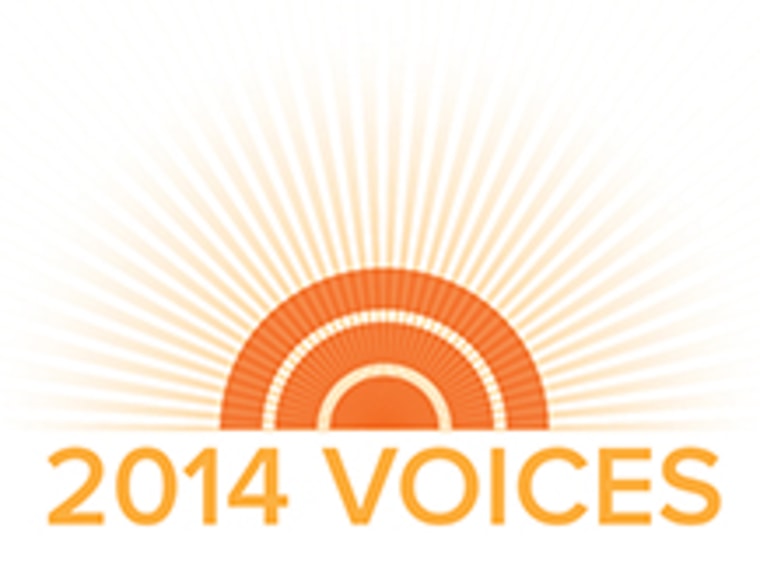 Find more essays and as-told-to pieces from the newsmakers behind some of the year's biggest stories on TODAY.com in our "2014 Voices" series.
* Mother of surprise quadruplets calls herself 'luckiest mom in the whole world'
* What's wrong with Wyatt? Parents of boy with mystery illness still don't know
* Once obese but starving Texas girl sees a healthy future months after surgery