As kids craft their holiday wish lists, parents should add the gift of head protection, urge the authors of a landmark study released Monday that reveals ride-on toys are fueling a surge in playtime injuries.

The rate of toddlers and teens hurt by all toys increased by 40 percent between 1990 and 2011 — a year when, on average, an American child required emergency treatment every three minutes for toy-related wounds, experts found.
The researchers underscored new concerns about ride-on toys — scooters, wagons, tricycles and powered play cars. Those wheeled playthings accounted for about 35 percent of the recorded injuries and 42 percent of the hospital admissions during the years examined.
"I tell parents that if you have three things that you could do to prevent an injury to a child on a scooter, or other ride-on toy, those three things would be: wear a helmet, wear a helmet, wear a helmet," said Dr. Gary Smith, lead author and director of the Center for Injury Research and Policy at Nationwide Children's Hospital in Columbus, Ohio.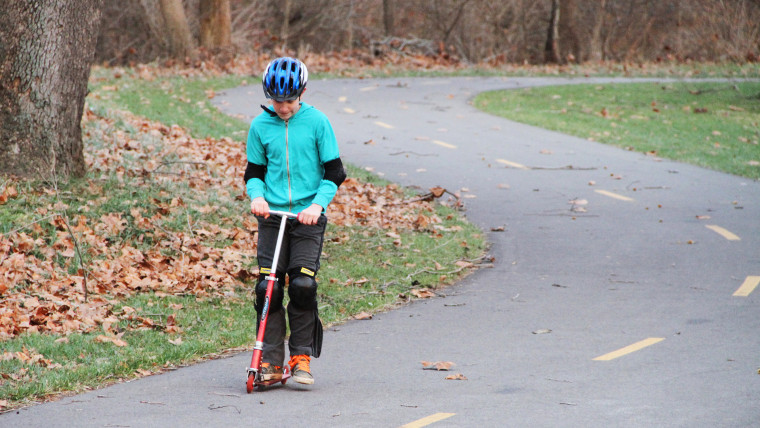 The study — published in the journal Clinical Pediatrics — is the first to "comprehensively investigate" toy-related injuries among children by analyzing data from the National Electronic Injury Surveillance System, the authors said.
During the 22-year span explored, researchers noted no significant increases in injury rates linked to toy weapons or in "early exploratory/practice play toys" that babies might put into their mouths and swallow.
Foot-powered scooters drove most of that injury-rate spike, the study found. Scooter mishaps typically involved kids between the ages of 5 and 17, who most commonly sustained lacerations from falls.
When scooters regained popularity in the late 1990s, Smith said, he and other pediatric doctors saw "a rapid increase" in related injuries, adding, "I will say I've never seen anything like it in my career."
Young children remain more at risk for choking on small toys and tiny toy parts, the study found.
"But as a child grows older, ride-on toys, particularly foot-powered scooters, become much more important," Smith said.
"A child's job is play and toys are the tools. We want children to explore, to challenge themselves and to develop by using those tools, but we want them to do it safely," Smith said.
Overall, an estimated 3.2 million U.S. children (17 and younger) were treated in hospital emergency rooms after suffering toy-related injuries between 1999 and 2011. The injury rate in 1999 was 18.88 kids per 10,000. In 2011, that rate was 26.42 — a growth of 39.9 percent.
A spokeswoman for the Toy Industry Association (TIA) — a trade group representing about 90 percent of the domestic toy market — noted that "toy-related" is a loose term.
The phrase means those cited injuries are "associated with, but not necessarily caused by, a toy," Ashlee Neuman, a TIA spokeswoman, said in an email to NBC News.
"Safety is the toy industry's top priority every day of the year," Neuman wrote. "By law, all toys sold in the United States, no matter where in the world they are produced, must meet 100-plus rigorous, U.S. safety standards and requirements that are in place to ensure the safety of children at play. Product compliance must be verified by a third-party laboratory test."
Toy industry experts continually work with medical professionals, consumer groups and government officials to strengthen the safety-related design, testing and inspection of toys, Neuman said. 
On Nov. 20, the U.S. Consumer Product Safety Commission reported that hospital ERs had treated 188,400 toy-related injuries among kids 14 and younger during 2013 – down from 192,000 such cases in 2012.
The agency also noted that toy-related deaths involving children 14 and younger "continue to decrease," with 19 reported in 2010, 18 in 2011, 16 in 2012 and nine in 2013.
"Assuring that all play is safe," Neuman wrote, "is a responsibility the toy industry shares with parents and other caregivers."